Foreign ambassadors lavished praise on Vietnam as the country has successfully fulfilled its role as the rotary president of the United Nations Security Council (UNSC) in the first month of 2020.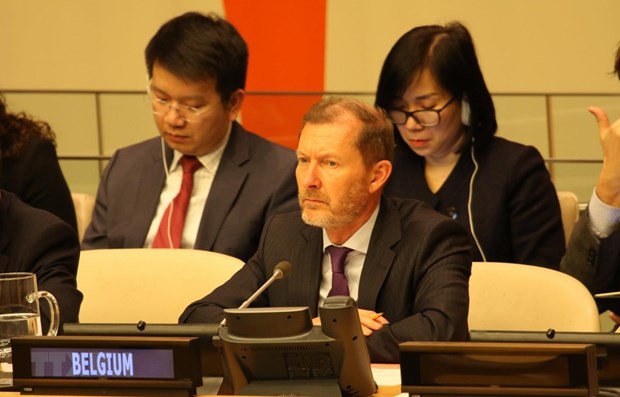 Ambassador Marc Pecsteen de Buytswerve, Permanent Representative of Belgium to the UN 
Ambassador Marc Pecsteen de Buytswerve, Permanent Representative of Belgium to the UN, told Vietnam News Agency's correspondents at the UN that Vietnam had done a good job despite formidable challenges when it took up the presidency of the UNSC immediately at the beginning of its tenure as a non-permanent member of the council.
Vietnam had really left its imprint with the open debate on the 75th anniversary of the UN Charter, particularly in the context of mounting tensions in the UN as well as in the world.
He stressed that in its rotary presidency, Vietnam worked to ensure all sessions and events in January ran smoothly.
Meanwhile, Ambassador Dian Triansyah Djani, Permanent Representative of Indonesia to the UN, said that Vietnam's efforts during the presidency month has helped increase ASEAN's position in the international arena.
He hailed Vietnam's initiative to bring forward cooperation between the UN and the Association of Southeast Asian Nations (ASEAN) at the UNSC, saying it is significant to help both sides exchange experience in assuring a peaceful environment in the Southeast Asian region.
According to Deputy Permanent Representative of France to the UN Anne Gueguen, thanks to Vietnam's effective coordination, the UNSC was able to adopt several important resolutions that have influence on millions of people worldwide, for example the resolution on extending the authorisation for the mechanism that allows cross-border humanitarian aid to Syria.
Besides, all UNSC members made concerted efforts to discuss measures to reduce tensions in the Middle East, especially in Libya, she added.
She said she was impressed with what the head of Vietnam's mission to the UN Ambassador Dang Dinh Quy and his team did in the past month, and congratulated Vietnam on its successful presidency./.VNA