While Vietnam continues to pursue the dual target of containing the pandemic and boosting economic recovery, protecting people's lives remain the government's utmost priority, Prime Minister Nguyen Xuan Phuc has said.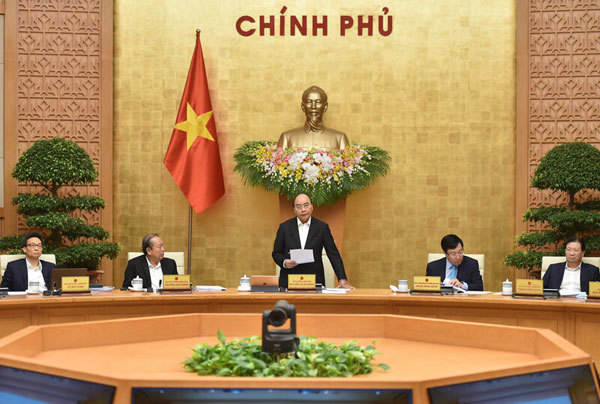 Prime Minister Nguyen Xuan Phuc at the monthly government meeting. Photo: Quang Hieu/Hanoitimes
The Vietnamese government is committed to ensuring the GDP growth target of 2.5 – 3% for this year, stressed Prime Minister Nguyen Xuan Phuc at the monthly government meeting on December 2.
Among other key economic indicators, Mr. Phuc said the inflation rate is on track to stay below the 4% target, given the average consumer price index (CPI), a gauge of inflation, expanding by 3.51% year-on-year in the first 11 months of this year.
Total goods retail sales and services revenue along with industrial production are recovering, thanks to growing demand in final months of the year, he noted.
"Agricultural exports could meet the year's target of US$41 billion, while Vietnam continues to be Southeast Asia's top food exporter," stressed Mr. Phuc, adding that as the trade surplus in the January-November period reaching a record high of US$20 billion, the figure would be likely to exceed the one attained in the same period of 2019.
"Vietnam's efforts in global integration, including the signing of recent free trade deals, have contributed positively to such result, especially as global trade revenue is set to decline by 15%  this year," added Mr. Phuc.
Mr. Phuc went on as saying the EU – Vietnam Free Trade Agreement (EVFTA) that became effective in early August has contributed to higher exports to the EU. Notably, the Regional Comprehensive Economic Partnership (RCEP), which is scheduled to take effect in the next 18 months, will bring "more opportunities for export, trade, tourism and serve as a key factor for Vietnam to pushing forward with administrative reform and improving business environment."
With public investment seen as a key measure to boost economic recovery, the Government leader also highlighted a 5-year high rate of public funds disbursement at nearly 80% of the year's target in the first 11 months of this year, representing an increase of 34% year-on-year.
The tasks ahead
At the meeting, Mr. Phuc also pointed to existing challenges to socio-economic development, including serious Covid-19 situation globally; trade and technological tensions between major economies; and climate change with associated natural disasters.
"Uncertainties surrounding financial markets could lead to asset and financial bubbles, for which government agencies should closely monitor the global situation," he noted.
Mr. Phuc urged ministries and sectors to continue pursuing the dual target of containing the pandemic and boosting economic recovery.
Mentioning nearly 41.000 enterprises having resumed operation in the January–November period, or an increase of 11% inter-annually, as sign of positive economic prospect, the PM expressed concern over the number of enterprises temporarily ceasing operations that remained high at 44,400, a surge of 59.7% year-on-year.
"More supports are required from local authorities to aid businesses overcoming this difficult period," stated Mr. Phuc.
In addition to public investment, Mr. Phuc called for higher mobilization of private capital, including domestic- and foreign-invested sources. In this regard, the PM expected substantial solutions to improve investment environment for business community, while grasping opportunities from a shift of global supply chains to lure more FDI to Vietnam.
Ministries and ministerial-level agencies are tasked with perfecting legal framework for new business models emanating from new technologies such as fintech, mobile money, e-verification, to accelerate the digital transformation process, stressed Mr. Phuc.  Hanoitimes 
Ngoc Thuy

Vietnam's GDP may achieve a growth rate of 6 percent or greater in 2021, according to economists and industry experts.

The high CPI increase in the first half of the year will challenge the regulation of goods and service prices in the remaining months of the year, experts say.