Chairman of Ho Chi Minh City People's Committee Nguyen Thanh Phong has instructed departments, wards and districts in the city to work harder towards making strong changes in administrative reforms.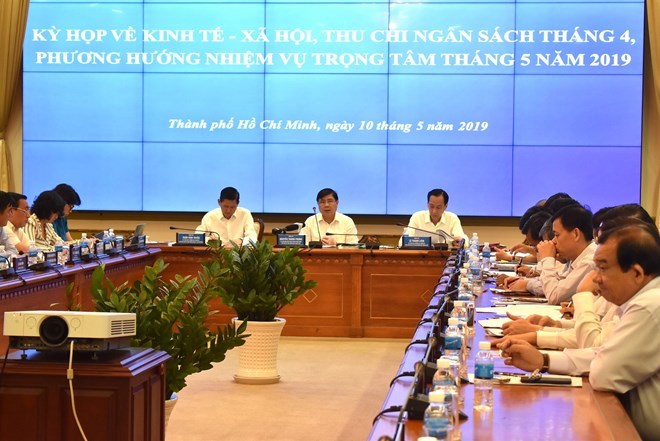 The conference on HCM City's socio-economic performance in the four first months of 2019
At a conference held by the People's Committee on May 10 to review socio-economic performance in the four first months of the year, Chairman Phong also urged removing difficulties for important development projects such as those in the Thu Thiem urban area, the fair and exhibition centre, the Phan Dinh Phung sport centre, the SJC tower and the Binh Quoi Thanh Da urban area.
He said no large-scale cultural and sport projects have been implemented in the city over the past several years while most of those started earlier have been suspended. Therefore, drastic measures are needed to facilitate the implementation of the aforementioned projects, Phong said.
The municipal People's Committee plans to increase support for local firms in bolstering exports and remove obstacles for enterprises through the dialogue mechanism in May.
At the same time, the city will continue to carry out the project on developing the support industry to 2020 and put into use the facilities under the first phase of the scheme on building a smart city during 2017-2020 with a vision to 2025.
At the conference, Director of the Department of Planning and Investment Le Thi Huynh Mai reported that total goods retails and service revenues in the city reached almost 377.1 trillion VND (16.16 billion USD) in the January-April period, up 12.5 percent on a yearly basis, with revenues from tourism alone totaling 50.6 billion VND.
The city collected more than 134.1 trillion VND for the State budget, equal to 33.6 percent of estimate and up 6.07 percent from the same period last year.
The index of industrial production picked up 6.58 percent in the period. Meanwhile, the city licensed 13,094 new firms with total registered capital of 211.7 trillion VND, with 32.7 percent of them operating in real estate.-VNA