The 12th meeting of the Committee of Permanent Representatives to ASEAN (CPR) and ASEAN+3 ambassadors to ASEAN took place at the ASEAN Secretariat's headquarters in Jakarta, Indonesia, on February 27.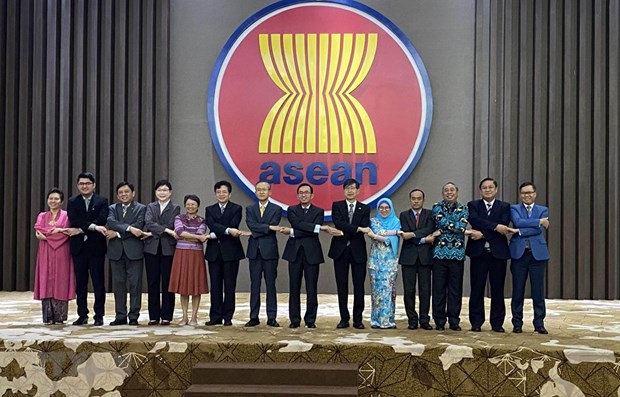 Participants at the meeting 
The event was co-chaired by Ambassador and head of the Vietnamese Permanent Mission to ASEAN Tran Duc Binh and RoK Ambassador to ASEAN Lim Sung-nam.
Participants highly valued achievements in cooperation activities within the ASEAN+3 framework across the fields of politics-security, economy, and culture-society.
The meeting heard that 257 cooperation programmes have been implementing within the framework of the ASEAN 3 Action Plan in the 2018-2022 period.
Participants agreed to coordinate to carry out the ASEAN 3 leaders' Statement on Connecting the Connectivities Initiative which was approved at the ASEAN 3 Summit in last November in Bangkok, Thailand.
They affirmed the importance of the ASEAN+3 cooperation mechanism for peace, security and development in East Asia.
Representatives from the ASEAN+3 countries -China, Japan and the Republic of Korea (RoK)- pledged to give priority to resources for building the ASEAN Community and narrowing the development gap through implementing the Initiative for ASEAN Integration and the Master Plan on ASEAN Connectivity 2025 (MPAC 2025).
They promised to accelerate the signing of the Regional Comprehensive Economic Partnership (RCEP) agreement and develop micro, small and medium sized enterprises (MSMEs); and enhance cooperation in finance, sustainable development, education and public health, climate change adaption, settlement of maritime waste, and food and energy security.
The meeting also shared assessments of the COVID-19 epidemic./. VNA

Vietnamese Ambassador to the US Ha Kim Ngoc attended a meeting of the ASEAN Committee in Washington, the first held under Vietnam's chairmanship, on February 24.

Deputy Prime Minister and Foreign Minister Pham Binh Minh attended a special meeting of the ASEAN Coordinating Council (ACC) in Vientiane on February 20.