Top-ranking General To Lam, Minister of Public Security, authorized by the Prime Minister, has signed a report to the National Assembly on work to prevent and fight crime and legal violations in 2021 (from October 1, 2020 to September 30, 2021).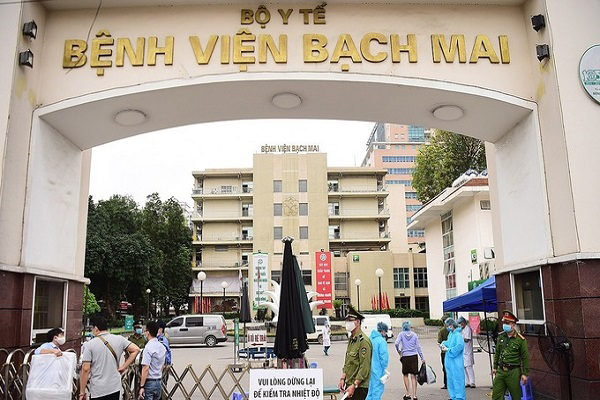 Bach Mai Hospital
Regarding violations in the field of national security, security agencies at different levels put 23 cases into prosecution, a decrease of 11.54 percent, with 31 defendants, a drop of 40.38 percent, charging them with infringing national security.
The Government reported that there are complications in the national security situation. Exile reactionary subjects and hostile elements are increasing their sabotage activities. They especially exploit the country's political events and the shortcomings in Covid-19 prevention and control to distort information and sabotage the Party and the State.
There are also risks in cybersecurity, especially in spreading malware and spyware, and targeting state agencies' electronic information systems.
As many as 1,822 information websites with '.vn' domain names have been found attacked. Hackers inserted nicknames and hackers' messages. This included 446 websites of state agencies.
Economic security also faces challenges and risks because of Covid-19. The number of complaints has decreased, but there are still complicated cases which have not been fully settled.
Regarding crimes related to social order, the Ministry of Public Security (MPS) has focused on strictly handling acts of exploiting Covid-19.
As many as 38,027 cases have been investigated, or 87.05 percent. Of these, 95 percent were very serious crimes and 96.6 percent extremely serious crimes. The police have eliminated 2,284 criminal gangs and groups, and arrested and encouraged 6,067 wanted subjects to surrender, including 1,562 dangerous and extremely dangerous subjects.
MPS recorded 43,683 crimes (down by 8.06 percent), which killed 1,040 people (drop pf13.26 percent), injured 8,851 people (drop of 12.11 percent) and caused property damage worth VND1.8 trillion (drop of 5 percent).
Notably, the number of child rape cases increased by 9.26 percent, while sexual intercourse with children increased by 2.64 percent.
The appropriation cases rose by 4.19 percent, which occurred in most fields, especially in cyberspace. The tricks used by scammers included inviting people to invest in cryptocurrencies and shares, international remittances, mutant orchids and land trades.
The report also showed an increase in crimes against law enforcement officers, with cases related to Covid-19 prevention and control accounting for 22.81 percent. The number of cases against police accounted for 69.89 percent.
The report also showed serious violations in equipment bidding cases, including ones at Hanoi Heart Hospital, ThanhHoa and QuangNinh Education and Training Departments, and Hanoi Drainage Company (the procurement of Redoxy 3C). 
Thu Hang

The former director of Hanoi-based Bach Mai Hospital and seven other people have been accused of price gouging medical equipment.

The People's Court of Hanoi on Thursday opened the first-instance trial over price gouging at Hanoi's Centre for Disease Control.