Members of the National Assembly Standing Committee agreed that retired cadres should still be disciplined for violations they committed in the discharge of their duties, but urged for more clarification in legal documents.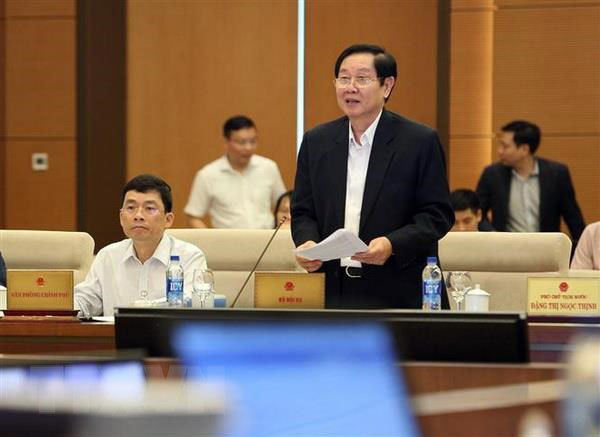 Minister of Home Affairs Le Vinh Tan presents the report on the draft amendments to the Law on Cadres and Civil Servants and the Law on Public Employees. — VNA/VNS Photo Duong Giang
The committee convened yesterday to discuss the draft amendments to the laws on cadres, civil servants and public employees in Hanoi.
Minister of Home Affairs Le Vinh Tan said proposed disciplinary measures against retired cadres – censure, warning and finally, stripping their title at the time when the violation was committed – were new additions that might encounter legal issues during implementation.
Tan said the Government has asked NA Standing Committee to issue detailed instructions to carry out the law in future decrees.
Tasked with assessing the draft law, the NA judicial committee concurred this new regulation is necessary as it institutionalises the Party Central Committee's demand for "strict handling of offenders, even when they have switched to another position or have retired."
The NA judicial committee also asked the drafting authors to clarify that the law would stay consistent with current regulations which allow administrative fines or criminal charges of retired cadres.
Regarding the draft law's measure which involves retrospectively stripping the official of their title or position, chairwoman of the NA judicial committee Le Thi Nga called for greater consideration, citing the case of former trade minister Vu Huy Hoang.
"His position was a historical fact. Everything that he had done, the documents he had signed as the leader of the ministry will be called into question," she said, suggesting that documents he signed would not be automatically rendered null and void, unless the court deemed otherwise.
Nga said the title deprivation must be clarified to stress that the measure is meant to take away the benefits that come with the title, while other rights such as social insurance or health insurance would remain intact.
The judicial chair also agreed with the draft's proposed statute of limitation of 60 months but noted that in cases of "especially serious violations", there would not be a limit to issue disciplinary measures.
"When the official is 70-80 years old already, is it appropriate or practical summoning him up to carry out disciplinary action for something he did wrong 20 years ago?," NA Chairwoman Nguyen Thi Kim Ngan asked.
She also voiced her support for keeping demotion as an important and highly potent disciplinary action.
In the session, the lawmakers also discussed measures to attract and retain talent in the public sector, including better benefit schemes and sector-specific support policies, as well as the merits of one draft law's provisions that seek to eliminate undefined length contracts with public employees, in order to push them to improve their capacity and better fulfil their duties.
VNS