According to the Vietnamese Embassy in Thailand, no Vietnamese citizens have been found to have been affected by the April 10 blaze at Central World – Thailand's biggest shopping complex in Bangkok.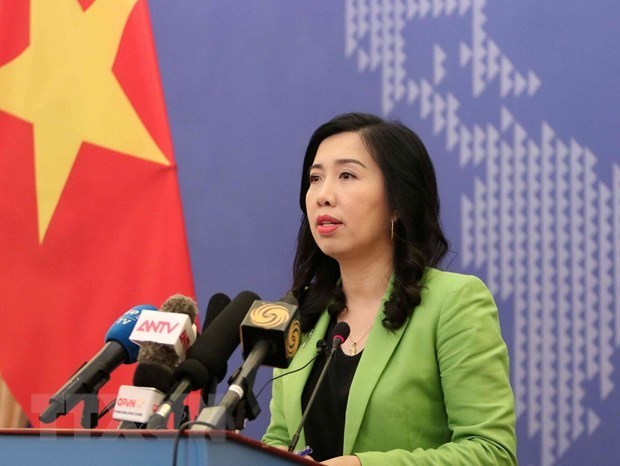 Spokesperson of the foreign ministry Le Thi Thu Hang
Spokesperson of the foreign ministry Le Thi Thu Hang made the statement in response to reporters' queries at the ministry's regular press conference in Hanoi on April 11.
Hang said following direction from the ministry, the embassy will maintain contact with relevant Thai agencies to update information and carry out citizen protection measures if needed.
At the event, reporters also asked about the Amnesty International's report that was released on April 10 and mentioned the death penalty in Vietnam.
In response, Hang stated that the application of capital punishment belongs to a nation's sovereignty over criminal justice and is still present in the legal systems of many countries worldwide. Stopping or eliminating capital punishment is not stipulated in basic international treaties on human rights to which Vietnam is a member, she added.
According to the spokesperson, in Vietnam, the sentence and enforcement of capital punishment are applied only to extremely serious crimes in line with the International Covenant on Civil and Political Rights. Judging law violators with violations that can lead up to death penalty is conducted following a strict procedure as regulated by Vietnam's criminal law. The process ensures the defendant's rights; respects the presumption of innocence; and ensures the quality of openness, transparency, and fairness.
In its legal reform, Vietnam has many times reduced the number of crimes subject to capital punishment. Most recently, the 2015 Penal Code, which took effect in 2018, cleared eight crimes from receiving capital punishment. It stipulates that people under 18 years old, pregnant women, women whose children are under 36 months old, and people who are 75 and above when they commit the crime are exempt from capital punishment. –VNA