The Government and people of Oman have presented 300,000 USD of aid to people in flood-hit central provinces of Vietnam.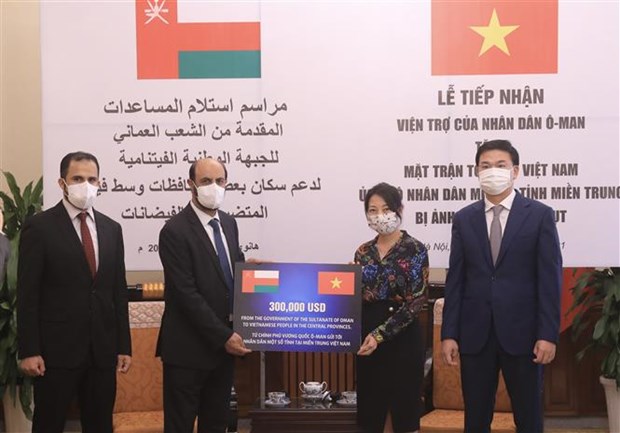 At the handover ceremony.
Addressing a ceremony to hand over the token of the aid grant on September 23, Omani Ambassador to Vietnam Saleh Mohamed Ahmed Al Saqri expressed his sympathy over human and asset losses caused by flooding in recent years in Vietnam's central provinces, and said he hopes that the assistance will help them overcome difficulties and quickly stabilise their lives.
He also voiced his hope that the Oman-Vietnam friendship and cooperation will continue to flourish.
After the ceremony, Deputy Minister of Foreign Affairs Pham Quang Hieu hosted a reception for the Omani Ambassador, during which they discussed measures to bolster the bilateral relations in the coming time.
Hieu asked the Omani side to continue to support Vietnam in the battle against COVID-19.
The Omani diplomat said he believes that the Vietnamese Government and people will soon bring COVID-19 under control and restore economic development./.
Source: VNA