The Foreign Ministry issued a notice on March 14, asking people who come from or transit areas hit by the COVID-19 epidemic to keep themselves updated on regulations of airlines and ensure they have all required documents in order to take flights.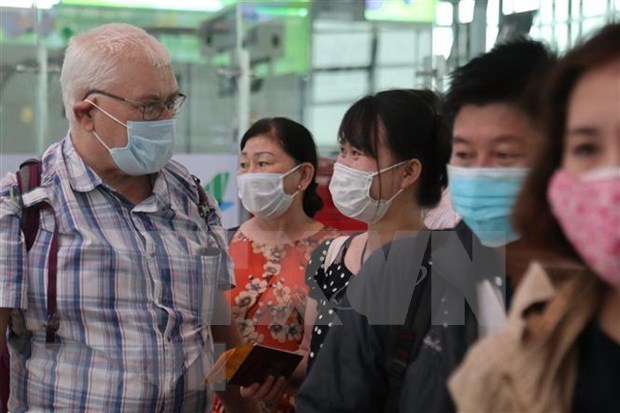 Passengers wear face masks at Vinh international airport
The Foreign Ministry issued a notice on March 14, asking people who come from or transit areas hit by the COVID-19 epidemic to keep themselves updated on regulations of airlines and ensure they have all required documents in order to take flights (especially documents certificating health conditions if any).
As from March 16, 2020, Vietnam requires that foreign citizens in Vietnam as well as Vietnamese citizens must wear face masks in public places where there are many people, such as supermarkets, airports, bus terminal or public transport means…
All passengers on domestic and international flights to and from Vietnam must wear face masks during the entire duration of their flights and when entering the airports.
Vietnam has informed diplomatic representative agencies, consular offices and representative missions of international organisations in Vietnam about the new requirements.
PM requests stronger countermeasures against COVID-19
Foreigners infected with the novel coronavirus SARS-CoV-2 would have to cover their treatment fees in Vietnam, but quarantine and testing fees will be free of charge, Prime Minister Nguyen Xuan Phuc has said.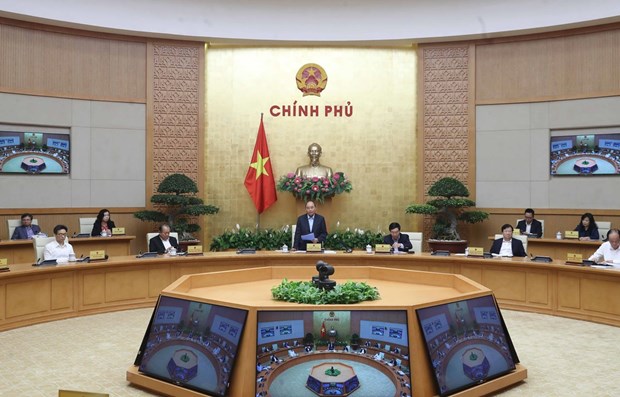 Prime Minister Nguyen Xuan Phuc speaks at the meeting 
At a meeting of the government's permanent members in Hanoi on March 13, PM Phuc also requested stepping up the application of technological advances in the fight against COVID-19 outbreak and mobilizing means and personnel for treatment of infected patients in order to minimize possible deaths.
He highlighted the need to drastically prevent sources of infection and spread of the disease in the community and promote health declarations as new epidemic hotbeds have appeared in the world.
"Vietnam has enough capability, resources, experience and will to prevent and control the epidemic. For the people's health, we are willing to sacrifice economic benefits in the short-term," he stressed.
The PM asked administrations at all levels, ministries and agencies to maintain the "double" goal of epidemic prevention, and social stability maintenance and development.
Regarding education, PM Phuc requested the sector to maintain quality despite reducing the time for teaching and devise suitable measures for international schools in the country.
In crowded places, it is a must for attenders to wear face masks, he said, adding that airports and international border gates have to prepare face masks for passengers entering Vietnam.
The government leader also noted that Vietnamese patients will be exempted from treatment fees, while foreigners will have to pay treatment fees and be exempted from quarantine and test costs.
The Ministry of Health was assigned to set up a fund for COVID-19 prevention and control.
According to the PM, Vietnamese students who return home must be subject to quarantine in line with regulations.
Border areas must be closely controlled to prevent travellers from epidemic-hit areas from entering Vietnam via a third country.
The Ministries of Health, Information and Communications must closely monitor social media to prevent the spread of negative information causing public panic, and increase drills in several localities to better respond to contingencies, PM Phuc said.
Existing scenarios, including plans to ensure food and necessities for people, must be lifted to a higher level, he said.
The National Steering Committee for COVID-19 Prevention and Control was urged to prepare necessary medical equipment for the fight against the disease, especially test kits to promptly discover SARS-CoV-2 positive cases.
Localities were recommended to distribute leaflets about epidemic prevention measures to each household.
Vietnam confirmed the 45th COVID-19 infection case in the afternoon of March 13. Among the infection cases to date, 16 had been successfully treated and discharged from hospitals.
Embassy in Germany supports OVs amid COVID-19 fight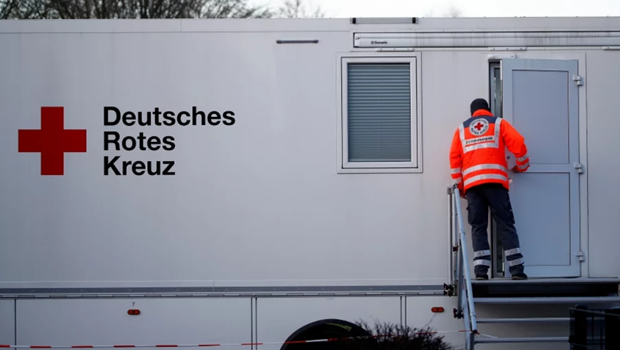 An employee of the German Red Cross closes a mobile test station for the COVID-19 in Heinsberg, Germany (Photo: Reuters)
The Embassy of Vietnam in Germany has closely stayed in touch with and provided guidance on COVID-19 prevention for overseas Vietnamese (OVs) and students in the European nation.
Information and recommendations could be found on the website of the embassy and organisations of Vietnamese in the country.
Vietnamese citizens are advised to inform family doctors, contact the host nation's hotlines for advice, and visit medical facilities for timely medical check-up and treatment if they show symptoms of COVID-19 or have contact with people from affected areas.
They are also recommended to contact the embassy's citizen protection hotline 049-162 539 1500 in case of emergency.
Groups of Vietnamese students in Germany also frequently inform their members on the COVID-19 outbreak, particularly via the website sividuc.org. About 7,500 Vietnamese students are staying in the country.
Minister Counsellor at the Vietnamese Embassy Dang Chung Thuy said that no COVID-19 infection cases have to date reported among Vietnamese citizens in Germany.
The embassy has stayed vigilant in disease prevention and been ready for citizen protection measures in the face of the outbreak, he added.
It has been working with Vietnamese organisations and local agencies to carry out countermeasures and update the situation, and asking the German side to pay attention to and support Vietnamese in virus-hit areas, he added.
Hoi An deploys preventive measures against COVID-19
As popular destination among foreign tourists, Hoi An ancient town in Quang Nam province is vulnerable to the COVID-19 pandemic. Therefore, the local government and people have proactively implemented preventive measures against the disease.
Frequently cleaning restaurants.
Compulsory face masks during work shifts.
Asking guests to wash their hands before entering.
These protocols are being applied for all restaurants and cafés in Hoi An.
Mobile speakers broadcasting real-time information and preventive protocols against the disease are among the measures the local government has been applying to prevent the disease from spreading, besides equipping medical supplies at tourist attractions and halting certain tourist activities.
According to statistics, around 8,000 foreign tourists are still in Hoi An. The city is deploying preventive measures to sustain a safe environment for them and its citizens.
Ministry issues guidance to fight COVID-19 in workplaces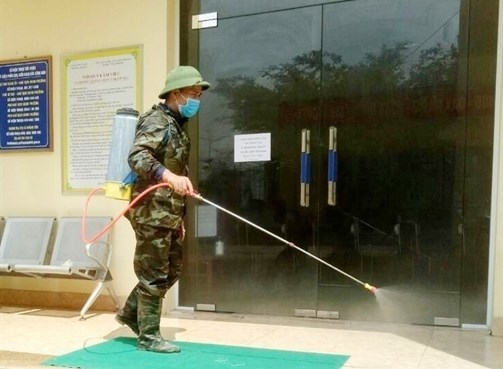 Disinfectant is sprayed at a local People's Committee in Quang Ninh province
Amidst complicated developments of the acute respiratory disease caused by the novel coronavirus SARS-CoV-2 (COVID-19), the Ministry of Health has released specific guidance on routine cleaning in the workplaces.
The guidance may help prevent workplace exposure to COVID-19, keeping workers safe and minimising the spread of the disease.
According to the instructions, all frequently touched surfaces in the workplaces such as countertops and doorknobs need to be cleaned routinely.
Workplaces need to be kept clean using common cleaning agents or disinfectants containing 0.05 percent chlorine concentration or at least 60 percent alcohol.
Dirty surfaces must be cleaned with soap and water before disinfection.
Floors, walls, furniture, workshops, toilets and all touched surfaces should be disinfected at least once a day.
Commonly used surfaces such as doorknobs, keyboards, remote controls, desks, elevator buttons, electric switches, handrails and phones should be disinfected twice a day.
Doors and windows at work and on vehicles which are used to transport workers should be opened to circulate air.
Restricting the use of air conditioners is also recommended.
It is necessary to have covered trash bins for workers and waste must be collected and treated daily.
At the workplace, workers need to implement good personal hygiene measures to prevent and fight the epidemic as recommended by the Ministry of Health, such as washing hands frequently with soap and water for at least 30 seconds or alcohol-based hand sanitiser.
Employees who have symptoms of acute respiratory illness are recommended to stay home and should notify their supervisor and stay home if they are sick.
Sick employees should cover their noses and mouths with a tissue when coughing or sneezing. They should wear masks at home and isolate themselves in a separate room.
Sick employees are also advised to call the hotline of the Department of Health or the Ministry of Health or go to the nearest medical facility for examination and treatment.
For workers who have to go on business to areas where there is a risk of COVID-19, they should check the Ministry of Health's information on the website www.moh.gov.vn.
Ninh Binh province closes tourist sites as virus fears mount
In an urgent notice sent to agencies and People's Committees of cities and districts, the provincial People's Committee said hotels in the locality must bar tourists coming from or transiting virus-hit areas, who have yet to undergo quarantine and medical checkups or who show symptoms such as cough and fever.
During the closure, the tourist sites and hotels need to conduct disinfection to ensure safety for holidaymakers when they are allowed to reopen.
Ninh Binh province is home to Trang An Landscape Complex - which was recognised by UNESCO as the world's mixed cultural and natural heritage.
Other popular destinations in the province include Bai Dinh Pagoda, Cuc Phuong National Park, Tam Coc-Bich Dong cave system, and the former royal citadel at Hoa Lu.
The province, which is hosting the 2020 National Tourism Year, strives to welcome about 7.8 million tourists in the year, including approximately one million foreigners.
Vietnamese students in RoK receive support to fight COVID-19
The Vietnamese Students' Association in the Republic of Korea (RoK) (VSAK) has swiftly taken measures to support students amid the complicated developments of the COVID-19 epidemic in the country.
VSAK Chairman Tran Thien Quang said the association has constantly updated information related to the epidemic, and disseminated disease prevention instructions on its fan page and website.
The association collected information on Vietnamese students in the RoK's epidemic-hit areas - Daegu and North Gyeongsang, and passed on the information to the Vietnamese Embassy in the country and local authority, in order to work out plans to provide suitable assistance to the students.
A fund-raising programme was launched on March 3 to support Vietnamese student in the country, especially those in Daegu and North Gyeongsang, he said.
Additionally, the association has also used its own budget, and cooperated with organizations of Vietnamese people in the RoK to support the students in epidemic-hit areas.
According to statistics of the National Institute for International Education (NIIED) of the RoK, Vietnam ranked second globally in the number of students in the RoK with 37,500 people, accounting for 23.4 percent of the total 160,000 foreign students here. About 3,500 Vietnamese students are pursuing their study in Daegu and North Gyeongsang.
/.VNA