Prime Minister Pham Minh Chinh landed at Prestwick airport on October 31 morning (local time), starting his trip for COP26 and a working visit to the UK at the invitation of his counterpart Boris Johnson.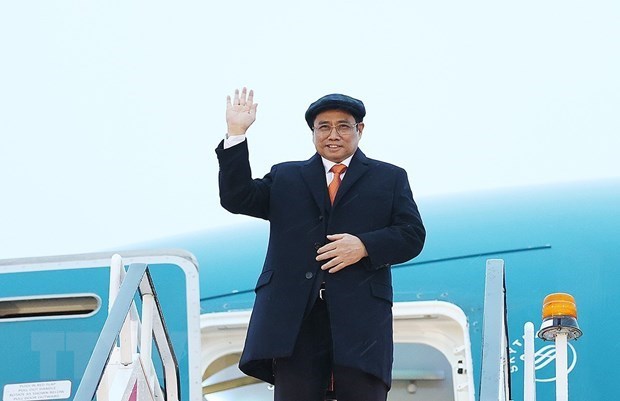 Prime Minister Pham Minh Chinh arrives at Prestwick airport in Scotland on October 31 morning 
During his stay from October 31 to November 3, the leader is scheduled to address the conference and have bilateral meetings with leaders of countries, international organisations and funds, and others.
His participation in the conference will extend a strong message on a responsible, proactive and active Vietnam that is joining hands with the international community in settling global challenges on climate change; and demonstrates determination, efforts as well as difficulties and challenges facing Vietnam in coping with the phenomenon.
The PM's visit to the UK will help consolidate the political trusts and further deepen multi-faceted cooperation; thus making the bilateral relations become more practical and effective.
The Vietnam-UK strategic partnership have, over the recent past, developed strongly and positively. In the context of the COVID-19 pandemic, the two countries have still maintained the exchange of high-level delegations and contacts.
The UK is now Vietnam's third largest export market in Europe, and its 13th largest foreign investor.
PM attends announcement of direct Vietnam-UK air route
Prime Minister Pham Minh Chinh on October 31 attended the announcement ceremony of a direct Vietnam - UK air route by the Bamboo Airways held in Edinburg city, the UK.
The budget carrier is planning to bring regular direct flights linking Hanoi and Ho Chi Minh City to London into commercial operation from the end of this year after approvals by the two governments. The initial frequency will be six flights per week, and to daily flights from 2022.
Implemented, the flights will help shorten the travel time to 12-13 hours, or 7 hours shorter than the transit ones.
The route is also opening up chances to increase flights between Vietnam and other top destinations in the world. It is expected to help boosting the relations of comprehensive cooperation between the two countries.
Source: VNA

PM Pham Minh Chinh left Hanoi October 31 for the 26th UN Climate Change Conference of the Parties, and for visits to the UK and France from October 31-November 5, at the invitation of his British and French counterparts Boris Johnson and Jean Castex.