Singapore and China have signed nine agreements and Memoranda of Understanding (MoU) in various fields such as customs clearance, intellectual property management, education, innovation and communications, and smart city development.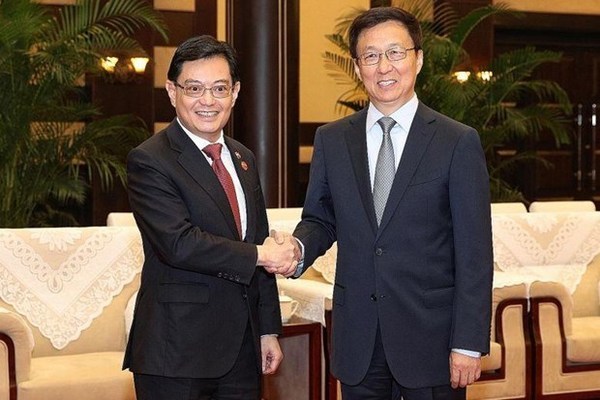 Singapore's Deputy Prime Minister Heng Swee Keat (L) and Chinese Vice Premier Han Zheng (Source: https://www.straitstimes.com)
Singapore's Deputy Prime Minister Heng Swee Keatand China's Vice Premier Han Zheng witnessed the signing of these deals afterthe conclusion of the Joint Council for Bilateral Cooperation (JSBC) meeting inChongqing on October 15.
The two government officials also reviewed thebilateral cooperation as well as economic transformation and tradeliberalisation, financial cooperation, and state-level bilateral cooperationprojects.
Heng said that collaboration between Singaporeand China must progress with time, as both countries have embarked on a newphase of development.
He also highlighted common challenges facingSingapore and China, including environmental protection, food security and anaging population.
The two officials reaffirmed the commitment tofree and open trade, and announced the start of the Singapore-China Free TradeAgreement Upgrade Protocol./.VNA