Foreign Minister Bui Thanh Son, head of the newly-established government working group on vaccine diplomacy, talks with the media about the group's tasks and role.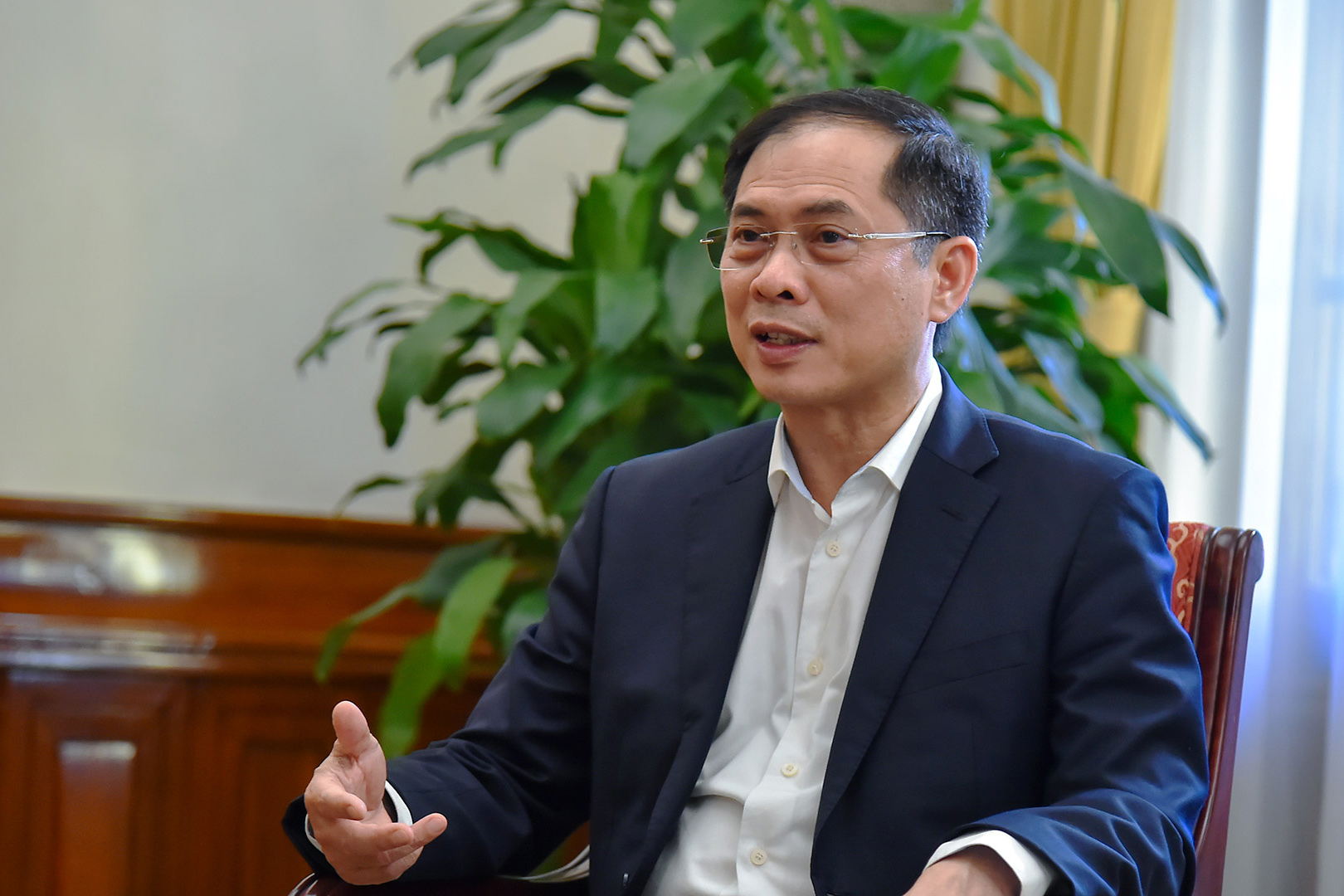 Foreign Minister Bui Thanh Son.
Minister Bui Thanh Son said that, with the appearance of new virus strains, the Covid-19 pandemic is very complicated and is spreading quickly. The fight against Covid-19 in Vietnam has entered a new phase. The vaccine is considered the key to control and repel the epidemic.
At a time when Vietnam has not yet produced a Covid-19 vaccine and the world's vaccine sources are scarce, vaccine diplomacy is a very important "front", because it is the first step that determines the successful implementation of the "vaccine strategy".
According to Mr. Son, through vaccine diplomacy, Vietnam has so far received millions of vaccine doses from the support of the international community. This not only directly serves epidemic prevention, but also has very important significance in internal, external, political, national defense, security and socio-economic aspects.
On August 13, the Prime Minister signed a decision to establish the working group on vaccine diplomacy, which has very important meaning in the current context.
The establishment of this group affirms the Party and State's consistent and transparent policy of giving top priority to protecting people's health; and maximizing all domestic and international resources, including vaccines, to soon reverse the epidemic, bring socio-economic activities and people's lives back to normal as soon as possible.
It also confirms the Government's determination in implementing the vaccine strategy to expand vaccinations to the entire population. Besides creating favorable conditions to accelerate research and production of vaccines at home, it is necessary to promote vaccine diplomacy in the immediate future.
The working group on vaccine diplomacy is a mechanism to strengthen close, rhythmic and synchronous coordination among relevant ministries to improve the effectiveness of vaccine diplomacy, to promptly and better respond to the requirement of pandemic prevention and control.
Most recently, Poland announced it will cede 3 million doses of vaccine to Vietnam. Photo: Prime Minister Pham Minh Chinh meets with Polish Ambassador to Vietnam Wojciech Gerwel on August 17.
The working group had the first meeting on August 16 and agreed on the motto of promoting the highest sense of responsibility to the Party and people; to be active, cooperative, innovative, and effective so that as many as vaccines as possible will arrive in Vietnam.
The Foreign Minister pointed out the three key tasks of the working group: promoting and mobilizing international partners and organizations to continue providing aid, cooperating in production and technology transfer of vaccines and drugs and medical items as soon as possible; urgently finding, approaching, connecting, promoting and urging foreign partners in negotiation, selling and delivery of vaccines, medicines and medical products to Vietnam as soon as possible; actively verifying foreign partners and information related to the ability to supply vaccines, drugs and medical products that Vietnam can import or cooperate with for production.
Thanh Nam 
(Source: VietNamNet)

A government working group on COVID-19 vaccine diplomacy, led by Minister of Foreign Affairs Bui Thanh Son, has been set up under a decision signed by Prime Minister Pham Minh Chinh.

Thanks to "vaccine diplomacy", Vietnam has received more than 15 million doses of covid-19 vaccine, with more than 12 million doses allocated to epidemic-hit localities in July alone.