Vietnam is temporarily recognising COVID-19 vaccination certificate/passport forms of 72 countries and territories that have been officially introduced to the Ministry of Foreign Affairs.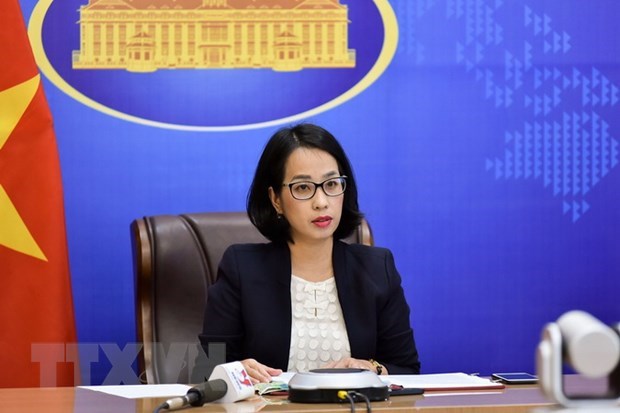 Deputy Spokesperson of the Ministry of Foreign Affairs Pham Thu Hang (Source: VNA)
At the ministry's regular press conference held virtually on November 4, Deputy Spokesperson of the Ministry of Foreign Affairs Pham Thu Hang said those carrying these documents can use them directly in Vietnam and have their time at concentrated quarantine sites cut to seven days in line with the Ministry of Health's guidance if they have been fully vaccinated or recovered from COVID-19.
The list of these nations and territories having officially introduced their forms to Vietnam is regularly updated on the Foreign Ministry's portal for consular work. The nations which have not done so yet can contact the representative agencies of Vietnam in their country to legalise and confirm these documents.
The deputy spokesperson said it is a temporary solution before Vietnam officially recognises foreign COVID-19 vaccination passports. For such recognition, the passports are required to meet the set of criteria for recognition and use of COVID-19 vaccine passports of countries and territories in Vietnam approved by the Government leaders.
Regarding COVID-19 vaccines, Vietnam accepts those approved by the World Health Organization (WHO), the US Centers for Disease Control (CDC), and the European Medicines Agency (EMA), or those licenced by the Vietnamese Ministry of Health for emergency use.
The COVID-19 vaccine passport form must be issued simultaneously in the electronic environment and its paper version must carry an authentication code. Countries and territories involved need to have a high safety level and a widespread vaccination rate.
According to Hang, Vietnamese authorities are considering the expansion of subjects eligible to enter Vietnam to apply at an appropriate time, towards the resumption of international commercial flights as usual. The Ministry of Foreign Affairs is urgently discussing with 80 partners to speed up the mutual recognition of COVID-19 vaccine passports./.
Source: VNA