The Standing Committee of the Central Steering Committee for Anti-Corruption has decided to keep an eye on the smuggling case related to giant mobile phone distributor Nhat Cuong and the $1.64 billion Da Nang - Quang Ngai highway project.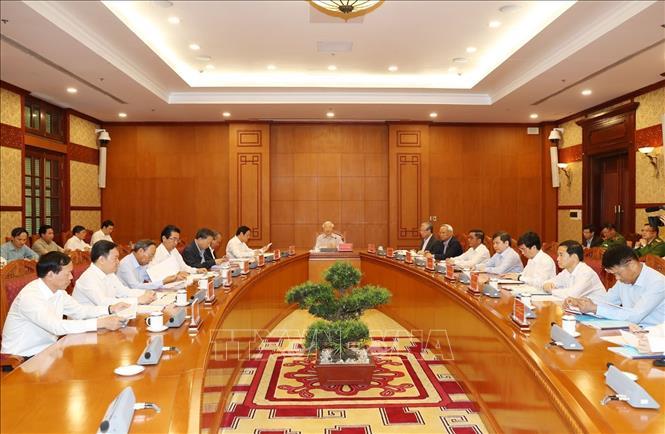 At the meeting. Photo: VNA
The decision was made at the committee's meeting on November 18 chaired by General Secretary of the Communist Party of Vietnam and Vietnamese President Nguyen Phu Trong.
At the meeting, participants listened to a report on the outcomes of the handling of the cases under the committee's supervision since the anti-corruption body's 15th session in January this year. They also discussed and gave directions on ways to deal with several complex cases.
Speaking at the event, President Trong, who is also head of the committee, said since the 15th session, central and local relevant agencies have strived to speed up the investigation, prosecution and trial of the cases under the committee's supervision.
He noted that probes into many cases have been expanded and many more suspects investigated, in an aim to identify their corrupt practices to handle them in line with the law.
Relevant agencies have finished dealing with 13 cases and 24 incidents, launched probes into 10 new cases and resumed seven other investigations, completed enquiries into 21 cases involving 127 people, prosecuted 18 cases involving 98 people, opened first-instance trials on 12 cases with 41 defendants, and held appeal trials on 13 cases with 156 defendants.
They have also seized suspected assets, blocked accounts and prevented transactions worth over VND10 trillion ($432.3 million).
Particularly, Trong said, authorities have strictly handled serious and complicated cases that caused public concern such as the abuse of position and power to appropriate assets at the Vietnam Shipbuilding Industry Group (Vinashin), the trading in fake medicine at the VN Pharma JSC, and the deliberate violation of the State's regulations causing serious consequences at Vietnam Social Security.
He attributed those outcomes to the great resolve, high consensus and close coordination among the central steering committee and relevant agencies.
The settlement of the big cases has continued to assert the Party and State's determination in the corruption fight, which must be carried out in a resolute, persistent and continuous manner and spare no one, he stressed.
The leader requested Party committees and organizations at all levels to further direct relevant agencies to push ahead with investigating, prosecuting and trying corruption cases on schedule.
From now to the end of this year, they have to finish probes of six cases, prosecute five cases, open first-instance trials on 11 cases, hold appeal trials on two others, and complete the verification of 17 incidents, he added.
In particular, the Steering Committee urgently requested trials for five serious and complicated cases, including: violation of regulations on management and use of state assets, causing loss and waste related to the project at 15 Thi Sach, Ho Chi Minh City; the case of violation of regulations on land management, violation of regulations on management and use of state assets causing loss and waste in Da Nang; the case of violation of regulations on management and use of public investment, causing serious consequences related to MobiFone, the Ministry of Information and Communications and relevant units; the case of smuggling and trading of fake goods at Lung Lo Company; and the case of abusing positions and powers on duty occurring at the Ministry of Information and Communications.
The Steering Committee also asked for a focus on investigating, clarifying and strictly handling violations of organizations and individuals related to the 2nd production expansion project at the Thai Nguyen Iron and Steel Company; the case at the Drug Administration of Vietnam, Ministry of Health; the case of violation of regulations on land management at the Saigon Beer and Beverage Corporation (Sabeco) relating to Project at No. 2-4-6 Hai Ba Trung Street, HCM City; and the case of violation of regulations on construction investment causing serious consequences at the Petrochemical and Petroleum Biofuel Joint Stock Company (PVB) and the Phu Tho Ethanol Plant project.
In addition, two cases will be put under the watch of the Steering Committee: the case of smuggling, violation of regulations on accounting causing serious consequences and committing money laundering at Nhat Cuong Mobile and related units and the case of violation of regulations on investment in construction works causing serious consequences related to the Da Nang - Quang Ngai Highway Project.
The Da Nang - Quang Ngai expressway, with total investment of US$1.64 billion borrowed from the World Bank and the Japan International Cooperation Agency (JICA), stretches nearly 140 kilometers in the central region, and is touted as an artery road linking major economic centers and forming part of the ambitious North-South Expressway project. It was formally opened to traffic on September 2, but just weeks later, numerous potholes appeared. The Ministry of Transport has ordered a thorough investigation into the project.
In latest news, four former and current executives have been detained in connection with alleged irregularities in the construction and work approval of this 139-kilometer-long expressway. These individuals are charged with infringing regulations on construction, leading to serious consequences, based on the 2015 Penal Code. They are alleged to have committed violations during the construction and work approval process of the expressway.
Nhat Cuong Trading and Services Co., Ltd, or Nhat Cuong Mobile, is known as one of the major mobile phone retailers in Hanoi. The tech company trades in mobile phones, mainly Apple products. Bui Quang Huy is also the legal representative of Nhat Cuong Software Co., which has run a number of technology projects for the municipal government, including a residential data project.
The police on May 14 raided nine retail stores owned by Nhat Cuong Mobile in Hanoi, seizing documents and thousands of mobile phones, iPads and their electronic accessories. An arrest warrant was issued for Huy and his accomplices.
The Nhat Cuong boss and his accomplices were found to have organized the transnational smuggling ring, maintaining two sets of accounting books to conceal trillions of Vietnamese dong worth of revenue.
The International Criminal Police Organization (Interpol) has issued a worldwide red notice for Huy, who fledthe country while facing charges for trading in smuggled mobile phones and for money laundering.
Compiled by T. Van

Lawmakers at a National Assembly (NA) session in Hanoi on Tuesday called for more effective measures to scrutinize asset declarations by public officials in an effort to tackle corruption.  

The Supreme People's Procuracy has prosecuted 21 people involved in the high-profile corruption case relating to Phan Van Anh Vu (also known as Vu Nhom), the agency said on October 18.