A Vietnamese Minister on September 10 introduced practical measures the government has taken to cushion the impact of the novel coronavirus (COVID-19) pandemic at the G20 Labour and Employment Ministers' Meeting.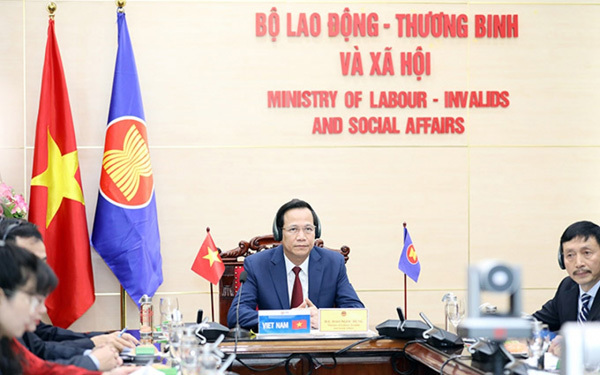 Attending the meeting, Vietnamese Labour Minister Dao Ngoc Dung says the Vietnamese government has been taking measures to support businesses and people in weathering the COVID-19 crisis. (Photo: nhandan.com.vn)

Joining ministers of the Group of Twenty (G20) at the meeting virtually hosted by Saudi Arabia, Minister of Labour, Invalids and Social Affairs Dao Ngoc Dung affirmed Vietnam's commitment to ironing out business snags and supporting people in need.
The government of Vietnam has introduced several relief packages and it will continue to offer additional similar packages to help businesses weather the COVID-19 storm, while at the same time supporting those in difficulty, Dung said, adding that part of the packages will be focused on skill training and re-training for employees.  
Dung went on to say that thanks to the Government's drastic measures along with efforts by businesses and employees, Vietnam's economy is forecast to maintain a positive growth rate in 2020.
According to the Vietnamese minister, the challenges posed by COVID-19 are global, which therefore require global commitments and efforts. He expressed hope the commitments outlined in the G20 Ministerial Declaration will chart a course for each country, based on its requirements and available resources, to make appropriate labour decisions to overcome this difficult period.
Dung also introduced highlights of the ASEAN Declaration on Human Resources Development for the Changing World of Work, which was adopted at the recent 36th ASEAN Summit hosted by Vietnam. The Declaration emphasizes the impact of technological advances, population aging, climate change and diseases on labour and employment issues, and put forward actions to be taken by ASEAN in response to the changing world of work.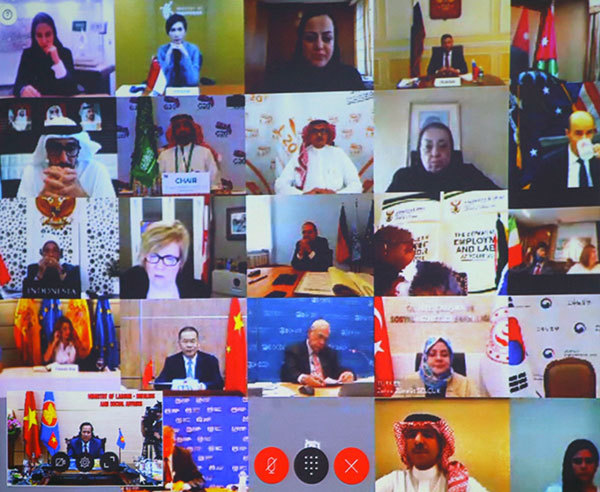 The G20 ministers adopts a declaration, putting a focus on decent work, youth and women. (Photo: The Vienamese Ministery of Labour, Invalids and Social Affairs)
At the meeting, the Ministers reaffirmed their determination to use social dialogue and to work with other ministers to ensure policy coherence in constructing effective, inclusive and sustainable response measures, in the Declaration issued at the end of their one-day, virtual meeting.
The Ministerial Declaration focused in particular on issues facing youth and women, on whom the pandemic is having a disproportionate impact. It commits the G20 to strengthening support for young people – particularly young women – in making labour market transitions and finding quality employment, and to redouble their efforts to achieve the Antalya Youth Goal, through which G20 members commit to reducing the share of young people who are most at risk of being permanently left behind in the labour market by 15 per cent by 2025. To this effect, they adopted the G20 Youth Roadmap 2025.
Ministers also acknowledged that more needs to be done to achieve the G20 Brisbane goal, and they committed to ensuring that recent falls in women's labour force participation do not become structural, and to advancing gender equality and pay equity. 
The Declaration also highlights the "vital role" of social protection, saying that "the COVID-19 pandemic has reinforced the need for strong social protection systems to support all workers and their families". It commits the G20 to "adapting and improving our social protection systems to provide access to adequate social protection for all", including women, youth, the self-employed, platform and own-account workers, and those in informal employment. VOV

Deputy PM and Foreign Minister Pham Binh Minh affirmed that global and regional solidarity, cooperation and coordination are essential to help the world overcome the COVID-19 crisis while addressing online G20 Foreign Ministers' Meeting.