Senior Lieutenant General Nguyen Chi Vinh, deputy minister of defence, speaks to Vietnam News Agency on Vietnam's plans in United Nations' peacekeeping missions.
Vietnam considers sending civil force to UN peacekeeping missions
Joining UN peacekeeping missions affirms VN's contributions to world peace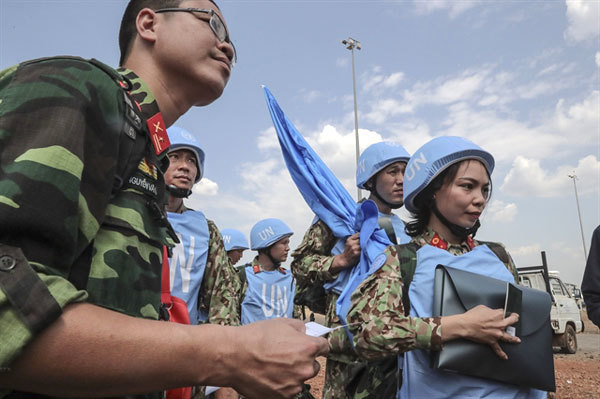 Vietnamese medical military officers arrived at Juba international airport in Juba, the capital city of South Sudan, on October 2, 2018, to work for the level-2 field hospital in the war-ravaged country, marking the first time that Vietnam participates in UN peacekeeping missions. — VNA/VNS Photo
What is the significance of Vietnam's participation in UN peacekeeping missions?
First, Vietnam's participation in UN peacekeeping missions is a notable item in Vietnam's foreign policy as a showcase of a trustworthy, responsible member of the international community.
Vietnam is not yet developed and we certainly have lots of difficulties to deal with, but we do not just want to receive support and help from the UN, we want to in return contribute to the UN's activities to the best of our ability.
Secondly, the participation of Vietnamese in the UN peacekeeping mission helps promote the image of the country, our people and our military to the world – and for this, the officers must be absolutely faultless and perform their duties with success.
Vietnamese peacekeepers are a model military unit, with the highest rate of female officers among all countries' peacekeeping missions and have been free from any violation of UN rules.
The officers' work and training in a hostile, foreign environment has allowed them to acquire new skills in line with international standards.
Take military medicine for example, we can see from the results of their work that our officers are very capable, but that's not enough. The UN has laid out more than 90 protocols that must be followed to avoid mistakes, which I deem a good practice that we need to acquire.
Additionally, the UN has praised our officers' performance in several fields such as adapting to harsh environments, their well-organised living arrangements and survival in circumstances of extreme paucity.
Working in a foreign, war-torn country could also be seen as a test for our officers to see the level of Vietnamese military officers and be confident that the military's experience in past wars and liberation efforts can still make meaningful contributions in peacetime.
With Vietnam's second field hospital level-2 set to replace its predecessor in South Sudan, what are the differences in the duties the defence ministry has assigned to these two hospitals?
The first field hospital completing its first-year duties with flying colours has provided us with valuable lessons and experience. The biggest challenge is that the second hospital must perform at least as well or better than its predecessors.
One of our priorities is ensuring a higher ratio of female officers with higher skill and knowledge working in the second hospital.
In the first year, due to the lack of time and preparations, the capacity level of a number of officers was not up to what we wanted, so this time, the whole hospital's staff must be more well-rounded and even in terms of skill level.
We are also working hard towards building a plastic waste-free model of operation as this is one of the UN's important priorities, a special request from the host country South Sudan and is also in line with plans from Viet Nam's Communist Party and State.
Figuring out how to avoid using plastic, from nylon packages to cups and medical instruments, is not an easy task, especially given the nature of medical care, but I believe that with determination from all involved parties, we can achieve this goal and become the first country to deploy a plastic-free mission to a foreign country as part of UN peacekeeping efforts.
How will Vietnam's increasingly active peacekeeping activities contribute to the country's time during its seat as a non-permanent member of the UN Security Council in 2020-21?
Our responsibilities are certainly getting heftier, with more demands that our activities be more 'tied-in' with our role as a member of the UN Security Council.
As Vietnamese female officers' performance has been stellar and praised by the UN, the UN has asked Vietnam to co-ordinate with the organisation in holding an international summit on the role of women in peacekeeping missions later this year or early 2020. The summit holds significant meaning for the UN and many countries as the role of women in general has been given increasing attention, in line with empowerment of women and girls as part of the UN's sustainable development goals.
This represents an opportunity to present the image of Vietnamese women in peacetime, as well as Vietnam's progress in promoting gender equity.
Vietnam is expecting to send a sapper force of 300 members to take part in the peacekeeping mission. Is this a challenge?
This is a new step in our peacekeeping efforts. With military medicine, our team comprises of 60 officers, the equivalent of a company. But for sappers, the unit reaches battalion or even regiment-level, with a huge amount of equipment needed to be transported to the host country.
Also, the sapper force will not be based in a fixed location but will be active in many areas and the services required of them will be much more challenging. However, we have more than three years to prepare for the sapper force and their performance has been highly rated in recent UN inspections.
Vietnamese sapper leaders and some of the officers have also been sent to the on-site locations in South Sudan for initial surveys, and they have pledged to fulfill their mission.
What are the chances of Vietnam's sending civilian forces to partake in UN peacekeeping missions?
This is one of the UN's requests. The deployment of civilian force is also included in a project the Politburo has approved. However, we should exercise more considerations to ensure the missions will be fulfilled but also that the safety of the civilians is guaranteed.
The UN has also requested that we further expand our engagements in peacekeeping missions and asked Vietnam to consider sending infantry forces to protect the bases without engaging in conflicts, or deploying military experts and police officers to serve as advisors.
During our work in numerous countries and peacekeeping missions, the UN has offered a number of Vietnamese officers to act as UN command officers at the country's missions as well as at the UN's country headquarters.
This is what we have been aiming at for years but haven't been able to do. I will soon submit a report to authorities to send some Vietnamese officers to serve as commanding officers of a country's mission or staff officers at UN headquarters.
This will mark a new type of presence of Vietnam's defence and military on the international stage.
VNS