With Vietnam and the United States celebrating their 25th anniversary of bilateral diplomatic relations, US Ambassador to Vietnam Daniel J. Kritenbrink talked about the economic achievements brought about by the relations of both countries.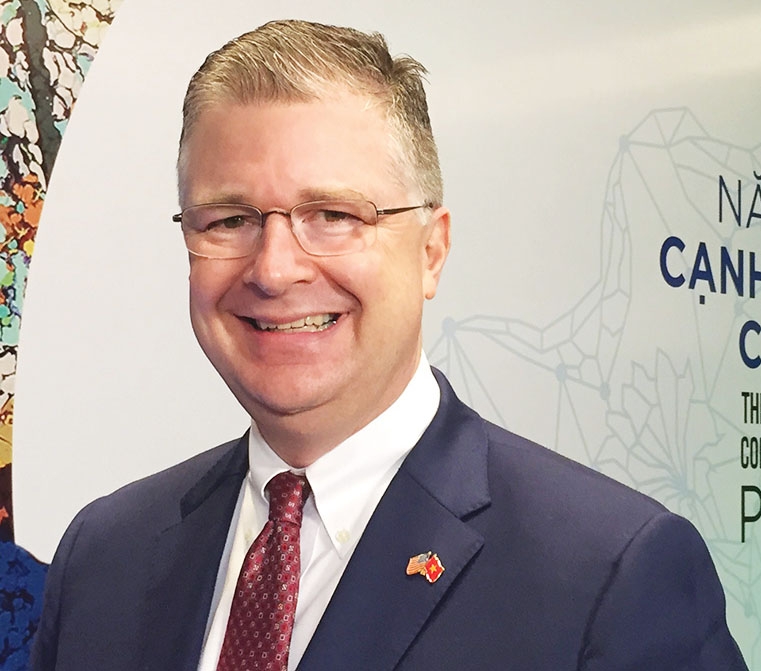 US Ambassador to Vietnam Daniel J. Kritenbrink
What are the most significant achievements brought about by the 25-year relations between Vietnam and the United States?
The partnership between Vietnam and the United States today is very broad and deep. We are co-operating in many fields, such as security, trade, energy, and health, which is certainly one of the most promising parts of the whole relationship.
The economic ties between the United States and Vietnam are incredibly strong and we are really excited because if you go back 25 years ago, our trade was almost zero. And today, our annual bilateral trade amounts to $77 billion. US exports to Vietnam were up 13 per cent last year to almost $11 billion. But at the same time, the trade deficit has grown substantially as well because Vietnam's exports to the United States have grown so rapidly.
So what we are focusing on is to make sure that we open up the Vietnamese market so that American businesses can compete openly and fairly. We also hope to encourage our Vietnamese friends to buy more American products to help balance out the trade.
At the same time, we support our companies to continue their investment activities and create many world class jobs for locals. So far, US companies in Vietnam have carried out many corporate social responsibility activities, which I think really helped the public.
Even though our economic and trade relationship is incredibly positive, there are some challenges as well. So, we are working to make sure that our trade is also free, fair, and balanced. That involves solving some of the existing market access barriers in Vietnam. However, we see tremendous opportunities in Vietnam and are very optimistic about the future.
What do you believe are the tremendous opportunities for American companies in Vietnam?
The energy sector is one of the most promising examples, where American companies can support developing infrastructure to import liquefied natural gas as well as working on renewable sources and expanding the grid. Moreover, other sectors are offering many similar opportunities, such as healthcare, infrastructure, IT, aviation, and smart cities.
Over the years of our mutually beneficial relationship, the United States has been one of the largest investors in Vietnam. American businesses often tell me that they are impressed by Vietnam, especially because of the stable environment that the country offers. They appreciate the government's leadership in solving problems and ensuring that foreign-invested enterprises can succeed here, and they are appreciating the Vietnamese workforce which is young, dynamic, and increasingly well-educated.
The Vietnamese minister of Industry and Trade and the chairman of the US-ASEAN Business Council have just signed an MoU for co-operation. Could you provide more details about the deal?
The MoU is titled "Strengthening Industry and Trade Co-operation". Therefore, the priority objectives include to promote co-operation in trade, enhance co-operation in the economical and efficient use of energy, in industry and chemicals, and in consumption of goods in the domestic market.
Moreover, the agreement aims to exchange information in developing and implementing policies to support the development of e-commerce and the digital economy, as well as co-operating on consumer protection and law dissemination. This memorandum will be valid for three years from the date of signing. In an effort to strengthen the trade-investment relationship between Vietnam and the United States in a sustainable manner, the two sides are expected to further develop co-operative relationships to support the business community and investors on both sides.
What are the prospects for Vietnamese enterprises in the US market?
As you know, the United States is Vietnam's largest export market. So far, Vietnam has exported everything from agricultural products to textiles and electronics to the United States. Thanks to the MoU, we will export more high-tech goods to Vietnam which support local businesses to improve their products' quality.
Our trade is quite diverse, and there are many good prospects for both sides. As long as we keep working, trade can become more balanced and barriers can be broken down. Therefore, I am going to remain optimistic about our future. 
Phuong Hao (VIR)

The US has proposed to reduce the import tax on some of its agricultural products, including chicken, some fruits, wheat, potato, pork and dairy products.

A ceremony to launch activities to celebrate the 25th founding anniversary of Vietnam-US diplomatic relations (1995-2020) was held on January 30.