Vice Chairwoman of the National Assembly Tong Thi Phong had a meeting with Speaker of the National Assembly of the host country Maja Gojkovic on October 16.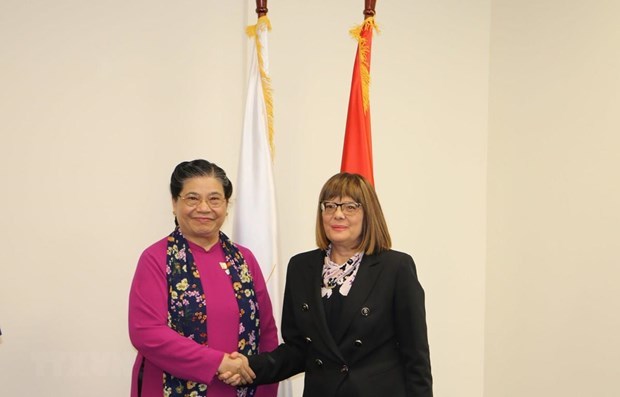 Vice Chairwoman of the National Assembly Tong Thi Phong (L) and Speaker of the National Assembly of the Serbia Maja Gojkovic
Phong expressed her pleasure at visiting Serbia for thefirst time as well as her impression of a beautiful nation which is rich inhistory, tradition and culture.
She said that Vietnam attaches great importance todeveloping ties with traditional friends in central and eastern Europe,including Serbia.
She held that the two countries boast high potential forcooperation, especially in economy, trade, education and sports.
Two-way trade has reached 25 million USD per year, but hasyet to reach the potential of both sides, she said, proposing the two countriesfocus on promoting their partnership not only in economy and trade but also in energy,culture and people-to-people exchanges.
The two countries should create more opportunities forbusinesses to exchange and explore each other's market and strengths, whileseeking new cooperation opportunities, she said.
Regarding collaboration between the two NAs, she said theyshould increase delegation exchanges and share experience in law-building,supervision and law enforcement, creating a corridor for economic, trade andinvestment cooperation.
Phong thanked Serbia for supporting Vietnam in running forthe position of a non-permanent member of the UN Security Council in the2020-2021 tenure, expressing her hope that the two sides will continuecooperating with and supporting each other in regional and internationalmatters.
For her part, Serbia's top legislator said that this is ahistorical bilateral meeting between leaders of the Vietnamese and Serbian NAs,contributing to enhancing mutual friendship and partnership between the twocountries.
Maja Gojkovic noted that the 141st IPU Assembly has gatheredthe highest number of delegates in its history, with nearly 80 NA speakers and60 deputy speakers, along with over 2,500 parliamentarians and representativesfrom international organizations.
Vietnam and Serbia should work more closely to contribute toraising the union's role and position, she said.
She agreed with her guest on the need to promote the partnershipbetween the two NAs as well as bilateral ties in economy, trade, culture anddefence.
She also took the occasion to invite Vietnamese NA leaderNguyen Thi Kim Ngan to visit Serbia soon.
Also on October 16, Phong had a separate meeting with headof the Australian delegation Lucy Wicks, during which she showed her delight atthe growing Vietnam-Australia ties, especially in economy, trade andeducation-training, and particularly since 2018 when the two countries liftedtheir relations to a strategic partnership.
Noting that the establishment of friendship parliamentariangroups of both sides has contributed to fostering collaboration between the twoparliaments, Phong said that in the future, the two sides should work closelyto realize the outcomes of the Vietnam visit by Speaker of the Australian Houseof Representatives Tony Smith in July this year.
The Vietnamese official thanked Australia for supportingVietnam's bid for the UN Security Council as well as its stance on the East Seaissue. Vietnam hopes Australia will continue supporting the central role of ASEANas well as ASEAN-led mechanisms, she said.
In 2020, Vietnam will act as a non-permanent member of theUN Security Council, ASEAN Chair and Chair of the ASEAN Inter-ParliamentaryAssembly (AIPA), she noted, asking for Australia's assistance in performing theroles.
Phong also conveyed an invitation from NA Chairwoman NguyenThi Kim Ngan to Australian parliamentary leaders to visit Vietnam and attend the41st AIPA General Assemblynext year.
Wicks said that the Australia-Vietnam relations play animportant role in the partnership between Australia and ASEAN.
The successful Vietnam visit by Australian PM Scott Morrisonin September 2019 helped strengthen the bilateral strategic partnership, shesaid, adding that Australia hopes to continue bolstering its affiliation withVietnam in economy, trade, education-training and people-to-people exchange.
Australia supports and promotes trade liberalization and wishesto further enhance economic cooperation between the two countries, shestated./. VNA