Vietnam welcomes and is grateful for the timely and practical assistance from countries, partners, and international organisations to Vietnam with regards to COVID-19, foreign ministry spokesperson Le Thi Thu Hang said on Thursday.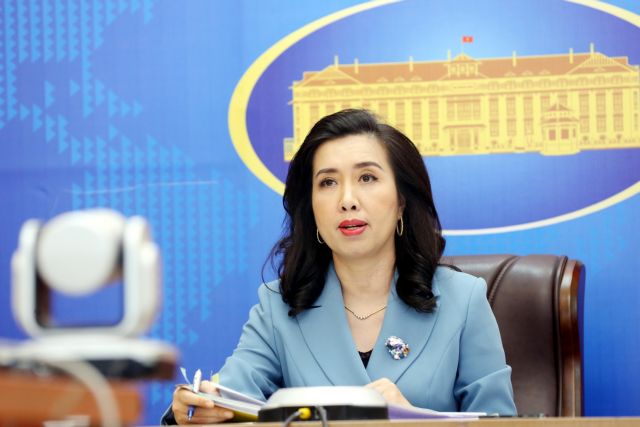 Spokesperson for the Ministry of Foreign Affairs Le Thi Thu Hang.
The spokesperson also confirmed that a further three million doses of Moderna COVID-19 vaccine donated by the US Government would be delivered to Việt Nam via the global vaccine sharing initiative COVAX on Sunday, bringing the total assistance to five million doses after the first shipment of two million doses of Moderna arrived on July 10.
"Vaccine diplomacy is being carried out with vigour, and with the engagement of Party, State, Government and National Assembly leaders, in a bid to inoculate at least 70 per cent of the population by early next year and achieve herd immunity against COVID-19," Hằng said.
To date, Việt Nam has received some eight million doses of vaccine – 4.5 million from COVAX (two million doses from the US included), three million doses from Japan, 500,000 from China, and 1,000 doses of Sputnik V as a gift from Russia.
In addition, India, the UK, Australia, Cuba and Germany have also made concrete commitments on vaccine assistance or vaccine production technology transfer to Việt Nam, according to Hằng.
The United Nations Children's Fund (UNICEF), and countries like Laos, Japan, the Republic of Korea (RoK), Australia, Germany, Cambodia and Saudi Arabia have also provided Việt Nam with medical supplies and resources to help fight the pandemic.
According to the foreign ministry, the Vietnamese leaders have thanked countries for their valuable support during their meetings and online talks, and in letters to foreign leaders, saying it demonstrates the friendly relations between Việt Nam and international partners and friends.
Việt Nam itself has also contributed US$500,000 to COVAX.
Việt Nam is set to receive up to 150 million doses of COVID-19 vaccine this year, both from assistance and through deals with manufacturers including AstraZeneca and Pfizer.
By the end of Wednesday, 4,042,984 doses of COVID-19 vaccine, mainly AstraZeneca, have been administered in Việt Nam, with 324,955 people having received the full two doses.
Source: VNS