Deputy Minister of Agriculture and Rural Development Phung Duc Tien and Norway's State Secretary Trine Danielsen on Friday signed a Letter of Intent on promoting trade, co-operation and investment in the marine aquaculture sector.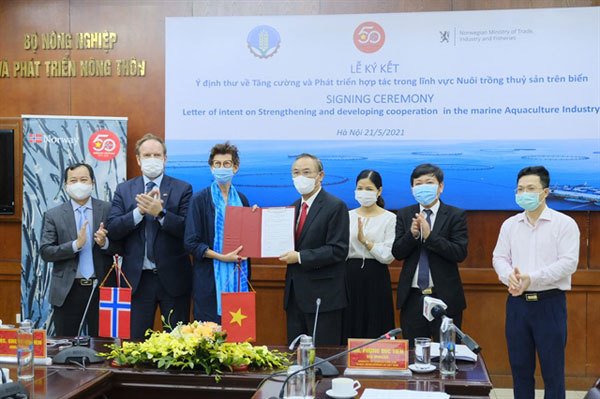 Deputy Minister of Agriculture and Rural Development Phung Duc Tien (fourth, right) and Norway's Ambassador to Vietnam Grete Løchen (third, left) at the signing ceremony in Hanoi on Friday afternoon. — Photo courtesy of Norwegian Embassy
The move aims to mark the 50th anniversary of diplomatic ties between Vietnam and Norway (1971-2021) and to celebrate nearly four decades of bilateral co-operation between the two countries in the fisheries sector.
Speaking at the ceremony, Tien said on the basis of the letter, Vietnam would facilitate and support managerial agencies, research institutes and businesses in their co-operation for the development of the marine aquaculture sector between the two countries.
Co-operation activities included sharing and assisting in law enforcement and technological reforms; building capacity and research co-operation; promoting trade and investment co-operation in the private sector; and encouraging exchanges of business visits on marine-aquaculture fairs exhibition, he said.
Norway's Ambassador to Vietnam, Grete Løchen, said the signing ceremony was supposed to happen last year as part of an official visit by the Norwegian Minister of Trade, Industry and Fisheries to Vietnam, but it was cancelled due to the COVID-19 pandemic.
The sustainable and developed marine aquaculture industry was of great potential and thus it required technology, green and cost-effective solutions, she said.
The signing ceremony was another step to boost Norway-Vietnam co-operation in the sector, she said.
"I believe Norway and Norwegian businesses are ready to co-operate and share," she said.
As well as the signing ceremony, a webinar on developing Vietnam's marine aquaculture on an industrial scale took place on Friday.
The webinar offered a forum for stakeholders to exchange information and experience about key factors that decide the success of a marine aquaculture industry, which span from planning and policy-making including credit policies, governance, human resources, vocational training, green technologies and smart solutions to enable businesses to invest and contribute to make the industry profitable, sustainable and environmentally friendly.  
VNS

Many Norwegian companies said they are ready to invest in Vietnam as long as the Vietnamese government ensures a fair and equal investment environment.

"The pandemic is of course challenging Vietnam's ambitious plans for its ASEAN Chairmanship. However, from what I see, Vietnam has turned the challenge into opportunity," wrote Norway's Ambassador to Vietnam Grete Lochen.