Pollution affects southern HCMC residents

Residents in the south of HCMC, including districts 7, 8, Nha Be and Binh Chanh, have complained of a terrible odor from a nearby dumpsite, particularly at night and on rainy days.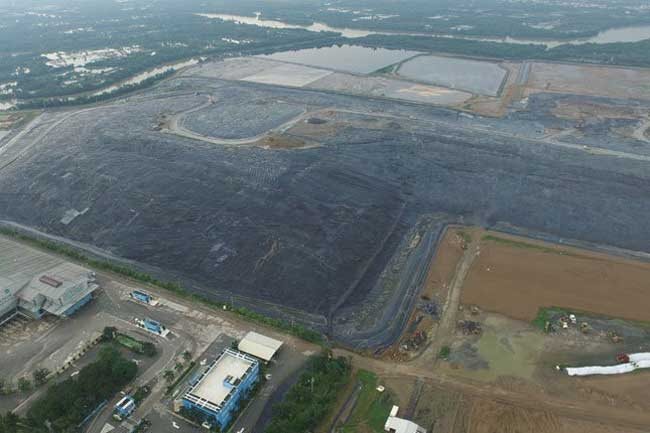 A view of the Da Phuoc waste treatment complex. Residents in the south of HCMC have to endure a terrible odor from the dumpsite of the complex - PHOTO: TL
Many households in Nha Be District's Phuoc Kien Commune stated that they have to close all doors and windows all day and night and cannot sleep at night due to the foul odor.
The unpleasant smell was said to come mainly from the dumpsite of the Da Phuoc waste treatment complex in Binh Chanh District.
A representative of the HCMC Department of Natural Resources and Environment noted that the air pollution has worsened since 2016. The department had earlier asked Vietnam Waste Solutions (VWS), the investor in the Da Phuoc waste treatment complex, to deploy 10 solutions to manage the odor.
Specifically, VWS must allocate staff and equipment to receive and treat waste in the fastest way possible, spray more deodorants, treat leachate properly and install more odor receivers.
Nevertheless, since early last month, the department has received multiple complaints from residents in the south of the city about the odor. It has written to the governments of districts 7, Binh Chanh and Nha Be and to VWS to seek comprehensive solutions to the problem.
According to the representative, the waste treatment technologies applied at the complex are outdated. The city will call for investment to upgrade the complex by applying waste-to-energy technologies.
Although calls for investment have been made since 2017 to reduce the volume of buried waste, no waste-to-energy plants have been put into operation. Such a plant would need only 24-28 months to be completed.
Tam Sinh Nghia Investment-Development JSC, Vietstar Environmental JSC and VWS are each required to burn at least 2,000 tons of waste daily to produce electricity. The department expects 60% of waste in the city to be burned to generate electricity by next year and the remainder will be buried.
The city will hold tenders to develop two waste-to-energy plants with a daily capacity of 2,000 tons of waste each after 2020. SGT