Poor patients, families enjoy music therapy
VietNamNet Bridge – When 11-year-old Nguyen Thu Hoa gave us a radiant smile, it was possible to forget, for an instant, that she'd been fighting for her life for three years now.
VietNamNet Bridge – When 11-year-old Nguyen Thu Hoa gave us a radiant smile, it was possible to forget, for an instant, that she'd been fighting for her life for three years now.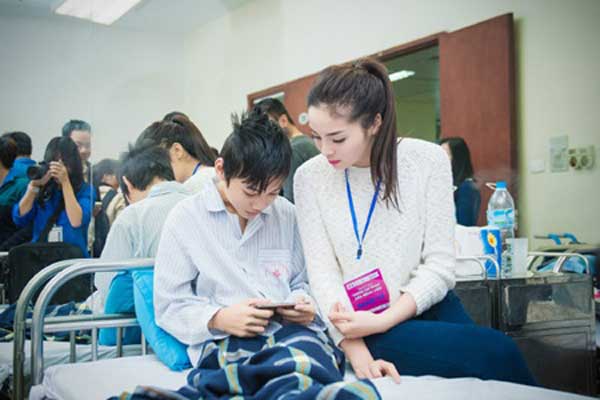 Miss Viet Nam 2014, Nguyen Cao Ky Duyen distributes gifts to the patients. — Photo vtc
We'd asked Hoa, who suffers from blood cancer, what she thought of the song Tu Nguyen (Volunteer) sung by Thai Thuy Linh.
Hoa and hundreds of other patients at the Institute of Haematology in Ha Noi, the patients' families and doctors - Central Blood Transfusion for three years, were treated to a live, outdoor concert by the famous singer last Friday.
The performance was the 103rd live show under the "Bringing music to patients" charity programme launched in December 2011 by Linh, but the initiative has been taken to another level by the first one officially organised by the Ho Chi Minh Communist Youth Union this year.
These details did not matter to Hoa, of course.
"I love Linh," she said. "At home in Bac Giang, my classmates and I always applaud her when we see her on TV. I never thought that I would meet her and she would touch my head."
The Youth Union's involvement has brought in several other actors including corporate donors and social organisations, considerably boosting the programme's reach and fund-raising capabilities.
Last week's concert was sponsored by BIDV, the Bank for Investment and Development of Viet Nam and co-organised by the Viet Nam Young Doctors' Association, Tim Hong (Pinky Heart) Volunteer Group, and artistes.
Also part of the performance was Miss Viet Nam 2014, Nguyen Cao Ky Duyen, who distributed gifts to the patients.
Vu Minh Ly, director of the Youth Union's Viet Nam Volunteer Centre, said the programme would be expanded in terms of the number of performances, participating artistes and localities where the concerts would be held.
For instance, there will be at least three performances a month, instead of the present two, he said.
"We have worked out a list of 40 hospitals and health centres in five cities and provinces that the programme will hold concerts in this year. In May, artists will sing for patients in Ly Son Island in Quang Ngai Province."
The aim was to bring music to patients in mountainous, island and rural areas, Ly said.
The programme hopes to take full advantage of the wide Youth Union member network in rural areas to attract a large number of young people as volunteers for each performance, thus increasing their awareness and commitment to social causes.
The enthusiastic participation of young people, including doctors, will make it easier to attract donors and artists, Ly said.
"Artists, especially young singers, want to contribute their talent to serve poor patients who would otherwise have little chance to hear live concerts or meet artists face-to-face," Ly said.
"The joy that patients, both children and the elderly, feel in interacting with the artists is obvious," he added.
The programme's focus on poor patients can be seen in the fact that the charity concerts are held in public hospitals like Ha Noi's K Hospital (for cancer patients), the Central Paediatrics Hospital or rural health centres.
Morale boosting
Linh said the idea to organise charity concerts came to her when she was at the K Hospital to care for her aunt. She felt the need to do something to lift the morale of patients and their families.
She called on old classmates at the Viet Nam National Academy of Music, and co-ordinated with the Ministry of Health's Youth Union, Ha Noi Young Artists' Association to hold two shows at the Ha Noi-based Central Paediatrics Hospital and the Institute of Haematology and Blood Transfusion. These performances in March 2012 were the first under the programme.
"The singers were able to make child patients, their families and health workers happy. They were received warmly. Smiles and songs were heard more than cries," Linh recalled.
For the charity performances, singers took on all the tasks, including emceeing, doing backstage tasks, cleaning up and packing gifts.
Doctor Nguyen Huu Phuc, deputy head of the Viet Nam Education and Psychology Association, said the concerts were not just entertainment for patients, they had positive psychological, therapeutic impacts.
Typically, patients are likely to be anxious and not relaxed, and this would be heightened by the stuffy atmosphere of overloaded rooms. The concerts would make treatments more effective by easing pressure and helping the patients relax, he said.
Armed with the motto of "exchanging music for patients' smiles," many artistes have worked hard to arrange time within their busy schedules to perform twice a month.
Nguyen Truong Nam, secretary of the Ministry of Health's Youth Union, said the programme has so far reached 30 hospitals in Ha Noi, one in Hoa Binh Province and two in HCM City.
Organisers have collected hundreds of millions of dong from donors directly at performances and through bank accounts, Nam said.
Ly said they were "surprised and happy to witness patients who in wheelchairs drop VND10,000 notes into the donation box."
"An old patient told me that he wanted to help those in greater difficulty than him."
Hoa, cradling a cute plastic doll gifted to her by the programme, said she was ready to give her "beautiful" toy to another child patient.
"I hope it will make them less sad."
Kieu Van
VNS