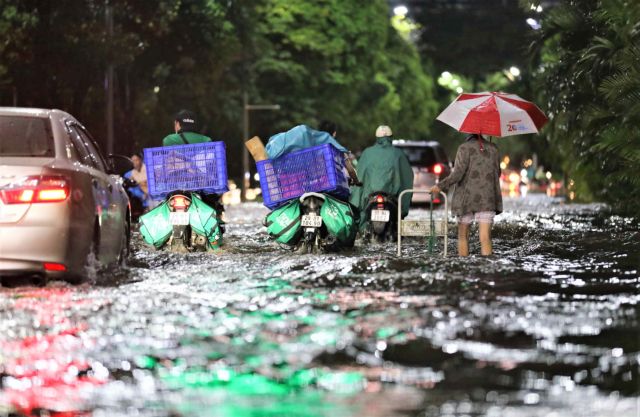 Flooding after a torrential rains in an urban area in Hanoi in mid-May. 
In the last few decades, floods have become more frequent in the capital city.
Climate change is said to be one of the causes of heavy rain and flooding, however, many experts believe natural factors are only part of the issue, with poor urban planning, construction and management also to blame, according to Economic & Urban Affairs newspaper.
Dr. Vu Hoai Duc, architect and lecturer of Vietnam National University, Hanoi, said that many urban projects in Hanoi  have taken into account natural disasters and climate change.
However, there was a lack of participation from experts in irrigation science and environmental resources in the planning process, Duc told the newspaper.
Therefore, responding to extreme weather such as heavy rain and floods is a problem for Hanoi, especially in the western region where there are many rural areas located by rivers' banks.
For example, floods in 2017 and 2018 broke dykes along the Tích and Bùi rivers in Chuong My District, submerging thousands of houses.
In the past, Hanoi saw flooding in the inner city because this area has poor drainage infrastructure and is densely populated. But now, flooding has spread to the suburbs and newly-built urban areas.
The master plan for Hanoi's development to 2030 approved by the then Prime Minister in 2011 raised two important issues of urban economic development and environmental protection.
These issues have been realised in zoning plans and projects on technical infrastructure including drainage, green areas, parks and lakes.
However, after implementation, many targets set out in these plans and projects were not met.
This is because the urbanisation rate is still low while population growth exceeds the overall planning target, leading to overloaded infrastructure. The slow construction of satellite towns and eco-towns results in a lack of green space for the city.
In the inner city area, the relocation of the headquarters of ministries, branches, higher education institutions and industrial production facilities to save land for public spaces has not been carried out effectively. Due to shortcomings in the implementation of the master plan, the city is facing environmental problems such as air pollution, garbage, wastewater, and flooding.
Viet Nam is one of the countries heavily affected by climate change, and the impacts of climate change are presenting themselves even faster than expected.
Hanoi is also suffering due to shortcomings in urban planning.
Although the master plan took into account drainage issues including surface water, wastewater and rain water, the rapid population growth has led to an increase in domestic wastewater.
Moreover, in recent years, there are incidences of heavy rainfall of up to 300-400mm, which has surpassed the calculated threshold of the drainage that is for 200-250mm.
The drainage system now is overloaded, causing heavy flooding, even in areas that have never been flooded before such as around Hoan Kiem Lake and the Old Quarter.
Many urban planning experts believe that, along with the overall adjustment of the Hanoi Development Master Plan towards environmental protection, plans on technical infrastructure need further research in order to overcome the shortcomings and build urban areas that adapt to climate change.
Architect Dao Ngoc Nghiem, former director of the Hanoi Planning and Architecture Department, said: "In order to prepare for climate change, Hà Nội has not only to deal with local flooded spots but also evaluate the whole city's drainage system so as to combine drainage requirements with urban development demands as well as combine drainage treatment with building of green spaces."
"With the rapid urbanisation rate, the city needs to approve the adjustment of the infrastructure plan to improve drainage capacity for both the inner city and the suburbs," Nghiem said.
Meanwhile, Duc said that Hanoi could learn from developed countries to have technical solutions to cope with extreme weather phenomena causing flooding in urban areas.
For areas along Red and Duong rivers, planning projects should involve experts in environmental resources, hydrometeorology and irrigation.
"With the advancement of science and technology, there is nothing that cannot be solved. The problem is how to find a solution to work together among related sectors," said Duc. 
Source: VNS

In 1921, architect Ernest Hébrard visited Vietnam to plan the development of Da Lat and started field research in Hanoi.