Pop star to perform free concerts
VietNamNet Bridge – Early next month more than 20,000 screaming fans will be able to catch sight of pop idol My Tam, known as Queen of Pop.
VietNamNet Bridge – Early next month more than 20,000 screaming fans will be able to catch sight of pop idol My Tam, known as Queen of Pop.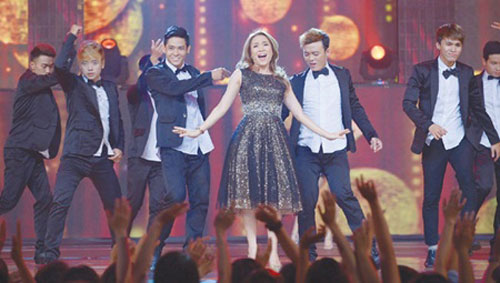 On song: Pop idol My Tam's free tour Live Concert Heart Beat in HCM City and Ha Noi is expected to attract more than 35,000 fans. — Photo duongbo.vn
Tam – real name Phan Thi My Tam- will sing a selection of 22 Vietnamese and English pop, electric dance, light rock and Latin songs.
The show is part of her first free tour, Live Concert Heart Beat.
After her HCM City concert at the Seven Military Zone Gymnasium in District Phu Nhuan, Tam will perform at Ha Noi's Hang Day Stadium before 15,000 fans.
Tam's latest album in 2011, Cho Mot Tinh Yeu (For A Love), celebrates her career of 10 years.
The show takes place for three nights in both HCM City and Ha Noi and has attracted music stars and composers who believe that Tam is one of the country's most talented singers.
For her tour Live Concert Heart Beat, the 33-year-old will focus on students and labourers.
"They are my friends. I wanted to offer them a free quality performance," said Tam at a press conference in HCM City last Sunday.
The singer, with her dance group, will perform for 120 minutes each show.
"My friends and I have no money for a live show from music stars like My Tam. We're happy to hear that she will perform for free," said Nguyen Thi Thuy, a female worker at the Linh Trung I Export Processing Zone in Thu Duc District.
A native of Da Nang Province, Tam won top prizes at singing contests when she was only 16.
In 1997 she moved to HCM City and spent four years studying at the city's Music Conservatory after learning that music was her only dream.
She worked as a professional singer when she was at school.
In 1999, she signed an exclusive contract with Vafaco, the city's leading music producer at the time. Her first single album with Vafaco named Nhe Anh (You) became a recording phenomenon in the local market.
After leaving Vafaco in 2000, she worked as a freelance singer and song writer. Her first song, Mai Yeu (Love Forever), helped the singer bring home the Bronze Medal at Asian Golden Singers Festival in China's Shanghai in 2001.
She has released eight albums, all of them are among the country's best-selling albums.
She was the first Vietnamese singer who signed a contract with the Korean entertainment company, Nurimaru Pictures, to produce her album Vut Bay (Flying) of pop, dance and hip hop.
On August 2010, she was selected to the list Global Pop Sensations You've Never Heard Of by the American-based ABC News.
In 2012, she received the prize Best Asian Artist at Mnet Asian Music Awards in Hong Kong by the Korean-based Mnet Television.
One year later, she beat her foreign competitors to win the Best Southeast Asia Act at MTV Europe Music Awards.
She has also worked with Youtube to distribute her music videos to the world.
Tam's ambition was not just music. She owned MT Entertainment and fashion label Nightingale to challenge herself as a businesswoman.
Her charity fund My Tam Foundation began in 2008 and has supported many poor children and students.
Tam's first show in the tour Live Concert Heart Beat will open at 8pm at the Military Zone 7 Gymnasium on November 9.
The last event will be staged on November 23 in Ha Noi.
VNS/VNN