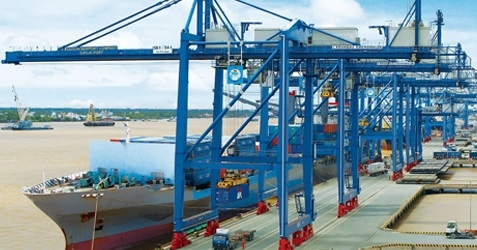 Cat Lai Port
A key international seaport of the Southern Key Economic Region, Cat Lai Port temporarily suspended receiving imported goods from enterprises that are suspending operations due to COVID-19 as well as goods that occupy large yard space. Shipping lines and agents have been directed to adjust the destination of their shipments to Tan Cang-Cai Mep International Port, Tan Cang-Cai Mep Thi Vai Port, or Tan Cang Hiep Phuoc Port and inland container depots.
According to the Ministry of Industry and Trade, Cat Lai Port made the announcement after reaching its full capacity to clear up its immense backlog amid a critical shortage of workers as due to sporadic F0 and F1 cases, port personnel has been slashed by half.
Prior to the suspension, cargo capacity has dropped from 13-14 to 5-7 containers a day due to the congestion and freight transport businesses have been complaining of traffic jams outside the port that makes it impossible to deliver and pick up goods on their contracted times.
In a July market update, Maersk said that due to the escalating situation, containers are only allowed to gate-in 72 hours prior to the estimated departure time of the vessel, often resulting in workloads exceeding trucking capacity. At certain checkpoints, drivers are required to present a negative COVID-19 certificate, racking up costs and waiting times.
Meanwhile, a customer notice by SEKO Logistics also warned of delays in releasing import shipments at Cat Lai and Cai Mep ports because many factories have had to temporarily close and are unable to receive their shipments. This has led to a lack of empty containers to be reused for exports. Trucks moving in and out of lockdown areas also need to strictly follow government health rules and drivers need to show negative test results from the past three or seven days, depending on whether they get a fast test or a PCR test.
Commenting on the current situation, Jan Segers, Vietnam country manager at Noatum Logistics, told VIR, "For the moment, imports due to dock at Cat Lai have been rescheduled to to other ports and inland container depots. Containers for export can still be delivered to Cat Lai. There may be some delays due to checkpoints and road blocks, but all exports can be arranged. We cannot tell if the delays of ocean vessels are due to delays at previous ports – which is the reason most shipping lines cited – or if it is due to reduced productivity in undermanned Vietnamese ports."
Over the past few days, businesses have been rushing to find alternative ports for their imported goods after Cat Lai Port announced to temporarily stop receiving imported containers.
A representative of one furniture chain said that the company was waiting for several containers to dock at the port when they received the news. The announcement forced the company to transfer the containers to other ports, affecting delivery and production schedule as well as incurring additional costs for transport and storage.
Another company from the southern province of Binh Duong currently has nearly 60 import containers at Cat Lai Port which they cannot move due to a shortage of drivers amid the pandemic.
According to Stephen Olson, research fellow at the Hinrich Foundation, disruptions at major ports are inevitable amid the spike in COVID-19 infections. While the local authorities and businesses are taking the steps they find necessary to ensure public safety, there will undoubtedly be significant and unavoidable economic costs. Even when infection rates start to ease, it will take quite some time to clear up the backlogs.
"Businesses will have no choice but to try their best to adjust to the port disruptions," he said. "Some companies are beginning to increasingly rely on air freight but obviously that is an expensive option that will not always be feasible. These headaches will be compounded for labour-intensive industries which are finding their workforces disrupted by the pandemic and lockdown restrictions. Companies might also struggle to find available warehouses to store their products which cannot be shipped at the present time. The labour and port disruptions will have a ripple effect across the business environment."
Source: VIR

The Ministry of Industry and Trade (MIT) is seeking approval from the Prime Minister to deal with the huge container backlog at Tan Cang - Cat Lai (TCCL) Port in HCM City.