Power firms seek foreign funding as loans become expensive, hard to get
The quickest and most effective way to raise funding for power projects is to enter into an alliance with foreign investors, Nguyen Anh Tuan, general director of Phu Yen TTP Joint Stock Company, said.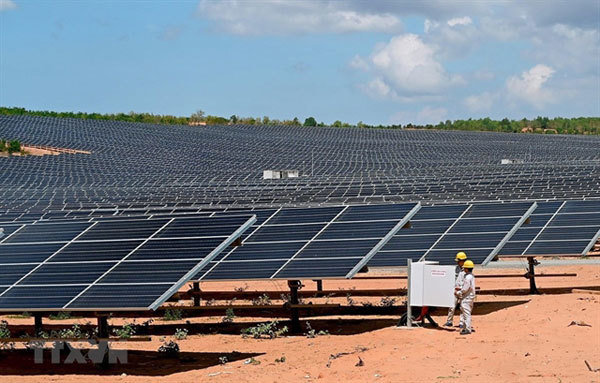 A solar power plant. VNA/VNS Photo
His company built a 670MW solar power plant in this manner, and also expects to go down the same route to set up a 400MW wind power plant in the near future, he said.
Not only Phu Yen JSC but also many other power companies in Vietnam consider foreign investment vital since they find it difficult to raise funds from domestic sources.
HBRE Wind Power Solution Company has tied up with some Thai and French investors to set up large five wind power plants in the south-central and Central Highlands regions.
In December 2019 it and Thailand's Super Energy Corporation built a VNĐ1.8 trillion (US$77.7 million) power plant with a capacity of 50 MW in the Central Highlands Province of Gia Lai.
Tuan said power projects face many obstacles in borrowing from local credit institutions.
Ngo Quoc Hoi, general director of the An Khanh-Bac Giang Thermal Power Joint Stock Company, said his company's problem stems from lending limitations on banks.
Circular 36 prohibits lending of more than 15 per cent of equity to a single borrower, and 25 per cent to a borrower and associated entities.
In the case of non-bank credit institutions, these increase to 25 per cent and 50 per cent.
As a result of these restrictions, his company could not borrow at home, and such investors have to take recourse to foreign sources, he said. 
Hoang Manh Tan, deputy general director of Son Ha Group, concurred with him, saying stringent requirements and high lending interest rates are the biggest barriers to power firms borrowing from banks.
The feed-in-tariff (FIT) is 7.09 cents (VND1,600) per kW for solar power projects on land, while the lending interest rates range between 10 per cent and 11.5 per cent, precluding any hope of making a profit, he said.
The FIT is only attractive to foreign investors and Vietnamese firms that could get foreign loans at low interest rates, he said.
Tuan said foreign investors are really keen on power projects, especially renewable energy, in Vietnam because of the incentives offered by the Government, thus encouraging Vietnamese firms to seek foreign investment partners.
HBRE chairman Ho Ta Tin said the average return on renewable energy projects is at least 15 per cent, which makes it easy for developers of wind power projects like his company to attract foreign investment partners.
Thus, more and more energy companies from around the world, especially from Thailand, the Philippines and China, are investing in solar power projects in the country.
Thailand's B.Grimm Power Public Company Limited for instance has a joint venture with the Phu Yen JSC to build a solar power farm in Phu Yen Province and with the Tay Ninh Energy Joint Stock Company to build the Dau Tieng Solar Power Project with a capacity of 420 MW, one of the biggest renewable energy projects in Southeast Asia.
Another Thai Company, Gulf Energy Development PLC, has become the biggest shareholder in two solar power projects in Tay Ninh Province with more than 90 per cent ownership.
Economist Can Van Luc predicted there would be more foreign investors seeking to buy stakes in large power projects, especially those with attractive earning potential.
But some analysts said attracting foreign investors is not an easy task for local power firms since they prioritise efficiency before making an investment decision.
Foreign investors in the energy industry have also expressed concern about legal uncertainties, construction delays and EVN's ability to buy their electricity, they said. 
Coal-fired power and the environment
Though the development of renewable energy is strongly encouraged by the Government with a number of incentives in recent years, coal-fired power still plays an important role in the country's socio-economic development.
As of the end of 2019 the national power grid's capacity was 54,880MW, of which 19,812 MW, or 36 per cent, came from coal-fired plants.
According to the Power Development Master Plan 8 drawn up by the Ministry of Industry and Trade for 2021-30, the country's power capacity is expected to increase by nearly 80,000MW by 2030, mostly from coal, gas and LNG plants.
Coal plants will account for over 38,123MW by 2030, or double the current figure.
Coal is less clean than oil.
Experts have made some comparisons between coal and diesel used to generate power in the country and found that the Vietnamese coal used for power generation is anthracite (not exceeding 25 mm), with 6A, 6B, 5A, and 5B being the most popular varieties.
The imported coal used in the power plants is bituminous or sub-bituminous, mainly from Indonesia and Australia.
The former has sulphur content of 0.65 per cent and ash content of 29-42.5 per cent, while in imports they are 0.5 per cent and 15 per cent.
In diesel, these are only 0.05 percent and 0.01 per cent.
But there is a contradiction here.
The 2010 Environmental Law stipulates that the environmental tax corresponds to the damage caused by a particular product, but coal enjoys a low environment tax.
For instance, it is VND30 per kilogramme on anthracite and VND15 on other types of coal, whereas it is VND4,000 per litre on gasoline and VND2,000 on diesel, or hundreds of times.
As a result, coal accounted for only 2 per cent of the environmental tax collected in 2016 though it was responsible for 71 per cent of the air pollution.
The World Bank estimates that air pollution causes a 5 percent loss of GDP for Vietnam.
Some power industry insiders said if the environmental tax were to truly reflect the damage caused, coal-fired power would become much more expensive.
They estimated anthracite coal would be subject to an environmental tax of VND2,000 per kilogramme, while other types of coal would be subject to VND1,500.
If the tax levels on gasoline are used as a benchmark, these figures will almost double.
Analysts said domestic coal used for generating power should be taxed at VND2,100 and imported coal at VND1,500.                                                         
But instead, since coal is used for generating power and is thus a strategic product, the Government offers a subsidy of VND2,070 per kilogramme on domestic coal and VND1,485 on imported coal.
The country used 84.4 million tonnes of coal in 2019, including 43.9 million tonnes of imports. Some 54.3 million tonnes were used for power generation, including 18.3 million tonnes of imports.
Thus, a subsidy of almost VND149 trillion (US$6.4 billion) was paid in 2019, 2.4 times the environment tax collected.  VNS 
Thien Ly
Vietnam needs US$150 billion to invest in power projects in the next 10 years, equal to half the country's current gross domestic product (GDP), which raises demand for international financing.

National electricity demand is expected to increase by 8.5 per cent a year until 2025 and 7 per cent until 2030, making Vietnam an attractive market for foreign energy investors.