Prime Minister active at World Economic Forum
VietNamNet Bridge – Prime Minister Nguyen Tan Dung has said Vietnam hopes the World Economic Forum (WEF)'s member nations will continue making active contributions to bringing peace, stability, cooperation
Prime Minister meets World Economic Forum leader
Prime Minister Nguyen Tan Dung has said Vietnam hopes the World Economic Forum (WEF)'s member nations will continue making active contributions to bringing peace, stability, cooperation and prosperous development to the Asia-Pacific region.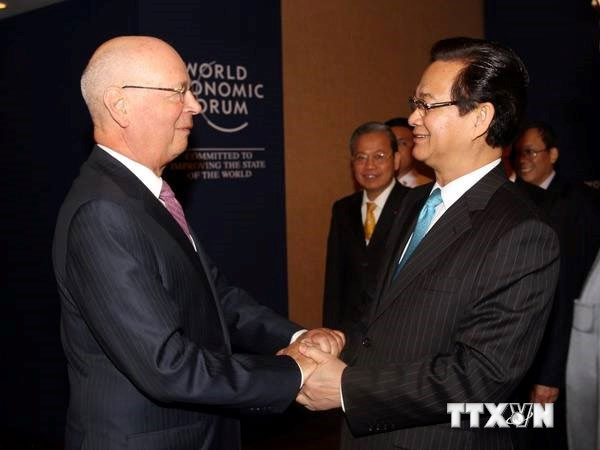 Prime Minister Nguyen Tan Dung meets WEF Chairman, Professor Klaus Schwab (Photo: VNA)
PM Dung voiced the desire during his May 22 meeting with WEF Chairman, Professor Klaus Schwab on the fringes of the ongoing WEF on East Asia 2014 in the Philippines.
The PM said Vietnam is working to better its economic institutions and change its growth model towards building a competitively green economy in connection with social equality.
For his part, Professor Schwab praised Vietnam's initiative on the Public-Private Partnership (PPP) for building an ASEAN economic community, affirming that his agency will work closely with Vietnam to deploy several projects on agriculture and customs in the coming time.
The chairman also expressed his concern about the recent developments in the East Sea, saying that he hopes the WEF will serve as a channel for dialogue to solve the issues.
PM calls for new impetus for regional sustainable growth
East Asia should create more fresh driving forces to maintain its rapid and sustainable growth, Prime Minister Nguyen Tan Dung said at the World Economic Forum (WEF) on East Asia 2014 in Manila, the Philippines, on May 22.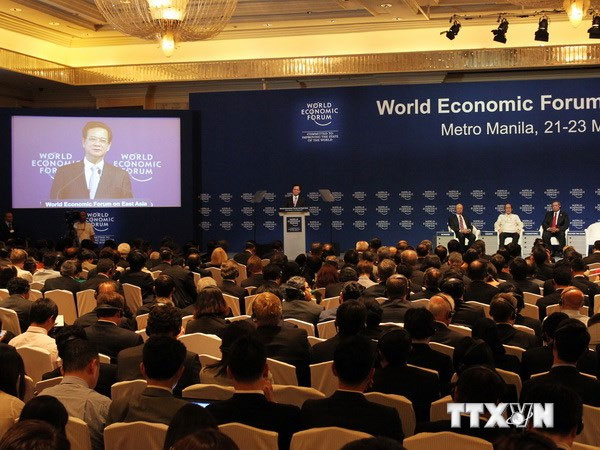 PM Dung speaks at the forum (Photo: VNA)
At the opening session, the PM made comments on the regional economic development and efforts for economic recovery, in which he stressed that East Asia is facing a lot of challenges despite its dynamic development and fast growth being maintained.
He spoke of Vietnam's two driving forces, namely international integration and internal reform, along with opportunities for foreign investors to explore, referring to the macro-economic stability, incentives and future bilateral and multilateral free trade agreements.
The Vietnamese leader also emphasised that peace and stability are crucial for development, including peace, security, safety and maritime freedom in the East Sea.
He laid special stress on the ongoing serious developments in the East Sea following China's illegal placement of its drilling rig Haiyang Shiyou-981 deep into Vietnam's waters.
He underscored that the act seriously violates international law, the 1982 United Nations Convention on the Law of the Sea (UNCLOS) and the Declaration on the Conduct of Parties in the East Sea (DOC). It directly threatens peace, stability, security and safety of navigation in the East Sea where a half of the world's cargo volume are being transported through its waters, and negatively affects the regional and global economy.
Vietnam has exercised hers utmost restraint, showed goodwill and sought all dialogue channels to oppose and demand China's immediate withdrawal of its rig and surrounding vessels out of Vietnam's waters, Dung said.
China's response is to slander Vietnam and continue using forces and increasingly intensifying its threatening and infringing actions, he added.
Vietnam is determined to protect its sovereignty and waters by peaceful measures, in accordance with international law, PM Dung affirmed.
Regarding the recent social disorder caused by some opportunists during the protests against China's illegal act in the East Sea, the Vietnamese Government promptly prevented and punished them in line with law. The businesses affected by the incidents got proper support and resumed their normal operations, he said.
He took this opportunity to thank and call on ASEAN and countries around the world to continue baking Vietnam in protecting its national sovereignty and legitimate interest in accordance with international law.
He stressed the need for the international community to unite in preventing violations of international law.
Themed "Leveraging Growth for Equitable Progress", the forum focused on the region's development together with solutions to ensure its sustainable growth and promote regional connectivity.
Regional countries were recommended to push up reforms across the board while improving their integration capacity to gasp opportunities from increased regional economic connectivity.
Many participants expressed their concerns over complex security and political developments in the region, including disputes in the East Sea and East China Sea.
They held that peace and stability are prerequisite conditions for securing cooperation and economic development.
They called on parties concerned to solve disputes by peaceful means in line with international law.
The forum drew over 600 regional and global scholars, business executives, government and civil society representatives.
PM proposes PPP model potential at regional forum
Prime Minister Nguyen Tan Dung has stressed the importance of public-private partnerships (PPP) in the forthcoming ASEAN economic community, where member states should issue a common policy framework and an attractive portfolio of investment.
He voiced his position at a discussion held at the World Economic Forum (WEF) on East Asia, that opened in Manila, the Philippines on May 22.
As ASEAN is strengthening its connectivity, it needs to utilise the PPP model, especially in transport, he said, adding that foreign investment from outside the region is also needed.
At a dialogue with WEF business players interested in the Vietnamese market, Dung vowed to help them access a promising business environment to work in over the long term.
He informed delegates that Vietnam is speeding up the pace of economic restructuring, shaping new growth models and perfecting its economy market mechanism.
"Vietnam boasts an abundant young population who can meet diverse needs. Following the realisation of the ASEAN community and free trade agreements with advanced economies, the country is expected to be a part of a vast network grouping 55 partners, including 15 G20 members," he added.
VNA/VNN