Prime Minister to attend enthronement ceremony of Japanese emperor

Prime Minister Nguyen Xuan Phuc will attend the enthronement ceremony of Japanese Emperor Naruhito on October 22 and 23 at the invitation of the Japanese Government, the Foreign Ministry announced on October 17.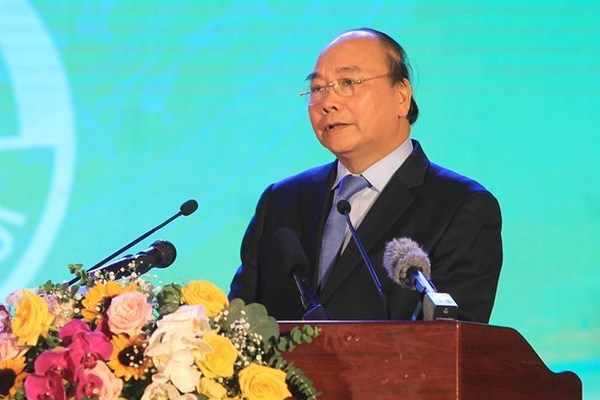 Prime Minister Nguyen Xuan Phuc
Prime Minister Nguyen Xuan Phuc will attend the coronation ceremony of Japanese Emperor Naruhito in Tokyo from October 22-23 at the invitation of Japanese government.
The PM's attendance at the event reflects Vietnam's appreciation for Vietnam – Japan extensive strategic partnership and significant progress in bilateral ties.
Vietnam and Japan established diplomatic ties on September 21, 1973. During State visit to Japan by President Truong Tan Sang in March 2014, the two countries upgraded their ties to the level of extensive strategic partnership for peace and prosperity in Asia.
Their leaders maintained regular visits and exchanges at regional and global forums, with Emperor Akihito's Vietnam visit in 2017, President Tran Dai Quang's visit in May 2018, Prime Minister Nguyen Xuan Phuc's attendance at the G7 Summit in May 2016, official visit in June 2017, and presence at the Mekong – Japan Summit in October 2018.
Both sides held a number of meetings of the Vietnam – Japan Cooperation Committee, the Vietnam – Japan strategic partnership dialogue on diplomacy – security – national defence at the deputy ministerial level, the deputy ministerial-level national defence policy dialogue, the deputy ministerial-level security dialogue, the Joint Committee on Trade, Energy and Industry, the ministerial-level agriculture dialogue.
Last year, Japan was Vietnam's top important economic partner, the largest supplier of official development assistance (ODA), the second largest investor and the fourth largest trade partner. Two-way trade reached 29.16 billion USD in the first nine months of this year, up 5.6 percent annually. Of the figure, 14.98 billion UDS was Vietnam's exports, up 8 percent year-on-year and the remaining up 3.3 percent.
As of September 2019, Japan had over 4,200 valid projects worth 60.36 billion USD in Vietnam, ranking second among 132 countries and territories investing in the country.
In 2018, the two countries signed three diplomatic notes on the exchange of non-refundable aid worth around 34 million USD. Japan committed a loan of roughly 142 million USD to vocational training in Vietnam.
In September 2015, they signed the medium and long-term vision of Vietnam – Japan agriculture cooperation, resigned the amended joint vision in May 2018. Japan has provided ODA for Vietnam's climate change response projects in recent years.
Since 1992, Vietnam has sent a number of trainees to Japan, becoming the largest source of trainees for Japan with about 160,000 people. Vietnam sent 470 nurses and caregivers to Japan under a Memorandum of Understanding on Japan's reception of Vietnamese nurses caregivers.
The two nations will continue discussing the possibility of negotiating a social insurance agreement.
Japan is one of the largest providers of non-refundable aid for Vietnam's education-training sector. As of June 2018, Vietnamese students counted over 80,600, ranking second in Japan.
The Vietnam – Japan University, a joint effort between the two countries, looks to train a contingent of quality personnel in science-technology, management and services for Vietnam. Japan also assists in teaching Japanese language in several elementary and secondary schools in Hanoi and Ho Chi Minh City.
In October 2018, both sides signed a cooperation agreement on reducing the number of Vietnamese students that violate laws in Japan.
Last year, more than 826,000 Japanese people visited Vietnam, up 3.6 percent while over 389,000 Vietnamese travelled to Japan, marking a surge of 26 percent year-on-year.
In the first eight months of this year, Japanese arrivals in Vietnam topped 620.700 , up 18.3 percent from the same period last year.
On March 8, 2005, the two sides exchanged a diplomatic note on exemption of visa for Vietnamese and Japanese diplomatic and official passport holders who stay no more than 90 days starting from May 1, 2005.
Japan further loosened the issuance of multiple-entry visa on February 15, 2016 and single-entry visa for Vietnamese citizens on November 20, 2014, simplified short-term visa for officials, civil cadres and public employees from March 1, 2019.
Over 40 pairs of localities signed cooperation agreements, including Ho Chi Minh City – Osaka, Ho Chi Minh City - Nagano, Ho Chi Minh City – Yokohama, Da Nang – Sakai, Da Nang – Yokohama, Hanoi – Fukuoka, Dong Nai – Hyogo, Ba Ria-Vung Tau – Kawasaki, Phu Tho – Nara, Hue – Kyoto, Hung Yen – Kanagawa, Hai Phong – Niigata, among others.
About 330,000 Vietnamese people are living and working in Japan, mostly in Tokyo, and prefectures of Achi, Saitama and Osaka.
PM Phuc's attendance at the ceremony will contribute to improving the efficiency of multilateral external work, popularising Vietnam as a dynamic, trustworthy and responsible partner of international community.
Vietnam congratulates Japan over Emperor Naruhito's enthronement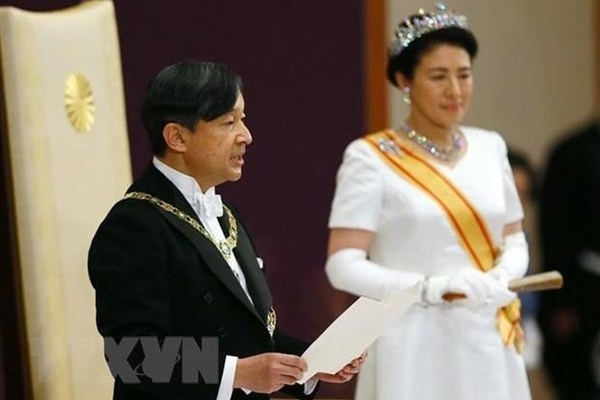 Emperor Naruhito (L) speaks at his coronation ceremony at the Tokyo Imperial Palace on May 1 
Vietnam congratulates the royal family and people of Japan on the occasion of the enthronement ceremony of Emperor Naruhito, said Foreign Ministry spokesperson Le Thi Thu Hang on October 17.
The spokesperson said at the Foreign Ministry's regular press briefing that Vietnam firmly believes that in the Reiwa reign, the country and people of Japan will continue to reap great achievements in building a prosperous country, and the Vietnam-Japan extensive strategic partnership will continue to be strengthened and developed in the interest of the people of both countries, and for peace, cooperation and development in the region and the world.
Emperor Naruhito became the 126th Emperor of Japan on May 1, 2019, starting the new imperial era of Reiwa. His enthronement ceremony will take place on October 22./. VNA