Private-equity banks cushion market

Private-equity bank shares have performed well amid fears of COVID-19 in the last five weeks.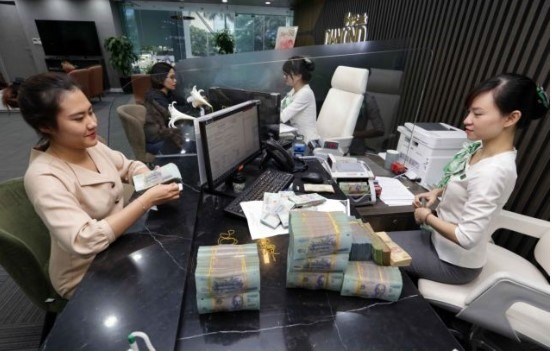 A VPBank office in Hanoi 
The Vietnamese stock market returned from Tet (Lunar New Year) in January.
The benchmark VN-Index gained more than 3.17 percent in the pre-Tet period in January, which lasted from January 2 to January 22.
But the outbreak of coronavirus in China during the holiday sparked worries about the collapse of the global economy and triggered a large-scale sell-off on global stocks markets.
The Vietnamese market was no exception. The benchmark VN-Index lost nearly 55 points or more than 6.38 percent from January 30-31.
Ending March 10, the VN-Index had lost a total of 15.5 percent over five weeks to hit its lowest level in two and a half years.
Most listed companies were hit by strong selling in the aviation, textile and garment, seafood, and tourism and hospitality sectors.
But bank stocks have gone against the trend and made gains in the same period.
The two best-performing bank stocks since January 30 have been the Vietnam Prosperity Joint Stock Commercial Bank (VPBank, HoSE: VPB) and Sai Gon-Hanoi Joint Stock Commercial Bank (SHB, HNX: SHB).
VPBank shares have soared a total of nearly 16 percent since the beginning of February, while SHB shares have surged more than 80 percent.
Since the beginning of the year, shares of VPBank and SHB have increased by 30-108 percent.
Other banks that also saw shares grow in the last five weeks include the Sai Gon Thuong Tin Joint Stock Commercial Bank (Sacombank, HoSE: STB).
Sacombank shares have climbed 11.7 percent since January 31 and a total of 13.4 percent since the end of 2019.
Economist Nguyen Tri Hieu said the two things that made an economy were merchandise and monetary systems.
Merchandisers were undergoing a rough period as the global supply chain was disrupted by the coronavirus pandemic (COVID-19), he told Dau tu Chung khoan (Securities Investment) newspaper.
"But the supply chain of the monetary system is not. And this is one of key factors that has kept banks' shares stable for the last two months," he said.
When the supply chain stabilised and merchandising got back to normal condition, the monetary system would unload a lot of pressure, thus strengthening the confidence of investors in bank stocks, Hieu said.
According to securities firms and specialists, banks will grow stronger in 2020 despite fears about the pandemic that have shaken global economies and most industries.
Economist Le Xuan Nghia said that bank stocks were now cheaper than their actual values, so there was more room for growth in the short term.
Good performances in 2019, positive earnings forecasts for 2020, and good business news are the factors that will boost bank stocks in the near future.
SHB reported a total profit of 3.08 trillion VND (132 million USD) in 2019, a return-on-equity (ROE) ratio of 17.56 percent and a capital adequacy ratio (CAR) of 11.7 percent.
The bank was also able to buy back all the bonds it had sold to the Vietnam Asset Management Company (VAMC), proving its financial condition was healthier.
At VPBank, pre-tax profit in 2019 reached an historic high of 10.33 trillion VND, beating its target by 9 percent and increasing by 12.3 percent on-year.
VPBank also plans to launch an IPO for its consumer finance arm FE Credit, which contributed about 43 percent of VPBank's total 2019 profit.
At Sacombank, speculations are rife about the restructuring of the bank's top positions, which would bring more cash and assistance.
An increase of foreign ownership in private-equity lenders under the EVFTA trade pact has been attributed to this growth.
Under the EVFTA, foreign investors from the European Union may now up their stakes in two private banks to 49 percent.
The limit of foreign capital in local commercial banks was 30 percent.
In addition, as local producers have stalled under pressure of the pandemic, they will need more capital to recover in the remaining months of the year.
The Government is calculating the impact of COVID-19 on local businesses' performance and studying potential solutions and stimulus packages.
A stimulus package worth 315 trillion VND has recently been announced to support local firms by cutting interest rates, extending payment dates and slashing income taxes for businesses./. VNA

Rated banks in Vietnam posted solid profit growth and asset quality improvements last year, benefitting from the country's robust macroeconomic environment, the U.S.-based ratings agency Moody's Investors Service stated in a new report.  

The banking sector is building a credit support programme with a value of $12.2 billion for firms hit by COVID-19, in an attempt to help ease their difficulties, according to an official of the State Bank of Vietnam.