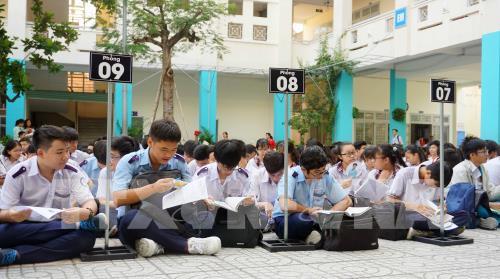 Children wait to take the 10th grade public school entrance examination in HCM City. 
Besides, another 15,000-odd students did not sit the 10th grade admission examination at public high schools, and could join private schools this year.
Vạn Hạnh Primary-Secondary-High School in District 10 has announced fee cuts for the upcoming 2019-20 academic year on its website.
They include a full waiver for winners of city-level academic contests, 50 per cent discount for children of school staff and 10 per cent if there are siblings already studying in the school.
Children of war invalids get a discount of 5 per cent.
Đăng Khoa Secondary-High School in districts of 1 and Phú Nhuận is offering discounts for students enrolling between June 1 and July 15.
Children of war invalids, poor families and soldiers based in islands also get discounts.
Other discounts also are provided for registration, according to the school's website.
Foreign teachers teach one class a week at the school.
Hồng Hà Secondary-High School offers a Japanese course to students.
Many private schools took advantage of the 10th grade public school entrance exam to hand out brochures and flyers to parents waiting to pick up their children.
A man waiting for his son at a venue in Gò Vấp District said within 15 minutes he received a number of brochures.
Huỳnh Kim Tuấn, rector of Trần Cao Vân Secondary-High School, said since many parents have begun to demand not only facilities for studying but also for playing and other extra-curricular activities, the school has been investing money in such facilities.
It has four campuses in districts 12, Tân Phú and Gò Vấp with swimming pools, gyms and football and basketball grounds.
It attracts students from as far away as the provinces of Tây Ninh, Lâm Đồng, Tiền Giang, and Long An.
It plans to admit 1,470 students in 10th grade and finish admissions by next month, online newspaper Vietnamnet quoted him as saying.
Nguyễn Văn Khả, director of the HCM City University of Food Industry's High School Education Centre, said parents' mindsets have changed in recent years. They no longer force their children to study at public schools, and many want academics to go hand in hand with skill development and work experience.
Training programmes which help their children get direct admission to universities and colleges after graduation are becoming increasingly popular, he added.
Nguyễn Công Nam, rector of Trần Quốc Toản High School, said that parents pay attention to quality rather than whether a school is private or public.
The city has 101 private secondary and high schools, some with foreign investment, according to the city Department of Education and Training.
Seven private schools have temporarily closed or been suspended. Six others have just opened but not yet registered with official agencies. — VNS