The public as well as real estate investors must keep their heads straight against rumors of this type.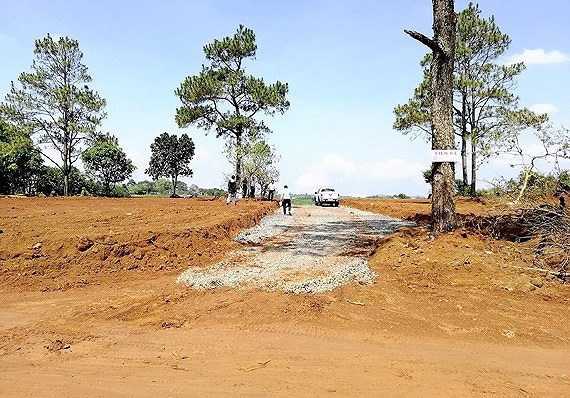 Many land parcels in Bao Loc district, Lam Dong province have been leveled and advertised to be in a favourale postion in the near futute to lure buyers
In recent days, land prices have skyrocketed in many provinces, as investors are affected by uncertain news spread by real estate agents, convinced of a profitable outcome when they buy the lands near public structures that are planned to be built.
Land prices in areas neighboring HCMC skyrocketed
The Northwestern area of HCMC recently saw a rise in land prices, namely areas around district 12 and many areas along Highway 22. In particular, a front-street housing project called Shophouse project, announced by My Van Real Estate Company in An Suong crossroads, has seen the highest rate of VND103 million (US$4,402) a square meter. According to Sai Gon Giai Phong reporters, this development is merely due to the news that the construction of HCMC - Moc Bai (Tay Ninh province) Highway was discussed among the city's leaders.
On the Eastside of town, lands prices also rose sharply after words got out that a meeting was held between city officials to discuss the Cat Lai bridge project connecting District 2 in HCMC with Nhon Trach District in Dong Nai province.
The current price for residential land along Cat Lai Port and Dong Van Cong Street is VND25-40 million a square meter, and VND8-10 million a square meter on average in Nhon Trach district. Agricultural land price in the same area ranges from VND2.5-3 million a square meter. Around the Long Thanh airport project which covers an area of 100 square meters, each lot costs from VND 700 million to VND 1 billion.
In Thuan An town, Binh Duong province, real estate prices skyrocketed when people heard that this town was to be promoted to provincial level. Most areas at the center of the town have their prices increased by 20- 40 percent. The current price ranges from VND27-40 million per square meter. At locations adjacent to supermarkets and industrial parks, the price is VND37 million per square meter. The prices of areas adjacent to the National Highway 13 increased to 150 percent after only a few months.
In Tan An City, Long An province, a standard lot for residential use (5m wide, 20 - 30m long) costs from VND1-1.8 billion. Lands and pre-built houses in residential and urban projects can cost from VND 2.5-6 billion and still see a large number of buyers.
In the districts of Ben Luc, Duc Hoa, and Can Giuoc, just to name a few, land prices still continue to rise. Even lots located in undesirable spots are suddenly being sought after due to rumors that lands in these districts, along with future major traffic projects such as the Ben Luc - Long Thanh highway, will be assigned to HCMC's territory.
Land prices in many other provinces also skyrocketed
In Lam Dong, the Ministry of Transport has just agreed to deploy the Dau Giay - Lien Khuong expressway with a total length of over 200 kilometers, starting at Dau Giay, Thong Nhat district (Dong Nai province) and ending at Prenn Pass, Da Lat city (Lam Dong province). The project has a capital investment of VND 65 trillion. Despite the news on the position of the expressway being unfixed, real estate investors have begun to promote areas that they speculate the highways to pass through, causing land prices around here to be raised.
Being a coastal town with plenty of room for development, the Ba Ria - Vung Tau real estate market has experienced doubled the number of business dealings on lands.
According to experts of Binh Dinh Real Estate Association, the price of lands in Quy Nhon City has become 5 times their actual value. The area with highest prices is currently lands facing streetfronts, with a starting price of VND200 – 250 million per square meter. In Nhon Ly beach commune, the land price in 2006 was only VND1 - 3 million per square meter with almost no potential buyers; now it is VND30 - 35 million per square meter.
Since Lunar New Year, Da Nang city has continuously experienced price fever, especially in Golden Hills ecological urban area in Lien Chieu district. According to real estate consultants, the value of 125 per square meters of land is between VND28-30 million per square meter. Real estate agents, however, has boasted prices up to nearly VND5 billion per lot. Reasons for this are that the key projects in the area, such as Lien Chieu Port, Information Technology Park, and High-Tech Park are all being initiated.
In Dien Ban town, Quang Nam province, news about the government's plan to launch plans for university complex, or the new Dien Nam - Dien Ngoc urban area has also become an opportunity for speculators to boast land prices.
In Hue, the proposal of To Huu road project extending to Phu Bai airport was approved by the Thua Thien - Hue Provincial People's Committee in 2017. Though the project has not yet commenced, real estate agents have since exploited this info to boast land prices in zoned areas adjacent to the project, raising prices up to VND20 million per square meter.
In northern provinces, the Van Don area in Quang Ninh has been the "focal point" of the real estate market. After the government requested for special economic zones to be constructed, Van Don real estate market soared. This flux temporarily cooled down around July 2016, when the Congress decided to delay the passing of Special Zone Law. However, the rush started again from the beginning of 2019, because a series of transport infrastructure works have been built, including Van Don international airport, and Ha Long - Van Don - Mong Cai international highway. Many more projects are also being planned, such as Van Don main road with a width of 58 meters, and the deep-water industrial port near Cai Bau island.
Investors are at real risks during this real estate "gold rush", especially ones investing in foundation lands. According to experts, after years of focusing on investing in major cities like Hanoi, Ho Chi Minh City, Da Nang, the inner urban land budget of these areas has become very limited. Moreover, prolonged investment procedures also cause difficulties in supply. SGGP
Thao Nhien