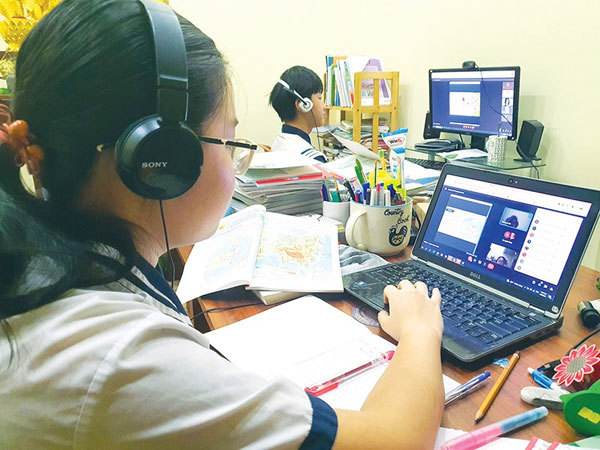 Education groups must learn from edtech unicorns elsewhere to cater to modern needs here in Vietnam. VIR Photo: Le Toan
In August, venture capital fund Do Ventures invested in VuiHoc, an online education platform that lets students self-study from an early age. This is Do Ventures' second investment in Vietnam's edtech market so far, and the fund has also poured capital into an online learning platform called Manabie in March.
Commenting on the investment spree in the sector, Vy Le, general partner of Do Ventures, said that online education in Vietnam holds great promise with more than 23 million potential students, rising middle-class incomes, and a high internet penetration of over 70 per cent. Vietnamese spend up to 30 per cent of their disposable income on education, and parents are willing to pay extra to ensure high-quality education for their children.
"Accelerated by the pandemic, several edtech companies have been experiencing strong growth, and there is no dominant player yet in the local market. This is an attractive opportunity for investors to look at," she added.
Many edtech startups have raised funds in the first eight months of 2021. Marathon, a Vietnamese education startup, has secured $1.5 million in a pre-seed round. Another startup, Educa, also bagged $2 million from Singapore-based Redefine Capital Fund.
Likewise, Vietnamese edtech startup Edmicro closed a pre-Series A+ round. Meanwhile, ELSA, which helps language learners improve their English-speaking skills and pronunciation, raised $15 million in a Series B funding round.
According to Justin Nguyen, partner of Monk's Hill Ventures, one of ELSA's backers, Vietnam is underpinned by a young, quickly growing middle class, in addition to a culture and society that values education and a government that is prioritising education and actively encourages foreign investment into the sector. "Thus, the fundamentals are strong and we expect to see continued investor interest in edtech," said Nguyen.
Furthermore, Vietnam's economy is one of the fastest-growing in the world, with its GDP expected to grow by an average of 5.3 per cent annually by 2050. Its digital economy is also growing at a breakneck pace of 39 per cent annually since 2015 and is currently the second fastest-growing in Asia, with 68 million internet users in 2020.
"This is driving foreign direct investment across all sectors, which in turn drives an ever-increasing demand for highly-skilled labour. The growth further drives parents and students to acquire new knowledge and skills to give them an edge for economic advancement, creating an upskill cycle," he noted.
Since 2008, the Vietnamese government has allocated between 15-20 per cent of public expenditure to education, among the highest in the world and second only to Malaysia in Southeast Asia.
"So, while edtech in Vietnam remains nascent today, we are seeing a lot of activity with eager founders rushing to fulfil the currently untapped opportunities to innovate and drive better learning outcomes and make education more accessible," Nguyen added. 
Plugging holes in online education
Edtech still remains a vague area under the Vietnamese legal framework since it has not been explicitly specified in legal documents. From 2010s, the Vietnamese government has implemented projects to develop edtech, however it has only focused on small-scale subject base projects with limited objectives, mostly for public schools.
Moreover, there is a gap between the relevant education regulations and the practical processes due to the remarkable development of Edtech in Vietnam, which creates several obstacles. For instance, in 2017, in order to establish a language or computing centre, by law, the centre has to "provide adequate facilities, equipment, teaching materials and sources of financing for ensuring training quality in conformity with the centre's development plan and operating scale." However, this condition becomes worthless in case of e-learning when the preparation for facilities and equipment are the responsibility of both trainers and learners. Students would bear the responsibility for the weak conditions in their own place of study, the efficiency of the computer they use, or the weak internet connection in their home, instead of the centre or teacher. As a result, in practice, many edtech companies choose to only register the technology and/or trading activities, in order to achieve better commercial purposes.
Edtech is a fertile land for those who want to tap into Vietnamese parents' spending on education. However, it is not a smooth ride for edtech startups to achieve a larger scale in this segment.
Pham Duc, co-founder of Marathon, pointed out the issue of online-education quality. Historically, Vietnamese parents have not spent aggressively on online education due to the lack of quality offerings. While some players in the past years have attempted pre-recorded content and live content, they fell short when it came to ensuring that students understood the concept and were able to score well. Pre-recorded classes have significantly poorer engagement metrics versus live classes, as students often lack self-discipline and willingness to churn through hours of videos by themselves.
"Other offerings typically consist of poorly curated teacher supplies – whereby as a student, I could not be sure if I was getting a top or inexperienced tutor in my class, resulting in inconsistent learning outcomes," Duc said, adding that another challenge for this model is the lack of support for teachers in software, hardware, and general assistance that helps them track student progress and communicate with parents.
"Just by placing quality of learning above profits, I believe that there are many low-hanging fruits for an edtech player to leverage technology and drive this change in parent behaviour, and quality should be measured in academic outcome," Duc noted.
Michael Ngo, country manager of ELSA, said that digitalising helps lower the cost for learners and that this would increase access to quality education as a whole. However, there are still barriers to overcome for mass acceptance of online learning.
"Learning online has become the new norm and this will definitely continue to be the case as the industry matures. As we've experienced with the pandemic, online teaching and learning allows the flexibility needed to quickly allow learners and educators alike to adapt to rapidly changing conditions at a moment's notice," he added.
According to a report by India's online market research company Ken Research, Vietnam's online learning market is expected to reach around $3 billion by 2023. The market is projected to register a positive compound annual growth rate of 20.2 per cent until then. 
Go big or go home
Vietnam is a prospective market for online learning, but there are no large edtech players with a market valuation of over $100 million. Meanwhile, several edtech unicorns have emerged in India and China. Some said that Vietnamese edtech firms still lack disruptive technologies to improve.
Le from Do Ventures said, "As edtech is still at an early stage, it takes time for Vietnamese startups to keep up with the growth pace of other players in larger regional markets. Technology plays an important role but it doesn't decide investment values."
She added that it is also essential for edtech startups to develop revenue models with healthy unit economics for sustainable growth. "Another decisive factor is a high user retention rate that can be achieved through high-quality learning materials and a comprehensive progress tracking system," Le said.
On the same note, Nguyen of Monk's Hill Ventures said, "Fundamentally, technology should be leveraged to drive better results in learning outcomes. This includes collecting and using data to help evolve instructional methodology and pedagogy, shortening feedback cycles, and designing adaptive solutions to enable personalised learning experiences."
"Disruptive technology alone cannot help edtech companies scale – it must be combined with a strong execution and a clear focus on sustainable growth," said Nguyen. "Instead of focusing on top-line growth, founders should figure out a profitable, repeatable, and scalable way to sell their products and services."
He added that this includes a deep understanding of the efficiencies for each customer acquisition channel and that is optimised for retention and engagement. "Ultimately, all must be built on solid fundamentals to become significant businesses, and edtech startups are no different," he said.
Source: VIR

Like many other countries in the region, Vietnam is seen as an attractive market for online education startups.

With the pandemic wreaking havoc on traditional models of education, edtech startups are emerging as alternative solutions for many students, with the recent rise attracting the attention of deep-pocketed capital funds.