Proposed weekly working hours attract mixed opinions

A new proposal for Labor Code amendments to reduce the standard working hours from 48 hours per week to 44 hours has been rejected for its lack of feasibility.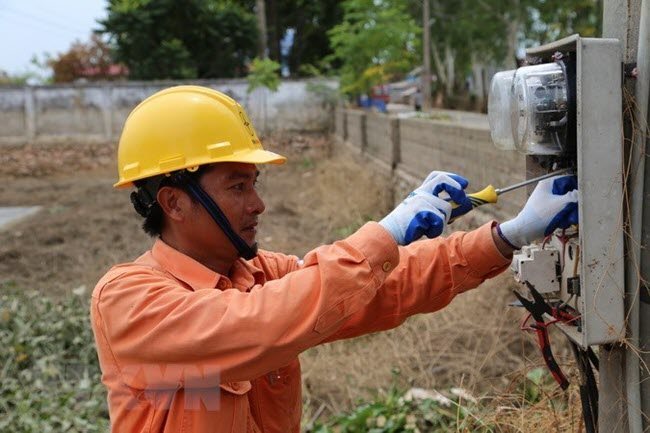 An electrician installs new electric meters for local people in Hanoi. A new proposal for Labor Code amendments to reduce the standard working hours from 48 hours per week to 44 hours has been rejected – PHOTO: VNA
According to Diep Thanh Kiet of the Shoes and Leather Association of HCMC, if this regulation is introduced, laborers will suffer. Workers paid per product created or per hour worked would see smaller pay checks as a result of the regulation.
Kiet claimed the proposal was short-sighted. Changing the standard working hours to 44 should only be done once Vietnam's income per capita amounts to at least US$4,000 per year, with a specific plan involving laborers, enterprises and the Government, he stated.
Moreover, with fewer working hours, foreign investors and buyers of Vietnamese goods might reconsider their production activities in Vietnam and might leave for other countries with lower labor costs and export tariffs.
"We propose learning from other countries when deciding issues related to the sensitive relationship between laborers and enterprises to ensure national competitiveness," Kiet told a workshop on the draft amendments to the Labor Code in HCMC on August 23.
According to Truong Van Cap of the Vietnam Textile and Apparel Association (VITAS), developed countries tend to hike wages and cut working hours, a trend Vietnam is following. However, with income per capita ranking 131st globally, a reduction in working hours is not feasible. Enterprises would need to employ more people or increase working hours, both of which would be difficult.
Nguyen Ngoc No, head of personnel at United Sweetheart Garment Vietnam, pointed out that if working hours are reduced to 44 hours, a footwear firm with 17,000 laborers would need to ask their workers to increase productivity, creating an additional cost of VND216 billion or a 3.6% increase in product costs. Meanwhile, if it decides to employ more workers, it will need 1,764 more people and VND186 billion in additional funding for wage payments, resulting in product costs increasing by 3.4%.
Besides this, labor is already scarce. Further, enterprises might need to build more workshops given their limited land funds and the long construction periods.
"Countries with an income per capita exceeding Vietnam's apply standard working hours of over 48 hours, and South Korea even uses 52 hours," No said.
According to No, Vietnam is too reckless in aiming for 44 hours, which is likely to affect foreign investors and the country's reputation. It is also not clear whether working hours will be cut even further in the future, leaving enterprises unable to create effective business strategies.
A representative of Pouyuen, a firm with 68,000 laborers, noted that if working hours are cut, the firm will need an additional 5,000 workers. However, it was unable to employ even 1,000 workers to cover labor shortages in the first half of the year.
Pham Thi Hong Yen of Intel Vietnam questioned whether laborers would earn enough if Vietnam applies the new standard working hours. Many workers would need a second job to earn more income, she added.
According to Mai Duc Thien, deputy director of the Ministry of Labor, Invalids and Social Affairs' Department of Legal Affairs, a survey of 56 Japanese enterprises found that they need 30,000 more workers, despite the scarcity of labor.
Thien remarked that the reduction in working hours is a new issue, so an impact assessment has not been conducted. He also reported the National Assembly (NA) Standing Committee's stance that if opinions on working hours remain varied, the issue will not be considered for approval next October but at the next NA sitting.
Huynh Quang Thanh from the Binh Duong Furniture Association stated that although the NA will be the agency in charge of passing the law, only a few of the deputies are business owners or workers. If the amendments are still controversial, the draft law will need to be studied further. SGT
Minh Tam

The business community has protested the Ministry of Labor, War Invalids and Social Affairs' (MOLISA) intention to cut the weekly maximum working hours from 48 to 44 hours.

The National Assembly will scrutinize amendments to the Labor Code at the 7th working session this year.