VietNamNet Bridge – The police of Quang Tri province on Thursday held a press conference to announce the results of their investigation into the deaths of three infants at a local hospital last July. Previously, the deaths was suspected of being caused by hepatitis B vaccine.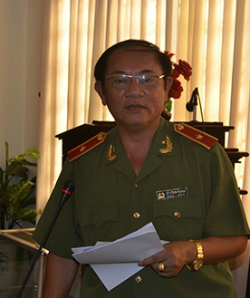 Lt. Gen. Le Cong Dung, director of Quang Tri police.
Lt. Gen. Le Cong Dung, director of Quang Tri police, said that the police had collected sufficient evidence to prove that Nurse Nguyen Thi Thuan, 50, of the Hospital of Huong Hoa District, had mistakenly injected Esmeron, a muscle relaxant, instead of the hepatitis B vaccine, to the three infants, causing their deaths.
According to the police, on the morning on July 20, 2013, Thuan received a doctor's order to administer hepatitis B vaccine to the three infants.
At that time, the hospital had lost power, so Thuan used the light from her mobile phone to get the three vials of vaccine from a refrigerator in the hospital's medical check-up room. She then injected the contents of the vials into the three infants.
A few minutes later, family members of the three infants cried for help. Thuan immediately realized that she had used the wrong medicine. In an attempt to cover up her grievous error, she ran to the refrigerator and removed three vials of hepatitis B vaccine. She poured the vaccine out of the vials and threw the empties into the dustbin. She then ran outside and threw the empty vials of the medicine that she had mistakenly administered to the foot of a longan tree in the hospital yard. The police later recovered these.
Thuan declared that seeing the cover of the medicine that she injected to the infants, she only read the word "Thuoc Doc" (poison) noted by someone. She could not read English so she did not know what the medicine was.
According to investigation, that medicine is Esmeron, a muscle relaxant drug used in anesthetics. The medicine was put in the fridge by anesthesiologist Le Huynh Son for storage and he noted "poison" on the cover.
"The accused intentionally obstructed the investigation and deliberately destroyed the evidence," said Colonel Le Quang Cong of Quang Tri police agency.
Quang Tri Health Department Director Tran Van Thanh Thuan admitted that nurse Thuan was not trained for vaccination, but she had nevertheless been granted a vaccination certificate.
Thuan was arrested this March on suspicion, while the doctor who put the poisonous drug in the refrigerator has been suspended from work since April.
When the three infants died following what had been assumed was a normal vaccination, great concern was raised in the public over the quality of the hepatitis B vaccine used in the national vaccination program. Many people refused to allow the vaccine to be administered to their children.
Le Ha