VietNamNet Bridge – Train travel is falling behind other forms of transport, as passengers are choosing air and roads ahead of the tracks.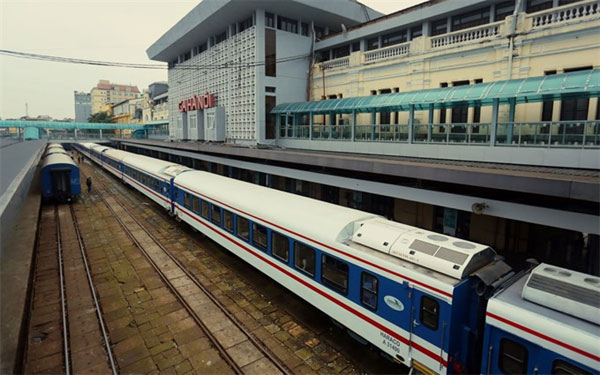 Trains about to depart from Ha Noi Station. – VNA/VNS Photo
This is due to poor service, problems with infrastructure and ticket prices that don't compete with transport rivals.
During 2001-10 period, investment in railway sector accounted for only 2.9 per cent of total budget invested in the transport sector, while investment in road improvements made up for 88 per cent.
Between 2010 and 2015, State budget allocated for railway accounted for 3 per cent out of VND330 trillion invested in the transport sector.
The annual budget mobilised for railway system maintenance meets only 30 per cent of the sector's practical demand.
In the past four years, airlines have made profits while the railways has declined.
Vu Anh Minh, head of Viet Nam Railways' member council said that investment in railway is so huge that it takes a long time to retrieve the capital, adding that it is very difficult to attract investment from the private sector.
New strategies have been proposed to boost railway carrying capacity and service quality.
A package of VND7 trillion (US$301 million) has been put in by the National Assembly for the railways sector to invest in stations, crossroads and barriers.
"In the past, we thought about how many seats can be built. Now we think about how many people can be carried on a train. In the context of competitiveness with other means of transport, we must make innovations to take passengers back by better selection of service and vehicle quality," Minh said.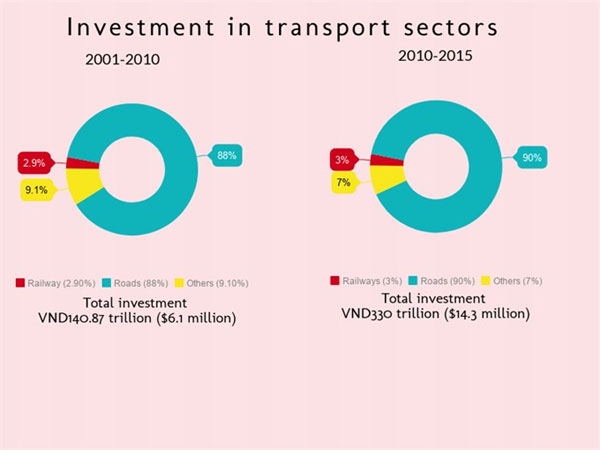 Investment in the railway sector remains humble. - VNS Infographics Khanh Duong
After putting new and VIP carriages into operation on Ha Noi-Vinh and Nha Trang-HCM City routes, the number of passengers has jumped by 30 per cent, according to VNR.
He believed with the investment of VND7 trillion, by 2020 VNR's profits will exceed quota assigned by the transport ministry by 8 per cent.
The Ministry of Transport plans to submit to the National Assembly North-South route's high speed railway project by the end of this year. The project aims to improve service quality of trains which has lagged behind other means of transport.
According to Viet Nam Railways (VNR) and transport experts, high speed trains are a necessity. However, the investment time and the amount of investment that the State has to spend must be clarified.
It takes at least 20 years to finish a national railway line. If the project is approved by the end of next year, it can be kicked off by 2022. Then in the next five to seven years, several new routes may be tried, according to Minh.
He said the carrying capacity of roads, ports and airlines would double if one more route was built. For the railway sector, one new route will make the carrying capacity to increase by 20.
"People of the railway sector should change their own mind. They serve what the community needs not what they have," he said.
Source: VNS