Rally may keep going as investors are hungry for more: experts
The Vietnamese stock market climbed to its 32-month high last week and the rally may keep going in the coming week.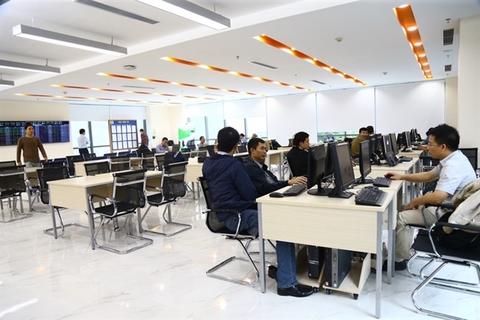 A stock trading centre in Ha Noi. The local market is forecast to test 1,080 points this week. — Photo tinnhanhchungkhoan.vn
Viet Nam's benchmark VN-Index on the Ho Chi Minh Stock Exchange gained a total of 2.40 per cent last week to finish at 1,045.96 points.
That was its highest score since late April 2018.
The market beat the forecast as local stocks had widely been predicted to suffer from strong profit-taking pressure last week.
The VN-Index has increased by a total of 13.8 per cent in six trading weeks since October 29.
"Positive cash flowed into the market and spread out to different sectors to help the VN-Index beat its resistance level of 1,030-1,037 points," MB Securities Co (MBS) said on Friday.
"The flow of cash from sector to sector and from stock to stock shows the market demand is growing strongly," MBS said.
Large-cap stocks in the financial and banking industries kept the market upbeat last week.
Vietcombank (VCB) and Bank for Investment and Development of Viet Nam (BID) were the two heavyweights on the stock market.
VCB rose a total of nearly 6.7 per cent and BID soared nearly 10 per cent last week.
Other bank stocks such as Vietinbank (CTG), Techcombank (TCB), VPBank (VPB) and Military Bank (MBB) also advanced.
Shares of securities firms like SSI Securities (SSI), HCM City Securities (HCM) and VNDirect Securities (VND) were highly attractive last week.
The three top securities stocks gained between 9.1 per cent and 17.5 per cent last week on expectations those companies will report higher earnings in the last quarter.
"We saw trading liquidity decline a little bit last week but it was still above the 20-week average," Sai Gon-Ha Noi Securities (SHS) said in its weekly report.
"Purchasing power is still high and sellers may be waiting for the stocks to reach new highs to earn profits," the company said.
"The market reached its 32-month high but trading liquidity has shown signs of decline. If that keeps going next week, a short correction may occur," Pham Dung Khanh investment director at Maybank Kim Eng Securities told tinnhanhchungkhoan.vn.
"But if the decline of trading liquidity is just a 'false signal', the market uptrend will remain until the end of 2020," he said.
"Based on current growth pace, it is just a matter of time until the VN-Index conquers the 1,050-point level," Nguyen Hong Khanh, market analysis director at Viet Nam International Securities Co (VIS), said.
Some large-cap stocks such as Vingroup (VIC), Vinhomes (VHM), Vincom Retail (VRE), Vinamilk (VNM) and PetroVietnam Gas (GAS) have not made significant gains recently and there is still room for them to grow.
"The point is that there is no news bad enough to dampen the market confidence," Khanh said. "In addition, the stock market will still be a worth-investing option for people compared to other choices."
"Therefore, I think the recent rally will go on," he said.
Rong Viet Securities Corp (VDSC) wrote in a report that strong money flow "focused on large-cap and finance groups, and has not spread widely."
"Therefore, investors should pay attention to this flow in order to look for opportunities in the short term," the company said.
"Recent net buys logged by foreign investors may support the market growth," MBS said. "The VN-Index may expand to test 1,064-1,080 points in the coming week." — VNS

The first major signs of a resumption of investment activity have emerged in the real estate market with new brand names entering and others expanding their portfolios in Vietnam.