Brought to life by a passionate group of young minds, Re:born Creative has quickly transformed into a bustling hub for artists and art enthusiasts, serving as a dynamic platform showcasing creative works and fostering forums centred around art and culture.
Tucked away in a small, modest alley at 189 Hoàng Hoa Thám Street in Hà Nội, lies a small café named Bấc Cafe & Chill. It is also home to Re:born Creative.
When the country had just regained momentum after almost three years of the pandemic, the young owners of this innovative space saw an opportunity to do their bit to breathe life back into the artistic and cultural landscape of Hà Nội.
In December 2022, Re:born Creative was opened as a creative haven, aiming to "rebirth" and nurture cultural life in the community.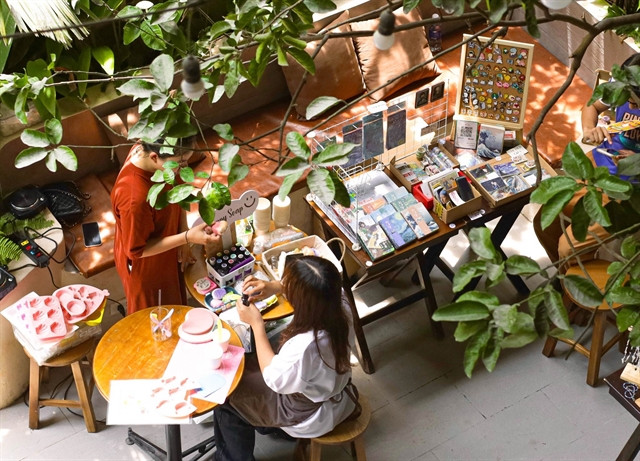 Re:born Creative was born with the aim to do a bit to breathe fresh energy into Hà Nội's art and cultural scene. Photo Re:born Creative's Facebook
"Our vision for Re:Born was born from the aspiration to provide the community with an open and welcoming haven, brimming with fresh, positive energy for all who step foot into this room," said Hoàng Linh Sa, a co-founder of Re:born Creative.
Nurturing artistic souls
In just a little over half a year since its opening, Re:born Creative has emerged as a thriving force in Hà Nội's artistic landscape.
"We always try to introduce new talents and find new ways to deliver even the most seemingly familiar topics in a manner that captivates the audience," said Sa proudly.
Film enthusiasts have found a haven here, with weekly screenings bringing together cinema lovers to enjoy a diverse selection of films from various genres and eras. The space has become a regular gathering spot for lively film discussions.
In addition to its focus on film screenings, Re:born Creative continues to draw visitors with its carefully designed exhibitions, workshops, music nights and other activities. Some of them include workshops on traditional coffee brewing, silk painting or paper cutting art.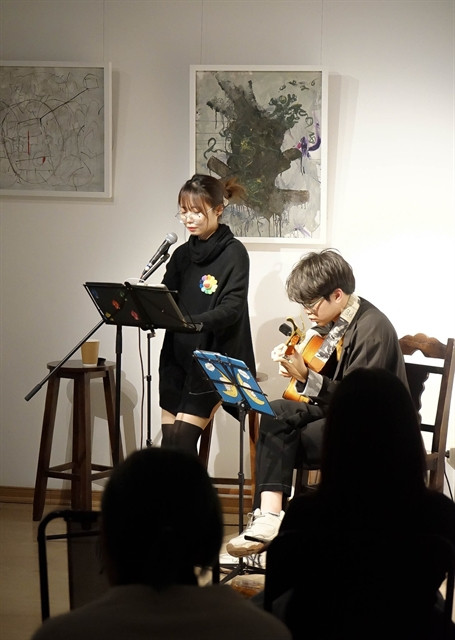 The music night is one of Re:born Creative's regular events where participants can bond over their love for music. Photo Re:born Creative's Facebook
Beyond a mere venue, Re:born Creative has evolved into a home to celebrate diverse forms of artistic expression.
"Re:born Creative has become my haven for artistic exploration and connection," said Nguyễn Thu Trà, a frequent visitor to Re:born Creative.
Art bridging social matters
Beyond showcasing art and culture-related events, Re:born Creative has also carved a niche for itself as a platform to discuss other seemingly complex and dry topics, including environmental protection or Vietnamese history.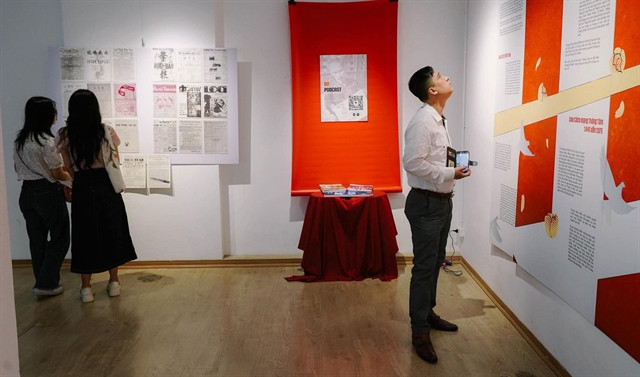 'Đỏ Space', an exhibition on the legacy of Vietnamese revolutionary journalism by Đỏ Project, is held at Re:born Creative to commemorate and inspire the future generation of journalists. Photo Đỏ Project's Facebook
Re:born Creative's ingenious fusion of art and social issues has proved to be a winning formula. Different artistic mediums were utilised to convey messages in ways that resonate with young individuals.
Among those events was an exhibition called "The First Rescue", showing bear conservation in Việt Nam. This not only marked Re:born Creative's first foray into nature and environmental themes but also left a lasting impact on its audience through innovative and interactive displays.
The production team behind "The First Rescue" aimed to present bear conservation in an engaging way, seeking fresh and interesting ways to tackle a topic that could easily fall into the realm of dry publicity. The team employed unique methods such as allowing the participants to see and interact with a real bear cage, tools for making food for bears, and other elements.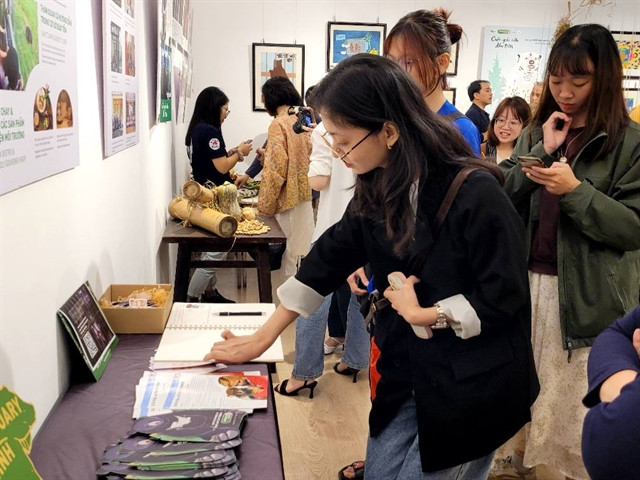 The exhibition 'The First Rescue' allows visitors to take a glimpse into the lives of captivated bears and learn about the conservation efforts of different organisations and the authorities. Photo BEAR SANCTUARY Ninh Binh's Facebook
Special sessions that featured officials and experts on conservation of bears in Ninh Bình Province and a screening of the film The Way Back, which documents the lives of bears at a conservation facility, were also organised as part of the event.
This month, besides regular film screenings and discussions, an extraordinary event is set to take place at Re:born Creative on the evening of August 26. Teaming up with ACA Space – Acting and Performance Training Center, "August Improvisation Night" will be held, which promises to deliver a unique experience to the audience.
Participants will be introduced to the art of improvisation theatre, a distinctive form of drama known for its unparalleled flexibility and interactive nature. The event will place the audience in the director's seat, granting them the unique power to shape and steer the unfolding scenes.
"We hope that the audience will enjoy the moments of genuine surprise and emotional brought by the improvisational skills of the actors," said Sa.
The birth of Re:born Creative has proven that, even in the midst of challenges, creativity and determination can create meaningful and impactful areas. As the young founders continue to fuel the artistic flame, Re:born Creative plans to remain a beacon of artistic expression, fostering the growth of Hà Nội's artistic identity for years to come.
Source: VNS