Real estate market faces inconsistent regulations, laws
Legal entanglements representing 70 percent of the difficulties faced by real estate projects may end up driving the property market into recession.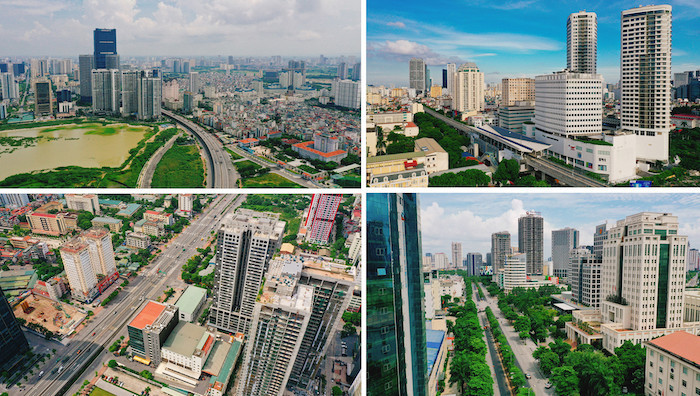 Most real estate firms are facing problems. Many have downsized their operations, postponed new projects and cut the workforce. Others have transferred projects or sold housing at 40-50 percent of the contract value. Some have laid off 50 percent of their workers.
In the property market, the state is the major player, since, in Vietnam, land is owned by the entire population.
Le Hoang Chau, chair of the HCM City Real Estate Association (Horea), warned that if no solution is applied, the real estate market may slide into recession.
The Vietnam Confederation of Commerce and Industry (VCCI) said that contradictions among regulations related to the real estate market exist in 15 laws.
There are dozens of decrees, hundreds of circulars, and thousands of legal documents that guide the implementation of the laws.
One of the contradictions lies in the Investment Law and Land Law. The former says that projects will be stopped if investors do not implement projects within 12 months after the land is allocated to them. But the land law says they get a 24 month extension.
In many cases, local authorities decide to stop projects because investors have violated regulations on project deadlines. But they cannot take back the land because of the Land Law.
In Hanoi, deserted land plots can be seen along roads to Hoa Lac, Nhat Tan and Thang Long Bridges, and even in areas in the middle of the city. The land plots have been unused for tens of years. Before the capital city was expanded 15 years ago, a report found that nearly 750 real estate projects were licensed "overnight". And no one knows how many projects have been implemented.
In mid-2022, at a conference disseminating the Politburo's Resolution 15 on developing Hanoi to 2030, the city's leaders said the city would develop rapidly if legal obstacles were removed to pave the way for 20 percent of the projects.
After the conference, many problems related to administrative procedures and legal entanglements were handled. To date, the Hanoi People's Committee has released decisions on taking back land, canceling the decisions on allocating leasing of land, stopping operation of 27 projects, and continuing to check tens of other projects.
Deserted land plots can be seen not only in Hanoi but also in other localities.
There are other legal problems hindering the healthy development of the real estate market.
Contradictory regulations are found not only in laws, but also in documents that guide the implementation of the laws, including contradictions between decrees and laws, between decrees, between circulars and decrees, and between circulars.
Real estate projects are covered by many laws, including Investment Law, Law on Environmental Protection, Law on Construction, Land Law, Housing Law, Law on Real Estate Business, Law on Urban Area Planning, Law on Bidding, Law on Fire Prevention and Fighting.
Meanwhile, the procedures and conditions stipulated in legal documents are inconsistent. Investors don't know which procedures they need to follow first and if they have to follow procedures.
The inconsistency of legal documents slows project implementation. In many cases, projects are unable to proceed, thus leading to increase in costs and risks for enterprises.
Many realtors and experts have recently called for rescuing the real estate market. Novaland has lodged a petition to the Prime Minister, saying that it has VND32 trillion in bank accounts, but has no money to make payment for due debts.
The realtor asked the Prime Minister to instruct localities to help settle problems and complete legal procedures for projects. The Prime Minister has asked relevant ministries and branches to help remove difficulties for the enterprise.
Tu Giang