VietNamNet Bridge – Reality Television (RT) shows have been booming in Viet Nam, attracting excited audiences, but many people are now losing interest, despite these programmes following the format of their foreign counterparts.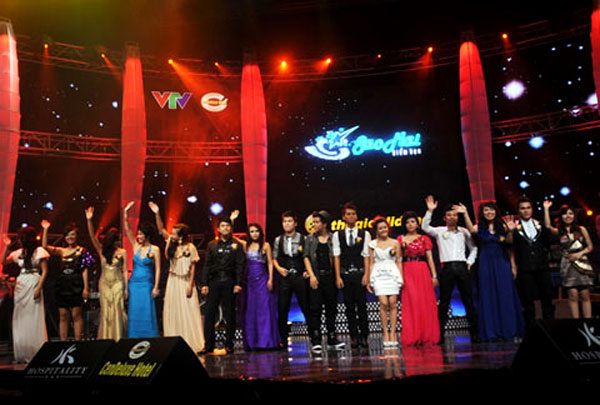 Illustrative image. – File photo
Truong Thi Mai, an addict of RT programmes, from Ha Noi's Hai Ba Trung District, said she has to channel surf to find an interesting programme compared with the past when her entire family of six were glued to their seats while watching a music contest titled Sao Mai Diem Hen (Morning Star Rendezvous), produced by Viet Nam Television (VTV) in 2004.
The programme was received with enthusiasm by audiences nationwide because it brought them a new "tasty and delicious dish". It was really "hot", recalled Mai.
When Vietnam Idol (a reproduction of American Idol) was launched in the country in 2007, the show immediately became such a phenomenon that hundreds of people from across the country registered to join the contest, drawing viewers away from Sao Mai Diem Hen.
The rivalry became more fierce when The Voice, imported from the Netherlands', first debuted in the country in 2012, attracting a lot of fans.
These two RT programmes aimed to find talented musicians. Apart from these, many other programmes such as The Voice Kids were also launched by VTV with the same goal, creating confusion amongst the audience on why these programmes had been launched?
Apart from the aforementioned music shows, many other RT shows have appeared such as Iron Chef, Master Chef, Project Runway and Dancing with the Stars. Also, shows such as Just the Two of Us, Clash of the Choirs, So You Think You Can Dance and Your Face Sounds Familiar, as well as Viet Nam's Got Talent have been mushrooming on various TV channels.
Phung Xuan Dinh from the Ministry of Culture, Sports and Tourism, said the popularity of these gameshows has provided opportunities for audiences to select their favourite TV shows, rather than go out to seek entertainment.
But after their launch, these RT programmes often become less attractive to audiences in following seasons, and organisers have to resort to various tricks and scandals, such as broadcasting obscenities exchanged between contestants and judges, to lure audiences, Dinh noted.
Phuong Le Chi, a fan of Cap Doi Hoan Hao (Just the Two of Us), from Cau Giay District, said that she was very disappointed about a quarrel between contestant My Le and judge Luu Thien Huong in front of not only the audience but also on a social network and in the papers.
Chi said she was shocked when contestant Hoa Hiep, on Dancing with the Stars, called the judges stupid after being defeated. There was also a heated discussion between trainers Quoc Trung and Dam Vinh Hung and My Linh and Hong Nhung while they were conducting The Voice.
Chi explained that many members of the audience believed that these shows don't seem to qualify as RT programmes if there is no scandal involved.
Viet Nam's famous singer Tung Duong said he did not favour RT because even though it brings entertainment to audiences at home, it has upset many basic traditional values by bringing in too much of a foreign culture into the country.
"I like to watch American Idol, but it has changed a lot since being launched in Viet Nam," stated Duong, one of the winners of Viet Nam's first music gameshow Sao Mai Diem Hen.
"Thanks to the gameshow, my musical abilities improved. In contrast, other shows on TV these days only aim to lure a mass audience rather than identify musical talent," added Tung Duong.
Professor To Ngoc Thanh, deputy chairman of the Viet Nam Union of Literature and Arts, said each nation has its own cultural standard. So, when deciding to buy a foreign TV programme with a strict copyright, producers and organisers of RT programmes should place importance on deciding whether this programme contributes to the country's national culture.
"They should harmonise the obligatory features of an international style with the local culture. It is a pity when many RT programmes in Viet Nam do not care about that," remarked Thanh.
The relevant agencies and television networks from central to local TV stations should make RT programmes that include several basic factors: the culture of the organisation, the culture of the judges and the culture of the contestants, he stressed.
The government should place strict rules on setting the frequency of RT programmes telecast during the golden hours (8pm-10pm to address the largest audience), as it has done with Vietnamese films, Thanh added.
There are more than 40 RT programmes telecast during the golden hours by major TV channels nationwide to date, according to figures from the Sports & Culture newspaper.
I believe that too many RT programmes are telecast for the survival of various TV stations. This is just confusing the audience. So, the audience should try to select a suitable programme for themselves.
Source: VNS