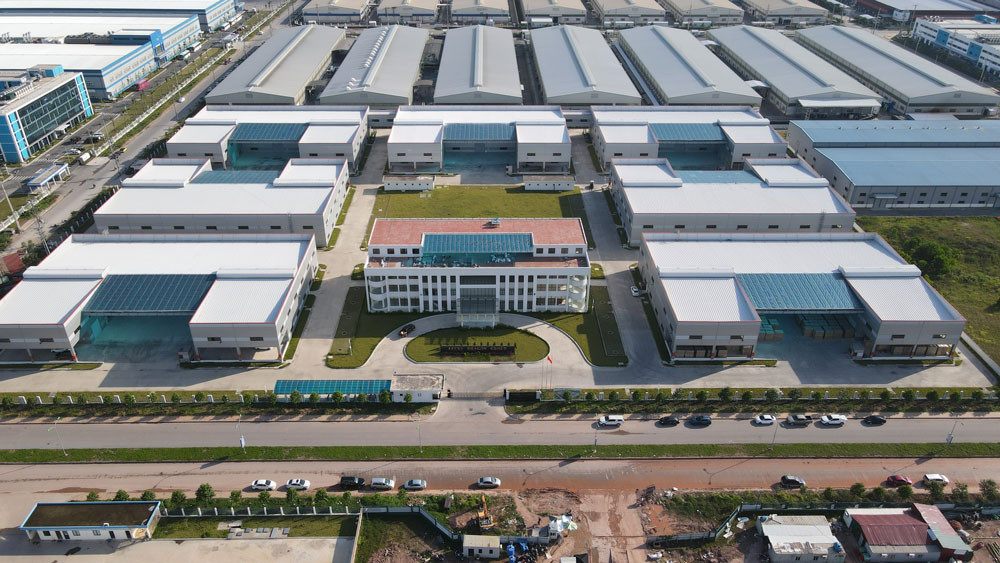 Kinh Bac City Group owned by Dang Thanh Tam received good news at the beginning of the new year: it got a license for Singaporean Ingrasys' Fulian precision technology factory project in Quang Chau industrial zone (IZ) in Bac Giang. This was the first project licensed in 2023 in the northern province.
Fulian, covering an area of 49.6 hectares, will manufacture electronic components, computers and hi-tech telecommunication equipment.
Tam is developing IZs as he sees the strong inflow of foreign investment.
Quang Chau, covering an area of 516 hectares, is developed by Sai Gon Bac Giang IZ, a subsidiary of Kinh Bac. To date, 100 percent of industrial land there is occupied.
The IZ has attracted 42 projects, including 38 foreign invested, capitalized at $3.4 billion in total. The investors include well known names such as Foxconn, Luxshare-ICT, JA Solar, Siflex, Samkwang, Crystal Martin and Lens.
Dang Thanh Tam was among the most mentioned names in 2021-2022. After 10 years of ups and downs, he has made an impressive comeback with a lot of investment projects in the field of infrastructure development throughout the country, from Bac Ninh and Bac Giang to Hung Yen and other provinces.
Tam believes that roughly $10 billion worth of capital would pour into both foreign direct investment (FDI) and foreign indirect investment (FII) in Vietnam from the US.
According to VDSC Securities, the total land area of IZ projects to be developed by Kinh Bac amounts to 4,000 hectares. It is estimated that it would lease 200 hectares in total in Bac Giang, Hung Yen, Hai Phong and Long An this year.
Recently, SaigonTel, where Tam is the president, has also shifted its business into IZ and urban land development. Prior to that, SaigonTel borrowed money from many enterprises in Kinh Bac's ecosystem to invest in many projects which promise high profitability, including Dai Dong Hoan Son IZ in Bac Ninh, and projects in Long An and Hung Yen.
In 2022, SaigonTel joined forces with VinaCapital and Aurous Capital, a Singaporean fund management company to develop a $2.5 billion industrial and urban complex, covering an area of 700 hectares.
Vingroup owned by the Vietnamese dollar billionaire Pham Nhat Vuong is also paying attention to industrial real estate, which is expected to become the major business of Vinhomes, a subsidiary of Vingroup.
Vinhomes IZ has increased its charter capital to VND18.5 trillion, which shows its determination to pour money into industrial real estate.
Prior to that, Vinhomes invested in an IZ project in Thuy Nguyen district of Hai Phong. The company is running a 335 hectare IZ in Cat Hai, Hai Phong, where VinFast's automobile factory is located.
High revenue expected thanks to foreign capital
Kinh Bac plans to obtain VND9 trillion in revenue in 2023 and VND4 trillion in post-tax profit.
Other industrial real estate developers believe that they will thrive in the upcoming years. Vietnam Rubber Group (VRG), for example, targets obtaining a revenue growth rate of 30 percent by 2025 and 20 percent growth rate in profit. This means that it expects revenue of VND162 trillion and profit of VND34.4 trillion (VND6.9 trillion a year).
VRG is undergoing a restructuring process and focusing on developing IZs. The group manages 492,000 hectares of rubber-growing land in both Vietnam and overseas.
Under a plan on developing industrial real estate in 2021-2030, VRG will set up 48 IZs (37,400 hectares) and 28 industrial clusters (1,800 hectares). It is now following legal procedures to implement the projects on Nam Tan Uyen, An Dien and Minh Hung III IZs.
IDICO (IDC) has also reported a sharp increase in revenue and profits thanks to investments in industrial real estate. IDC's revenue in the first nine months of 2022 was twice as much as the same period in 2021, reaching VND7 trillion. The post-tax profit was VND2.36 trillion, or four times higher.
The company's increase in revenue is attributed to contracts on leasing land at projects in Phu My 2 and the expanded Phu My 2 IZs, Huu Thanh and My Xuan B1-CONAC. Its net profit was VND422 billion, or 2.5 times higher.
In Vietnam, IDC is the leading IZ developer with the land bank of over 3,000 hectares and 10 large IZs, mostly located in the south.
Hoang Viet Phuong from Saigon Securities Incorporated (SSI) predicted that the net profit of listed IZ developers in 2023 would increase by 12 percent as the total land area to be leased is expected to increase by 10 percent per annum, and the land rent is expected to increase by 2-3 percent.
The Ministry of Planning and Investment (MPI) reported that in 2022, the disbursed FDI capital was $22.4 billion, while the newly registered capital was $27.72 billion.
According to JLL, the demand for industrial real estate is still high and the occupancy rate is always high. The occupancy rates were 85.2 percent in Q3 2022 in the south and 80 percent in the north.
Duy Anh