Reducing investment in coal-fired power plants recommended to save Vietnam's environment

LNG could replace coal in the power sector at a higher cost but would cause less pollution.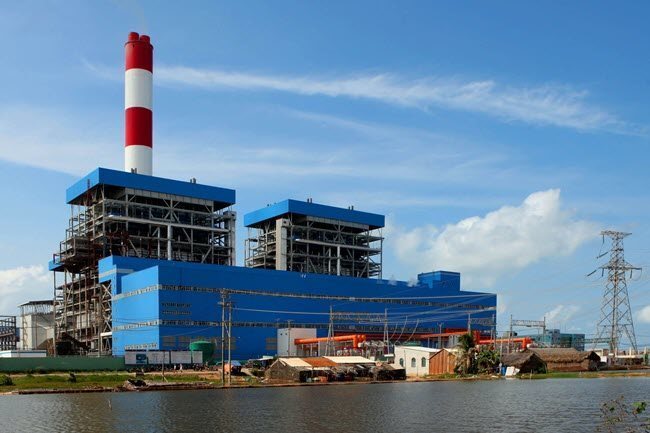 Duyen Hai 1 thermal power plant in the Mekong Delta province of Tra Vinh
Recommendations in the newly released Vietnam Energy Outlook Report 2019 (EOR19), such as reducing investment in coal-fired plants without phasing them out completely, could help Vietnam realize its sustainable and low-cost development target to achieve emissions reductions while attracting more foreign investment to the renewable energy field.
Speaking at a press briefing held in Hanoi on November 5, Morten Bæk, Danish Permanent Secretary for Climate, Energy and Utilities, noted that the EOR 2019, developed by the Electricity and Renewable Energy Authority, under the local ministry of Industry and Trade, in collaboration with the Danish Energy Agency, has provided a range of scenarios demonstrating how the Vietnamese energy sector can embark on a sustainable and low-cost development path, resulting in large CO2 emissions reductions.
"New calculations show how Vietnam can reduce annual CO2 emissions by up to 39% by 2050 compared with existing national plans. This equals approximately 370 million tons of CO2. The Vietnamese authorities can rely on the report to realize the targeted green and cost-effective energy transition, while reducing dependence on imported fossil fuels," stated Bæk.
According to Jakob Stenby Lundsager, long-term advisor of the Danish Energy Partnership Programme, Vietnam has depended on coal consumption over the years, leaving a heavy impact on the environment through air pollution and creating high dependence on fuel imports from other countries.
While the report does not promote the complete phase-out of coal, it recommends that Vietnam stop investing in coal-fired power plants in the near future.
"This is backed by a scenario analysis with advanced modelling tools and updated data and details. The models and research tell us that it is possible for Vietnam to replace coal with renewable energy to reduce coal consumption with something more energy efficient and to introduce liquefied natural gas (LNG)," remarked Lundsager.
"This requires action from the government, especially through investments in the grid, to make sure we can integrate renewable energy."
LNG could replace coal in the power sector at a higher cost but would cause less pollution.
Renewable energy resources, such as wind, solar, hydro and biomass power, can supply up to 24% of the primary energy needed in Vietnam by 2050 and achieve a renewable energy share of up to 59% across all power generation resources.
Modelling results show that the use of biomass in industrial combined heat and power and power plants could bring higher economic benefits than the current use for residential cooking.
This indicates that biomass could become an important commodity for reducing fuel imports and CO2 emissions.
To attract more investment in the field, Lundsager noted that a stable and transparent plan by the government would help.
A plan by the government to signal that its leaders are on track to meet the targets for 2030, without changing the subsidy scheme, could attract more market players, he stated.
He claimed many EU investors are interested in wind power projects in Vietnam.
According to the report, Vietnam has a great opportunity to achieve its sustainable development goals, ensure more efficient use of energy and make full use of its domestic resource potential for both solar and wind power.
Reductions in the cost of renewable energy technology have created an advantage for Vietnam as it seeks to transition to the use of green energy, but the country will face challenges in expanding and integrating renewable energy into its energy system and in realizing full energy efficiency in the most affordable way across sectors.
In 2013, Vietnam and Denmark entered into a long-term cooperation agreement for the purpose of strengthening Vietnam's transition to a low-carbon economy.
The Danish Energy Agency is cooperating with the ministry of Industry and Trade in Vietnam through the joint Energy Partnership Program between Vietnam and Denmark.
The program is currently in its second phase and covers long-term scenario modeling for the energy sector, the integration of renewable energy into the power grid and energy efficiency in the industrial sector. SGT

António Guterres says Asian countries must use greener energy sources to tackle the climate crisis.

Solar power is booming in Vietnam, but the output is not high enough to satisfy domestic demand.

The Viet Nam National Coal and Mineral Industries Group (Vinacomin) and the US-based Xcoal Group said the prospects for importing US coal were positive, the Dau Tu (Investment) newspaper has reported.