VietNamNet Bridge – The central region's farms and households are facing a severe water shortage because of prolonged heat spells and a lack of rain.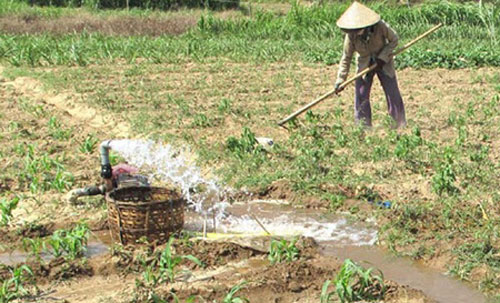 A farmer tends her crops on land in Son Tinh District, Quang Ngai Province. A severe water shortage triggered by prolonged a heat wave is threatening the harvest for farmers in the central region.
In Quang Tri Province, more than 15,000 ha of rice and other summer-autumn crops are in danger of being lost at harvest.
The temperatures this year for the summer-autumn crop have been higher than in previous years, up to 38-40 Celsius degrees this month, according to the Quang Tri Centre for Hydro-Meteorological Forecasting.
Rainfall in July and August is expected to be lower than the same period last year, said the centre.
Quang Tri has 14 irrigation reservoirs and two dams with a combined design capacity of 160 cubic meters that can irrigate 30,000ha of farming land.
In this summer-autumn crop, localities have registered for irrigation on 15,000ha of rice and other crops.
However, the province's irrigation works have little water even for these registered sites, said local authorities.
Since May, the Quang Tri Irrigation Work Exploitation and Management Company has begun providing irrigation water for the summer-autumn crop, but the province's rainfall in the first five months of the year was equal to only 50 per cent of the same period last year.
Most irrigation works have been short of water, and some have dried up.
The company is giving irrigation -water priority to areas of severe drought and at the end of canals.
It is also working with local authorities to use farmers' small pump stations to pump water for drought-affected rice areas.
The Quang Tri Department of Agriculture and Rural Development has also asked agencies and districts to implement measures to fight drought, including using water economically, dredging canals and preparing pumps.
Quang Tri has petitioned the Government to provide financial support of VND83 billion (US$3.9 million) and Binh Dinh Province has asked for VND101 billion ($4.8 million).
Drought has affected nearly 13,000ha of rice and other crops in Binh Dinh Province.
More than 30,000 households in Binh Dinh face a shortage of water for daily use and have had to buy water from other places.
Binh Dinh has used its standby budget to offer subsidies to local residents so they can buy water.
It has also used army vehicles to transport water to local residents.
Over the past six months, Binh Dinh had no big rains, causing a record drought.
Of the province's 165 reservoirs, 123 have dried up.
In Phu Yen Province, from Tuy Hoa City to mountainous districts like Son Hoa and Dong Xuan, many crop areas are dried up and thousands of trees, mostly keo lai (Acacia mangium x Acacia auriculaeformis), have lost their leaves and have brittle branches.
Drought covers most of Phu Yen and five hydroelectric plants on the Ba River have accumulated water, leaving little water flowing to the river downstream and Dong Cam Dam.
Tran Tien Anh, director of the Dong Cam Irrigation Company, said Dong Cam Dam provides irrigation water for nearly 30,000ha of rice fields that plant two rice crops a year.
But the water level in the dam had never been 0.7m below the spillway like this year, he said, adding that this has led to the shortage of water for two main irrigation canals.
VNS/VNN