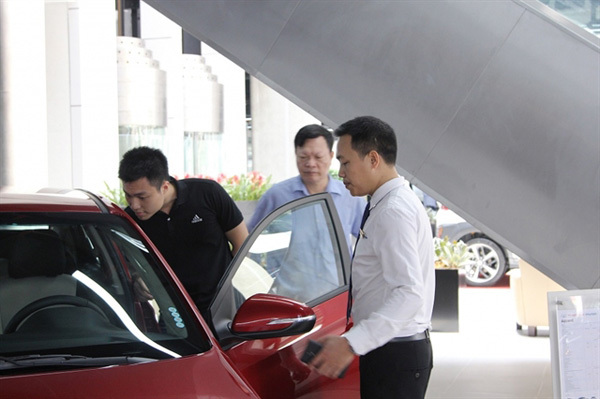 The cut in the fee has reduced the cost of car ownership, which the Government hoped would help revive a slumping auto market. — Photo dantri.com.vn
Accordingly, the registration fee for passenger cars, trailers or semi-trailers pulled by cars and similar vehicles manufactured and assembled domestically is reduced by 50 per cent of the rate specified by Government's Decree No. 20/2019/ NĐ-CP.
Under the Decree No. 20, the buyers of cars with nine seats or less have to pay registration fee of 10 per cent of the car value in cities and provinces, except for Hanoi which applies a rate of 12 per cent.
Meanwhile, buyers of pick-up trucks with transport volume of less than 1,500 kilos and five seats or fewer, and vans with capacity of 1,500 kilos or less, will pay an amount equal to 60 per cent of the nine-seat car's registration fee.
The cut in the fee has reduced the cost of car ownership, which the Government hoped would help revive a slumping auto market.
It has not worked out that way, at least not so far.
Mercedes-Benz, the only luxury brand with a plant in Vietnam, was expected to be the biggest beneficiary.
But the expected boom in demand has not apparently materialized, and shares of Haxaco, the biggest distributor of Mercedes-Benz in the country, TMT Motors Joint Stock Corporation and Giai Phong Motor Joint Stock Company continue to languish.
On the other hand, some analysts said it was too early to assess the effect of the registration fee cut on sales or share prices since there is always a lag between the adoption of any policy and outcomes.
Besides, the second wave of Covid-19 has brought immense pain to many businesses, caused workers to lose incomes and even jobs and hit demand for consumer discretionary products.
Tough regulations continue to bleed casinos
Casino operator Royal International Corporation reported revenues of VND235.76 billion, (US$10.13 million) last year, a decrease of 18.2 per cent or VND72 billion from 2018.
Its Royal casino in Ha Long City in the northern province of Quang Ninh had revenues of just VND97.7 billion.
Corona Casino on Phu Quoc Island, the first to allow Vietnamese nationals to gamble under a three-year pilot programme by the Government, posted modest revenues of VND280 billion ($12.1 million) in 2019.
Ho Tram Casino at the Grand Ho Tram Resort & Casino, considered the biggest in Vietnam with 90 gaming tables, also reported the same gloomy situation. It opened in 2013 but has yet to break even and has accumulated losses estimated at over $300 million.
Globally, casinos are money-spinners, so why is this happening in Vietnam?
Analysts point to many reasons, the chief one of course being a lack of customers.
Since 2017 Vietnamese are allowed to gamble at select casinos and Phu Quoc Casino was opted to be the first to open to Vietnamese people.
But the number of locals visiting casinos has not really increased though in reality Vietnamese are fond of gambling.
The analysts blame this in the stringent entry policies.
To enter, people need to provide proof of a monthly income of at least VND10 million (US$435). While many tourists qualify on this count, they forget to bring documents to prove it.
Economist Dr Bui Trinh said paradoxically while some people lack the minimum income to gamble at local casinos, many rich people prefer to go to ones in neighbouring countries.
Many experts explained about this phenomenon by saying that the casino business in the country has developed by halves, thus making it unable to attract both people who want affordable gambling and those who expect luxury and professionalism.
According to Nguyen Mai, chairman of the Association of Foreign Investment Enterprises, the casino business is not easy since it needs to be organised and managed highly scientifically and professionally.
Meanwhile, the size of the Vietnamese market is still very small due to the limited number of people who are eligible.
Most people who want to visit casinos are from the middle and upper classes, and come there not just for gambling but also shopping and other entertainment, he pointed out.
This means the Government should have more liberal policies to help operators develop professionally and achieve profits, he said.
Dr Pham Trung Luong, former deputy director of the Institute for Tourism Development, said the casino business was a very important part of the tourism sector, especially for the night-time economy.
He stressed the need to have consistent policies including incentives for the development of the casino business.
He suggested adopting tax policies that could encourage operators.
Enterprises involved in the casino business should have access to large land parcels to build complexes that also offer other entertainment and shopping, he said.
Entry regulations should be simplified, he added.   
The Ministry of Finance has suggested some amendments to a Government decree on the casino business, one of which is to allow operators to advertise to attract more local and international gamblers.
In a proposal it sent to the Prime Minister, the ministry also calls for amending a number of regulations on the management of casino machines and equipment, inspection, revocation of licences and other penalties for violations to ensure all casinos operate professionally. VNS
Compiled by Thien Ly
After the Government's move to lower car registration fees by half took effect more than a week ago, the domestic car market has picked up.

Casinos are considered a 'sensitive business' in Vietnam. Though regulations have been loosened, they are still very strict.