Remittance soaring to benefit real estate projects?

With the market warming up at the end of last year, the number of real estate deals has also been on the rise thanks to soaring remittances.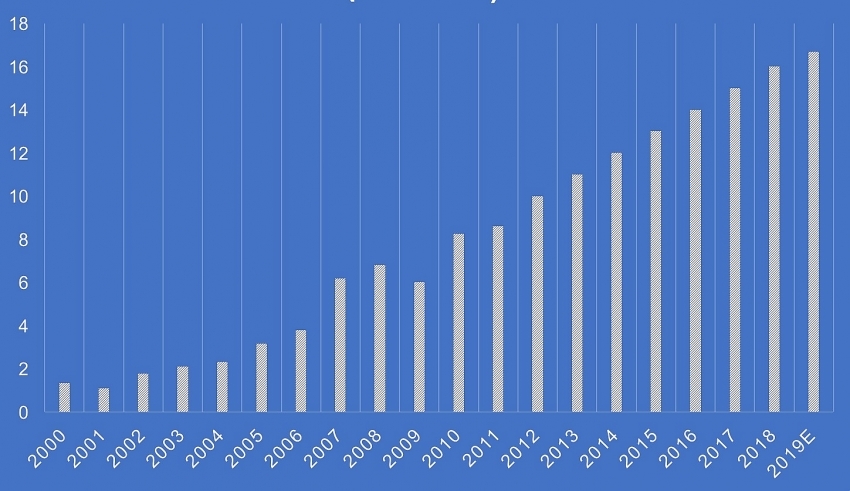 Remittance into Vietnam over the last 20 years (unit: billion dollars). Source: WB

With remittances hitting $17 billion, some investors and homebuyers in Hanoi and Ho Chi Minh City are expecting the market to warm up towards the end of 2019 and early 2020.
The expectations are quite reasonable because Vietnam has been one of the top ten recipients of remittance over the world for the last three years.
Moreover, as the financial and gold markets are undergoing turbulence, remittance money is finding its way into real estate projects.
Is soaring remittance good news for real estate?
The World Bank estimated remittances flowing into Vietnam in 2019 at $16.7 billion. This is the fifth time Vietnam has entered the top ten remittance-receivers over the world.
Remittance flows into Vietnam have risen 120-fold, from $0.14 billion in 1993 to $13.8 billion in 2017, and soared to $16 billion in 2018.
Experts said that the $16.7 billion of remittances in 2019, equivalent to 6.4 per cent of the GDP, was quite a boot for the socio-economic development of the country.
Luong Thanh Nghi, deputy head of the State Committee for Overseas Vietnamese Affairs, said that there are 4.5 million Vietnamese living, working, and studying in 110 countries and territories over the world, and as many as 3,000 firms owned by overseas Vietnamese operate across 52 cities and provinces of the country with the total registered capital of $4 billion.
These overseas Vietnamese investors come from the US, Canada, Australia, Russia, France, the Netherlands, Japan, Poland, and Switzerland. Their projects and businesses usually specialise in trade, export, tourism, construction, real estate, farming and processing seafood, as well as software.
Experts said that remittances to Vietnam consistently rank in the top ten because most Vietnamese businesses and employees who do business and work overseas maintain close ties with their families, parents, brothers, and sisters in Vietnam.
Especially, Vietnamese people are keen to save money and send it home to their families so that they can buy a new house. Additionally, some of those working abroad had borrowed a lot before going abroad, so they had to send money back to repay.
Notably, although Ho Chi Minh City receives the most remittances in the country, a big part of this has been spread across the country, with great amounts spent on buying houses in Hanoi, markets that are more profitable than Ho Chi Minh City.
Chairman of Phu Quy Land Nguyen Manh Ha confirmed that based on more than 20 years of experience in real estate brokerage, remittance receivers have a distinct taste for real estate because they are inexperienced in other investment sectors. VIR
Nguyen Huong

Remittance flows into Vietnam are expected to reach $16.7 billion in 2019, Vice Chairman of the State Committee for Overseas Vietnamese Affairs (SCOVA) Luong Thanh Nghi cited statistics of the World Bank at a meeting yesterday.

As global remittances hit record highs, a new report by UniTeller of low-income adults in Vietnam reveals the value of monthly remittances from family and friends working abroad now averages ten times of the monthly incomes of recipients.