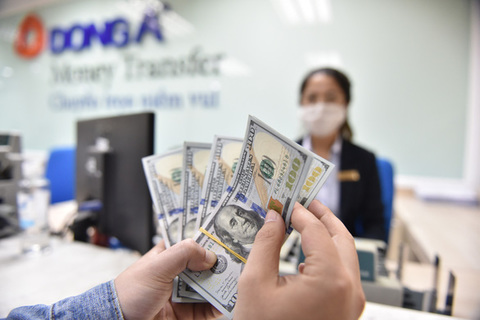 The amount of overseas remittances to Viet Nam has increased significantly, despite the impact of the COVID-19 pandemic. — Photo tuoitre.vn
According to the deputy director of the HCM City branch of the State Bank of Viet Nam, Nguyen Hoang Minh, the figure was much higher than expected US$5.5 billion, especially considering the impact of the COVID-19 pandemic.
Remittance companies said the amount increased as the Tet (Lunar New Year) holiday approached. Since many Vietnamese overseas could not return for the holiday, they chose to send remittances.
The deputy general director of Dong A Remittance Company, Vu Thanh Trung, said the remittance rate in January reached over US$150 million.
The main overseas remittance markets of Viet Nam remain the US, Australia and Canada. Some remittances also come from labour export markets such as Japan, Taiwan, Malaysia and South Korea.
Representatives of some remittance companies said that several countries have recently tightened control of money transfer abroad, making it challenging for the companies to attract remittances to Viet Nam.
Customers familiar with remittances prefer to continue to receive cash in foreign currencies. However, due to the pandemic, it is now more convenient to receive money via bank accounts, and customers are thus encouraged to use this method.
Recently, MoneyGram International, Inc., a global company focusing on cross-border remittance transfers and peer-to-peer (P2P) payments, began working with Visa, an electronic payment technology company, to deploy fast P2P money transfer in Viet Nam.
Customers now can use the MoneyGram website or mobile applications to immediately transfer money to Visa cardholders in Viet Nam.
Visa requires banks that help pay remittances to process the transaction within a maximum of 30 minutes after accepting the transaction.
Customers can transfer up to $2,500 per transaction and $10,000 per day. From now until the end of June 30, customers can make international transactions from abroad to domestic Visa debit cards free of charge.
According to the World Bank, the total amount of global remittances last year fell by 7 per cent. Of the total, remittances to Viet Nam were estimated at about $15.7 billion. Viet Nam was listed among the top 10 countries receiving the most remittances. — VNS

Inward remittances to Vietnam topped US$15.7 billion last year, the ninth highest in the world.