VietNamNet Bridge – From the beginning of this year, investments in resort properties have shown signs of revival after the market crash of 2008, and this led to huge excitement among big developers.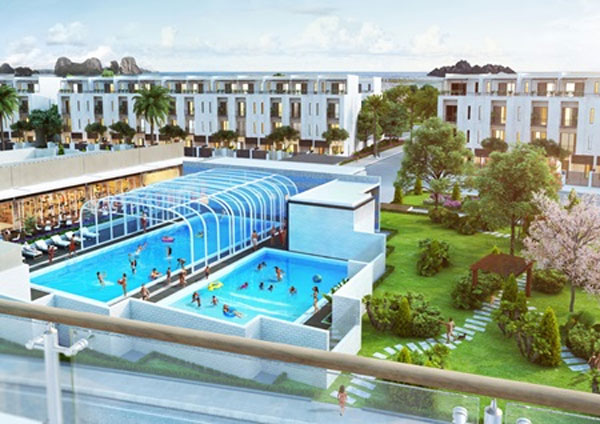 Townhouse and facilities of Lotus Residences. — Photo Syrena Viet Nam
Localities with rich tourism potential were receiving massive investment inflows from real estate giants and witnessing vigorous changes.
However, the difference this time, from what was witnessed before the 2008 bust when most such projects along the country's central coast were with foreign developers, is that many beachfront resort projects are now in the hands of domestic developers who are becoming more active in the real estate market.
In recent years, big names including the VinGroup, FLC, the BIM Group, and the CEO Group in addition to the Sun Group have poured a significant amount of funds into developing resorts in popular cities and provinces with tourism potential, such as Phu Quoc, Nha Trang, Da Nang and Vung Tau.
The investment wave was seen to surge in the country's northern region in recent years with Quang Ninh, Hai Phong, Lao Cai and Thanh Hoa receiving huge investments for high-profile resorts.
What is remarkable is the rise in resort properties in Ha Long, the city of Natural World Heritage in Quang Ninh Province, where a number of large-scale luxury resorts were being developed.
Bustling Quang Ninh
Ha Long has become a magnet for property investments thanks to its developed infrastructure coupled with the rising income that has enabled tourism projects to flourish here, according to the BIM Group, one of the leading property developers in the country which poured an estimated US$2 billion into the Ha Long Marina Urban Area in the city.
The highway which connects Ha Noi, Hai Phong, Ha Long and Mong Cai, when completed by 2017, would help in reducing travel time from the capital city to Ha Long by an hour. Other infrastructure projects, including Bach Dang Bridge connecting the northern port Hai Phong City and Ha Long to be completed in 2016 and Van Don Airport, will ensure more connectivity to the city.
An impressive number of tourists to Ha Long, which is even higher than Da Nang and Nha Trang, also make Ha Long appealing enough for large property developers to invest billions of dollars in projects there. Statistics revealed that the number of tourist arrivals in Ha Long reached 4.9 million last year, compared with around 3.6 million to 3.8 million in Nha Trang and Da Nang, respectively. In addition, the income per capita of Quang Ninh Province is always among the highest in the country, reaching some $3,500 per year.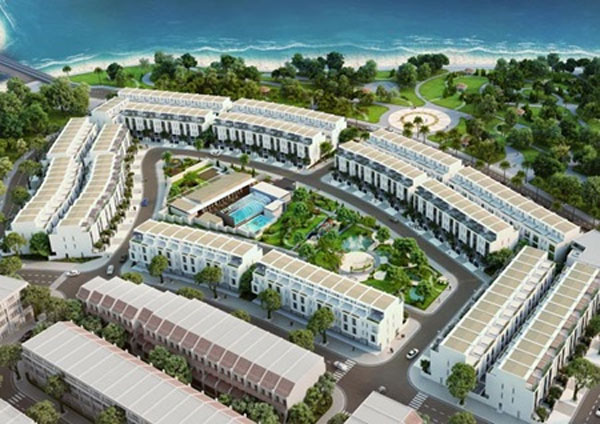 A model of beachfront Lotus Residences in Ha Long City – a luxury resort project attracting large attention of buyers at its recent sale release. — Photo Syrena Viet Nam
Property giants such as Sun Group have entered the city with an investment of VND6 trillion ($275.23 million) in Dai Duong Park (Ocean Park) project to develop a miniature of Disneyland. The Vingroup has invested VND1 trillion in a six-star resort project in Dao Reu (Monkey Island), and Tuan Chau has joined ISC Corp from the United States to construct a $7.5 billion casino and recreation complex.
Opportunities in luxury resort properties
Along with the economic recovery, beachfront villas and townhouses are becoming a source of investment opportunities for the rich. The luxury resort property segment holds great potential given the new policy allowing foreigners to own houses from the beginning of this month. The new policy is expected to trigger foreign capital inflow into the property market, especially in the high-end segment.
Statistics from the Boston Consulting Group show that some three million Vietnamese are now in the middle-class bracket, and they are financially capable of buying coastal property costing between $250,000 and $2 million per unit. The number of middle-class Vietnamese is expected to rise to 33 million by 2020.
According to Wealth-X, ultra-rich investors, not only from Asia but also Europe and North America, are showing interest in high-end resort properties in Southeast Asia, including Viet Nam, which has great potential in sea tourism, with a coastline of more than 3,200 kilometres and thousands of islands.
Le Minh Dung, executive director of BIM Group's property business, said the rapid economic growth and rise in the tourist value of Quang Ninh Province has given a boost to the resort property market here and the group, grasping the opportunities, has released several luxury commercial and resort property projects for sale in the past two years, including Little Viet Nam and Van Lien (Lotus Residences).
Buyers have shown interest in luxury property projects, Dung said, and added that in the first six months of this year the BIM Group sold a total of 368 units.
Notably, all the trade townhouses of Little Viet Nam designed to replicate unique architectural features of Ha Noi and Hoi An, were purchased within three months of its first release.
Recently, Lotus Residences also grabbed the attention of buyers with all the townhouses released for sale in the first phase being sold. The next sale is planned in early August.
Promising profits committed by project developers also helps in attracting a huge inflow of funds in the luxury resort property segment. The Vingroup promised a profit of 8 per cent within 10 years to buyers from villas being leased out, while the BIM Group pledged a maximum profit of VND600 million ($27,523) for the first two years in operation of Lotus Residences' townhouses and 65 per cent of leasing profit from the third year.
The BIM Group will apply a rental pool system at Lotus Residences, a popular management model followed in resort projects, in which the parties involved share rental income from a property, as well as expenses associated with its ownership and maintenance.
According to Nguyen Nam Son, CEO of Viet Nam Capital Partner, the urge to buy resort properties will intensify in the coming years as rich families are now eyeing such properties to earn profits from leasing them out and using them for their own relaxation by 2020.
VNS