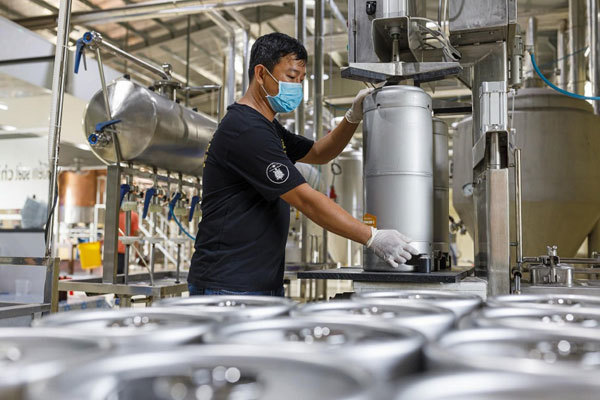 Some businesses are trying to maintain stay-at-work production to ensure jobs and income for workers. Photo: C-Brewmaster
When most businesses cannot organise stay-at-work production and had to lay off employees without payment, Pou Yuen Vietnam Co., Ltd. in Ho Chi Minh City maintained regular payments for employees even after temporarily closing for more than a month.
In its latest announcement, Pou Yuen Vietnam said that each worker would be paid 50 per cent of the regional minimum wage, equivalent to VND 85,000 ($3.70) a day during the shutdown from September 1.
"This rate has been agreed with the company's Trade Union Executive Committee. In case an employee stops working for a full month, the company will pay social insurance, health insurance, and unemployment insurance in line with the regional minimum wage," the company notice confirmed.
Previously, 56,000 workers of Pou Yuen Vietnam were suspended and received regional minimum wage since the company suspended operations from July 14 to comply with pandemic prevention regulations.
According to information from the Ministry of Labour, Invalids and Social Affairs, the prolonged current wave of COVID-19 has greatly affected the labour market in 19 southern provinces and cities, which are home to many large industrial parks with millions of employees.
By the end of August, nearly 2.5 million workers in the south had to stop working, accounting for 70 per cent of the employees who had to stop working in the whole country.
In Ho Chi Minh City, more than 625,000 employees of more than 23,000 businesses in export processing zones and industrial parks lost their jobs or stopped working.
According to data from the Vietnam Chamber of Commerce and Industry, about 90 per cent of businesses in the Mekong Delta region have had to temporarily suspend operations from June to the end of August, pushing a large number of workers into unemployment.
Despite struggling, some businesses are trying to maintain stay-at-work production to ensure jobs and income for employees.
Pham Cong Phuoc, managing director of An Khang Co., Ltd. in Binh Duong said that the company's decision to maintain production was not for its own benefit. As operating costs are very high, little money is made but it keeps workers in their job and helps them avoid financial distress.
"For employees, a month's salary is very important. Losing their jobs can have huge consequences for them and their families," Phuoc said.
Many food and beverage businesses, which use a large number of unskilled workers, share the same view, despite troubles with logistics, safety, declining consumer demand, and supply chain disruptions.
Nestlé Vietnam, for instance, has implemented many solutions to ensure business continuity and keep employees in their jobs. Currently, about 1,200 employees have been implementing stay-at-work production at four factories while strictly applying 5K principles over the past two months.
Meanwhile, the company is also supporting its office staff currently working from home with equipment to work effectively.
"We care about our employees and take every measure to ensure their safety," Binu Jacob, managing director of Nestlé Vietnam said.
Meanwhile, a representative of Vietcraft JSC, which owns two craft beer factories in Hanoi and Tien Giang, shared with VIR that they are trying to survive lockdown by selling online and beginning to export products.
"Fortunately, we can still pay salaries to our employees. However, we do not know when we can fully reopen. I am under extreme pressure and dread the possibility of having to let our employees go without payment when the company will finally no longer be able to afford to maintain production," the representative said.
Labour experts said that it is crucial for businesses to ensure employment not only to stabilise people's lives during social distancing, but also to maintain adequate human resources for post-pandemic recovery.
Currently, businesses are also proposing that the government creates measures such as reducing corporate income tax, lowering lending rates to pay salaries, and reducing unemployment insurance premiums, among others, to be able to focus resources on restoring production and maintaining employment.
Source: VIR

After one month of letting their workers stay at work, many businesses in southern Vietnam are seeking approval from the authorities to allow their employees to return to their own residences.

The HCM City Department of Industry and Trade has released guidance on safe production in the conditions of the fight against Covid-19 pandemic. There are six options: