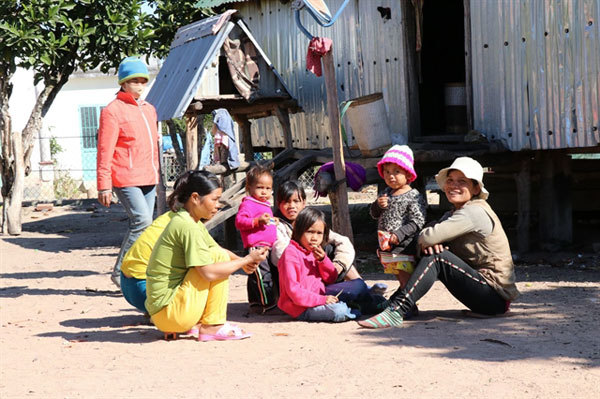 Ethnic women and girls in the Central Highlands province of Gia Lai. VNA/VNS Photo Hong Diep
The survey on the Sustainable Development Goal indicators for children and women in the period of 2020-2021, the largest of its kind in both Vietnam and in the world so far, will provide a scientific basis for policymakers and researchers to make changes to improve the rights and wellbeing of children and women in Vietnam, experts have said.
The comments were made after the survey was released on Wednesday in Hanoi by the General Statistics Office (GSO), the United Nations Children's Fund (UNICEF) of Vietnam and the United Nations Population Fund (UNFPA).
UNICEF Representative in Vietnam Rana Flowers emphasised that the survey's data is incredibly rich and extremely useful to understand where development approaches are progressing well and where disparities exist, to ensure that no one is left behind.
"The value of this report lies in how we now take these findings and adjust the policies and approaches to better reach the children and women at risk of being left behind. The survey results give us up to date information that factors in some of the early COVID-19 challenges that families have experienced, the burden that women bear and the risks to their lifelong development that children face, including those living in ethnic populations such as Mong or Khmer, those residing in remote and mountainous regions or those living with disabilities", she said.
According to her, there are five highlights of the survey results.
Firstly, ethnic minority women and children, especially Mong, are the most vulnerable group in terms of the United Nations' sustainable development targets. There is still inequality in access to living conditions, sanitation, and education.
Figures from the survey show only 36.1 per cent of Mong women are literate while the rate in other minority women is 69.4 per cent. Up to 5.4 per cent of Mong households don't have access to electricity and clean energy for cooking – the lowest rate among five ethnic groups.
Ethnic minority girls face many risks, such as child marriage and difficulty in getting to school. Mong adolescent girls with no education and belonging to the poorest households are more likely to give birth than their peers in other groups.
Secondly, the survey demonstrated the lack of access to the internet, especially the lack of information technology skills of people across the country. Although more than 80 per cent of people aged 15-49 have access to the internet, only over 30 per cent know how to use computers.
Thirdly, the data show that the risk of children dropping out of school increases gradually by grade level and age group. At the primary level, 98.2 per cent of children go to school at the right age and only 1.2 per cent of children do not attend school, but the rate decreased to 78.1 per cent and up to 21.6 per cent drop out of school at the upper secondary level. The school completion rate also tends to decrease; 86.8 per cent instead of 98.3 per cent as at the primary level and 86.8 per cent instead of 98.3 per cent at the lower secondary level.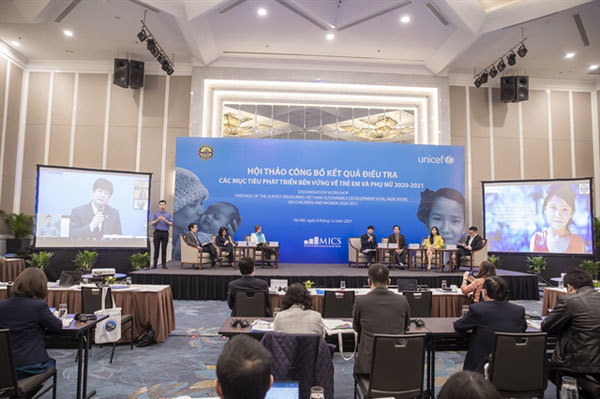 A workshop to discuss the results of the Sustainable Development Goal survey was held in Hanoi on Wednesday. — Photo courtesy of UNICEF
From these figures, it can be seen that in the context of economic difficulties, many children have to drop out of school and go to work very early, she said.
Fourthly, child discipline using domestic violence is still a common practice in the country. This is a big concern because it will cause long-term consequences for a child's life, affecting mental health and well-being, leading to a higher risk of child abuse or psychoactive substance abuse.
Finally, the results find that up to 50 per cent of Vietnamese people nationwide are using and drinking water that does not meet water quality standards. Of that, 41.1 per cent are drinking water contaminated with E.coli.
"This is an area that requires us to act urgently and we will need regular monitoring," she said.
This is the largest multiple indicator cluster survey in Vietnam with the participation of more than 14,000 households across 700 locations in all 63 cities and provinces nationwide. The survey was carried out between November 2020 and February 2021. The households are representative of five ethnic minorities in six economic regions and two major cities of Hanoi and HCM City.
Head of the General Statistics Office Nguyen Thi Huong said the findings presented a comprehensive picture of all aspects of the lives of children and women, including issues of women's reproductive and maternal health, child nutrition, health, hygiene, education, violence against children, equality, access internet and information and communication technology skills.
There are several indicators included for the first time, such as access to early childhood education, child labour, the quality of drinking water and other related indicators. This will help fill in gaps in data, Huong said.
The findings measure 169 indicators related to women and children, 35 of which are national sustainable development indicators. It will not replace other available data sources.
"The data generated from the survey is reliable and comparable internationally, which will give Vietnam data to develop policies, programmes, and national development plans, and to monitor progress towards the sustainable development goals and other international commitments," she said.
Huong said the findings will help policymakers establish programmes and policies for disadvantaged children and women such as ethnic minorities living in disadvantaged areas, poor households and people with disabilities.
Source: Vietnam News

Naomi Kitahara, the United Nations Population Fund (UNFPA) Representative in Vietnam, has called for joint efforts to ensure that all women and children in Vietnam.

According to the Center for Research and Scientific Application on Gender-Family-Women- Adolescents, during social distancing, violence against women and girls not only increased in the number of cases but also changed in some aspects.