Retail revenue likely up 3-4% by year-end, compared to 2020
Thanks to an expected upturn in retail demand between now and the end of the year, the total revenue for 2021 is expected to have grown by three to four per cent, when compared with the previous year.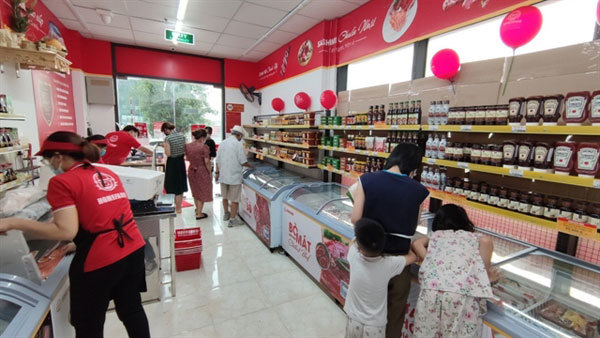 Customers at a Homefarm store. — Photo courtesy of Homefarm
The forecast was delivered by the Ministry of Industry and Trade (MoIT). However, growth is expected to be lower than the target of eight per cent set earlier by the industry. 
According to MoIT's Domestic Market Department, retail of goods has seen positive growth over the first 10 months of 2021, thanks to the recent resumption of trading.  
Travelling and circulation of goods have also become easier. 
As well as winter apparel, the demand for household appliances and stationery has also increased after the social distancing period, pushing up the October retail of goods and service revenues by 18.5 per cent month-on-month.
On the structure of retail of goods and service revenues so far in 2021, retail sales accounted for the largest share with 82.8 per cent, accommodation and catering services had 8.3 per cent; tourism just 0.1 per cent and other services accounted for 8.8 per cent.
To further boost domestic consumption in the remaining months of this year, the MoIT said it would concentrate on addressing concerns in business and production activities, especially those of major enterprises in industrial parks or economic zones.
"The aim is to ensure a speedy resumption of economic activities and keeping value chains intact, especially at a time when demands for goods and products would rise during the year-end period," the ministry said.
Meanwhile, the MoIT will closely monitor the demand-supply balance and market prices of goods to intervene if necessary, along with effective distribution of goods across localities, including the pandemic epicentres, to ensure the smooth movements of goods.
In line with these efforts, the ministry will supervise the market during the year-end period to address trade fraud activities and ensure a healthy development environment for Vietnamese products.
The MoIT also plans to reopen in phases wholesale markets, supermarkets, convenience stores on the condition of complying with anti-COVID-19 measures to boost production and consumption, while trade promotion activities are expected to shift to online platforms to boost sales in late 2021 and early 2022.
"A series of promotion programmes will kickstart in the year-end shopping period, ahead of the new year festivals," MoIT added. 
Meanwhile, supply-and-demand connectivity and trade promotion activities will continue at home, make full use of e-commerce to launch the domestic market development strategy and project till 2030, with a vision to 2045. 
Unavoidable impact of pandemic
The retail industry has been going through a period of prolonged volatility. Factors such as changing consumer behaviour, increasing online shopping habits and challenging economic conditions are changing the way retailers operate and interact with their customers, according to the Vietnam Report. 
The COVID-19 pandemic has added to these challenges, fueling trends such as increased online shopping. Amid the severe and prolonged fourth wave of COVID-19, resulting in restrictions due to social distancing regulations, lockdown and reduced operating hours regulated in many places, these difficulties have become more visible.
The Vietnam Report outlined the top four difficulties facing retail businesses including; more cautious in consumer spending (89.47 per cent); supply chain disruption in business and difficulties in transportation (78.95 per cent); ensuring safety for employees and customers (73.68 per cent) and meeting the sudden increase in demand for online purchases (57.89 per cent).
According to the Vietnam Report, the pandemic has caused different impacts on businesses in the retail industry, depending on their types of business activities. After some provinces implemented social distancing, retail businesses providing food and daily necessities were asked by the Government to continue operations, but others selling non-essential goods such as gold, silver, gems, electronics and refrigeration were forced to close their stores. Their online sales channels were often congested due to delivery restrictions during social distancing in many provinces.
Many retailers of non-essential goods told the Vietnam Report that their sale revenues during the fourth wave of COVID-19 equalled only 20-40 per cent of what they would have been.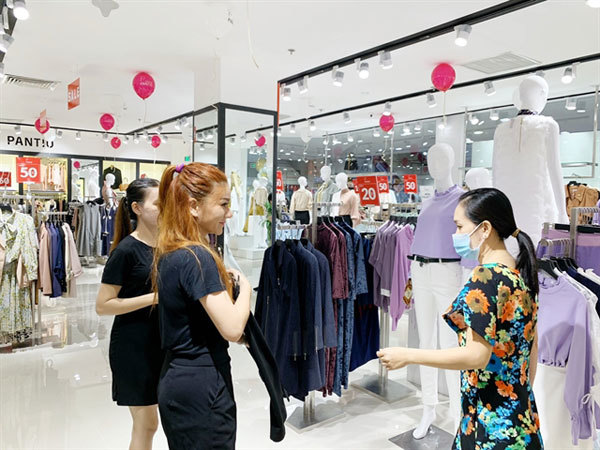 Women shop for clothing at a PANTIO store. — Photo courtesy of PANTIO
Mai Phuong Anh, CEO and Founder of PANTIO, a luxury fashion brand, told Việt Nam News that the prolonged pandemic had severely impacted her fashion chain, particularly regarding the importation of raw materials from Japan, South Korea and China to Vietnam.
With a chain of 45 showrooms across the country, the temporary closure of showrooms in the localities which implemented the social distancing measures also significantly influenced the revenue of the whole chain, she said. 
Similarly, Le Thuy Van, Head of Marketing at Homefarm International JSC, told Việt Nam News that her company had been also affected by the COVID-19 pandemic. Homefarm owns a chain of 200 stores selling imported food products in the three big cities of Hanoi, Hai Phong and HCM City. 
She said the panic about the pandemic changed the shopping behaviours of consumers as customers were afraid to shop directly at stores. The increasing number of infected cases also affected goods transportation and distribution of foreign partners. That resulted in a limited quantity of goods at her company's point-of-sale and for exports. 
"These difficulties have prompted Homefarm to build up a new business strategy that focuses on speeding up digital transformation, developing modern sales methods, ensuring the sufficient good supply to serve the needs of the market and making backup plans for possible situations," she told Việt Nam News. 
"During the past 10 months, Homefarm has experienced many ups and downs. Up to now, we are proud that we have overcome the most difficult times and are willing to cope with new challenges," Van said, adding that by the end of 2021 Homefarm's stores would reach 230 with 1000 employees, marking a milestone in its journey on becoming the No 1 imported food supply chain in Vietnam. 
With growing retail food markets and developing e-commerce channels, Homefarm had set a target of having 1,000 stores by 2025, Van noted. 
For PANTIO, changes in the firm's operation, business and marketing strategies have helped it better adapt to the changing needs of the local market and weather the COVID-storm. 
"Digital transformation is a must," Phuong Anh told Việt Nam News.
The number of social network users in Vietnam is forecast to grow rapidly and the country's mobile commerce is expected to strongly develop by 2023, while shopping apps will continue to boom. Therefore, PANTIO has launched online programmes on stimulating local demand and invested in bettering product images, suitable for advertising in e-commerce channels, she said. 
Amid the pandemic, revenue from PANTIO online channels such as website, Facebook and Zalo has grown strongly in the 2020-21 period. During the period, PANTIO has continuously expanded its showroom system in big cities. In 2020, PANTIO opened 11 new showrooms and is striving to open five more in 2021, bringing its total number of showrooms to 45 nationwide. 
"It can be seen that the pandemic has prompted customers to change their mindset and their purchases toward sustainable and reasonable consumption. That requires brands to review their strategies and revise them in line with consumption and shopping trends in the new period," Phuong Anh concluded. 
Source: Vietnam News

The rise of local retailers via mergers and acquisitions is expected to transform the competitive landscape of Vietnam's retail market, which used to be dominated by foreign investors, and help domestic equivalents complete their ecosystems.