Retailers enduring mixed bag of results
While a number of brands are fading away in the Vietnamese retail landscape, others have stepped up their game to expand their market share.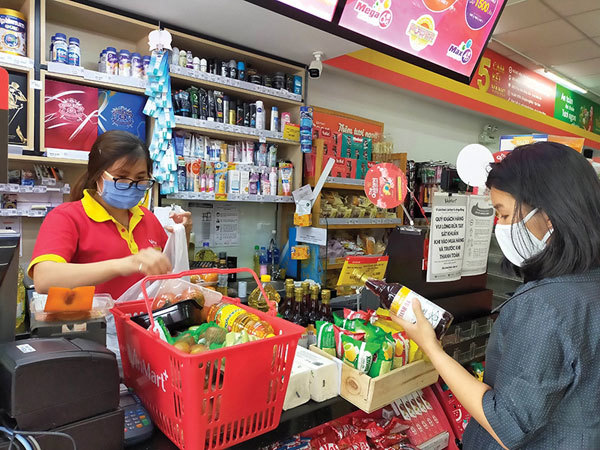 Despite last year's woes, retailers are pressing on with plans to grab more market share.
After 22 years of operating in Vietnam, in early March, leading Thai retail group Central Retail officially announced the removal of the Big C brand, renaming its stores to GO! or Tops Market, which it uses across Thailand.
"This is part of our rebranding plan," confirmed a representative.
Five years ago, Central Group forked out more than $1 billion for the Big C chain. However, despite accelerating growth in the retail market, Central Retail's performance in the country began to slip after the deal. Most of the key branches in big cities reported a decrease or no growth in revenue.
Big C An Lac's revenue reduced to VND1.3 trillion ($56.5 million) in 2017, half of the figure in 2012, while Big C Thang Long shrunk by around $35 million to VND2.7 trillion ($117.4 million) in the same time frame. Results were better in the years since, but not enough to deter a rebrand.
Big C is not the only brand in retail to fade away in recent times. In 2017, Germany's Metro Cash & Carry sold its wholesale chain to Thailand's Berli Jucker Pcl. for $776 million.
Just before the pandemic broke out, French multinational retail group Auchan transferred its portfolio of 18 stores in to Saigon Co.op as it had not found an economic model matching the Vietnamese market.
Malaysian retail giant Parkson Retail Asia also disposed of its stores in Vietnam due to its inappropriate retail concept. Parkson currently keeps one store in District 1 of Ho Chi Minh City.
Challenges for expansion
The withdrawal of foreign retailers showed that Vietnam's retail market is not easy to get to grips with. In addition to competition, retailers are hard-pressed to find land sites and expand chains.
In December, it was reported that Emart wanted to pull out of the Vietnamese market. While general director of the Vietnamese arm Chun Byung Ki denied the news, Emart has been facing difficulties in expanding its footprint in Vietnam. At its debut in Vietnam in 2015, it planned to open 10 hypermarkets within five years. At present, the retailer has only one hypermarket in Go Vap District of Ho Chi Minh City.
Commenting on this latest move from Central Group, Richard Burrage, CEO of market research firm Cimigo Vietnam, said that segmenting the retail environment to different segments will help better meet customers' expectations. Along with great people, technology, processes, and capital, Central Group still has the experience required to scale up in Vietnam.
"Meanwhile, the real issue for Emart has been the poor execution of their stores and not an outdated model. There is still room for Emart to offer retail customers unique and wonderful experiences," he added.
Some players expanding
Despite challenges, other retailers are continuing to announce expansion plans.
Central Retail plans to expand to 300 locations across 55 cities and provinces by 2025, including 106 new GO! shopping centres, 134 Mini GO! markets, and 21 Tops markets. This year, it will launch 10 GO! stores, three Tops market, and seven branches renamed Tops from Big C.
At present, Central Retail operates 66 retail locations across 29 cities and provinces, including 41 GO! supermarkets and hypermarkets, 24 Lan Chi Marts, and a single Mini GO!.
In February, Japan's AEON Mall Vietnam signed an MoU with the central province of Thua Thien-Hue on the investment study of AEON Mall Commercial Centre. The total investment capital for the new centre is estimated around $150-160 million. The move is part of AEON Mall's plan to open 20 shopping malls in Vietnam by 2025. Since its local debut in 2013, AEON Mall has launched six shopping malls in the country.
Tetsuyuki Nakagawa, general director of AEON Mall Vietnam, expressed optimism about the country's business environment, saying his company will also survey a third shopping mall in Ho Chi Minh City in 2021.
Other local players are also scaling up their presence. Over 60 BRG Mart and Hapro Food shops under the management of BRG Group were launched last year and the figure is expected to rise to 102 by the end of this year, 228 next year, and 558 in 2024.
Nguyen Anh Dung, executive director for Retail Intelligence at Nielsen Vietnam, said that the retail landscape will experience drastic changes, especially the portrait of consumers. A Nielsen Vietnam survey showed that consumers with moderate and lower income tend to adjust their spending, shifting from high-end products to more affordable items, mainly falling into the food and beverage sector. Only the high-income group will increase budgets for shopping when they spend less on tourism due to the pandemic.
"Small supermarkets have become places for everyday food shopping. Meanwhile, hypermarkets looking to attract customers must combine both shopping and entertainment," he added.
Meanwhile, Cimigo's Burrage suggested that new entrants into the local retail market this year need to get grounded in local shopping habits. "They need to recognise that independent retailers offer many benefits, trust with the owner, convenience, service, and pricing. Just simply having a central point of sale and air conditioning does not make a new retailer better," he said.
VIR

The race for domestic retail market share was heating up as local and foreign firms looked to expand their networks, experts said.
Big C, Metro, Tran Anh and Vien Thong A, once powerful retail giants, have disappeared after takeover deals.